Rosanne Cash
Diving Deep For Painful Honesty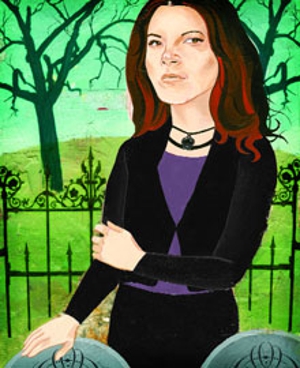 Sometimes it takes grief and loss to see your life in a new way, while sometimes all it takes is a visit from an old friend. But occasionally it's both, as with veteran country singer Rosanne Cash, who last Christmas welcomed longtime friend Ethan Russell (the photographer/author behind renowned '60s memoir Dear Mr. Fantasy) into her New York abode for a weeklong stay. She was expecting a simple good-cheer holiday get-together, but the visit yielded much more. Reeling from the 2003 passings of her legendary father Johnny and stepmother June, Cash was having difficulty addressing her emotions in song until Russell suddenly cracked the whip.
"Ethan sat me down and gave me a talking to," recalls Cash over breakfast on an ice-cold New York morning. "He said 'You've got more to say now and less time to say it, so stop hiding, stop skirting the subject.' And I do hide. I'll write something incredibly important and revealing and true in a song, but I'll hedge my bets and I just won't go there, I won't actually say what it's about. He kept asking me, 'Why are you doing this? This ambivalence is just obstructing you, just holding you back.' And at last I understood the dishonesty in it, and it actually changed my life."
Judging by Black Cadillac, Cash's new, heartbreakingly honest assessment of love and loss, it changed her life for the soul-baring better. Dedicated to Johnny, June and her mother Vivian Liberto, who passed last May, the set performs roughly the same tricky task as Springsteen's The Rising—it transforms the subjects of death, grief and eternity into an almost gospel-like, uplifting affair. Cash—a student of Buddhism—recently had four albums re-released from her early Columbia catalog (many of which document her failed marriage to fellow country crooner Rodney Crowell). But nothing in her canon could prepare listeners for the Bill Bottrell/John Leventhal-produced Cadillac, which—thanks to Russell's pep talk—dives so far into spiritual and metaphysical waters you'll need a robot submarine to truly appreciate the depth.
'I AM NOT OVER IT'
Cash removes her mittens, warms her hands on a bowl-sized mug of coffee, and carefully considers what she wants to get across about the cathartic Black Cadillac. Here's the key point, she says. "It's not really about my dad—it's about me. It's about loss and redemption, things that happen when you get knocked over by grief, how you recover and how your relationships go on. And I really don't want people to think that this record's about my dad—it's not a tribute to him, it's not any of that. It's about my heart and a lot of the stuff that I went through just to get through it, like anger, fear, lack of faith and regaining of faith."
The singer swears she's arrived at no concise conclusions, nothing to summarize what she sees as an ongoing process. "I am not over it. I am not over it," she repeats, shaking her head. "And I don't believe in closure, either—I think that's bullshit that some therapist just dreamed up. I got so sensitive to what people wanted from me after my dad died, that I've just put up a wall about that. I couldn't tell you how many hundreds of songs people sent me that they wanted me to record, songs about my dad, because I was the one who could really bring the emotional wallop to it. And it was like, 'How f—ing insensitive can you be?' It was just the old pattern of looking right through me to try and find out more about my dad, and I'm not willing to go there anymore."
Cash reckons that, as she puts it, every once in a while the universe demands your recommitment. She even cites physics theories to back this up, which posit that structures have to collapse to rebuild at a higher level. She recalls the first time she understood this, post-divorce, before she settled down with new husband Leventhal and inked a healthy deal with Capitol. "I'd gone from netting a million dollars the year before to having a stoop sale to make $80 to buy groceries. I'm not kidding—everything dismantled. So it's just a question of fortitude—what's important? What do you really want to do?"
Breakfast finished, this mother of five heads out into the cold and straight to a nearby flower shop to buy herself a huge bouquet. It's a perfect Black Cadillac metaphor—even in the dead of winter life continues blossoming. "I'm basically happy," she allows. "I mean, I tend toward depression sometimes, and I can get incredibly dark. But basically, I feel incredibly blessed. I have my husband, I have my kids, I have my house, I have my work. And my friend Ethan was right—there's no time to mess around. Life is just so ephemeral, and it goes by," Cash snaps her momentarily unmittened fingers, "just like that. And I've found that that urgency is actually very liberating."
dreaming about the Man In Black Like any loved one left behind, Rosanne Cash looks for messages during the receptive hours of sleep. "I'm a sparrow on the roof," she sings in her woodsy trill on "The World Unseen." "I'm a list of everyone I have to lose ... I will look for you in morphine and in dreams."
About her father, she says: "I've often dreamed about him, but the first year all the dreams were when he was still sick. I've had a couple of good ones since then, where my dad told me not to respond to the tabloids. In my dream, he said 'If you respond to them, you just sink to their level.'" She also dreamed of June Carter, she adds: "There was once where I saw her walking through a great empty hall, and it was kind of disturbing because she didn't know where she was. And she always liked lots of possessions, so to see her in an empty hall was just too weird."
DREAMING ABOUT THE MAN IN BLACK
Like any loved one left behind, Rosanne Cash looks for messages during the receptive hours of sleep. "I'm a sparrow on the roof," she sings in her woodsy trill on "The World Unseen." "I'm a list of everyone I have to lose ... I will look for you in morphine and in dreams."
About her father, she says: "I've often dreamed about him, but the first year all the dreams were when he was still sick. I've had a couple of good ones since then, where my dad told me not to respond to the tabloids. In my dream, he said 'If you respond to them, you just sink to their level.'" She also dreamed of June Carter, she adds: "There was once where I saw her walking through a great empty hall, and it was kind of disturbing because she didn't know where she was. And she always liked lots of possessions, so to see her in an empty hall was just too weird."
Others Tagged With