Catching Up With... Irma Thomas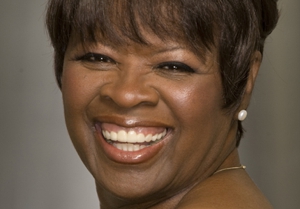 For her latest album, Simply Grand, legendary New Orleans singer Irma Thomas gathered some of her favorite players for a series of grand-piano-and-vocals duets, occasionally enhanced by the presence of a full backing band and choir. Ivory-tickling heavyweights young and old were on hand for the sessions, including Randy Newman, Norah Jones, Dr. John, Ellis Marsalis, Marcia Ball and John Medeski. Thomas recently spoke to Paste from her home in New Orleans about the new album, Hurricane Katrina and the future of Crescent City music.
Paste:
A lot of artists, when they get further into their careers, try to have a comeback album, but it's a little different for you with
Simply Grand
because, since the late '50s, you haven't really stopped making music.
Irma Thomas: No, I haven't had to come back, 'cause I never stopped. (laughs) And there is a difference.
Paste: You've got some young talent with Norah Jones on the album...
Thomas: She's a pretty little short thing, and she's quiet and laid back. I felt like I was doing a show with one of my kids.
Paste: And you've also got some seasoned pros on there. What did the Dr. Johns and Randy Newmans bring to the record for you?
Thomas: First of all, all of them stressed the fact that they were fans of mine, which was kind of humbling. And I've been around Dr. John all of my career because he played on my very first record, so I've known him a long time. I've known Davell Crawford all of his life. I've known Marcia [Ball] for the better part of her career. We met back in the '70s when she was getting a toe-hold in the business, and we've been friends ever since. I've known Mr. Marsalis since I've been in the business. So there's longevity among all of us in terms of the relationships and knowing each other, but to know them as fans—it was quite humbling.

Paste: Given that you've worked with a lot of these people in the past, was there a lot of synergy and chemistry in the studio?
Thomas: Oh, very much so. I'm hoping it came across in the CD. The irony is that there wasn't a lot of rehearsing. My producer allowed them each to pick a song that they thought was their favorite that they'd like to play with me. And when they chose the songs, they were sent to me ahead of time, so I had an opportunity to learn them, except for one or two. But I learned those quick enough [in the studio] to be able to sell them very well. So it was just a matter of a mutual agreement on what was to be performed, and going into the studio and doing it. ... [This album] made me go into areas of performing, as an artist, singing, that I'd never ventured into before, such as the song I did with Mr. Marsalis ["This Bitter Earth"]. I don't usually get a chance to do standards like that. And it felt really, really good. With the audience I perform to, sometimes I can get away with stuff like that, but most of the time they want to hear my old '60s material, and I accommodate them because that's what it's all about—you give your audience what they want. But, as a performer, it was a pleasure and an honor to be able to show people—with someone [like Marsalis] who's been doing it all his life—that I can actually sing standards.
Paste: One song really stood out to me as a favorite on the new album: the lead track, "River is Waiting." It has this gospel feel to it...
Thomas: Henry Butler is playing on that one, and that's where he felt it, and everybody went there with him.
Paste: There's this feeling of acceptance and transcendence on it, with the "sail on" lyric. Was that a big part of the feel of the album for you?
Thomas: Oh, yeah. "Sail on" is like, "go with flow, go with the breeze. Accept life and flow with it." And that's the way I felt when I was singing it—like I was floating there, getting through the pressures of life and sailing on. After all we've been through [in New Orleans], I'm hoping something comes through [on the album] to give people some hope, 'cause we've been through it I tell you. Henry Butler was affected by [Hurricane Katrina], so was I. Davell was affected by it, and Marcia was there as a person to lean on. We were in Texas when the storm came. A lot of the musicians who were there—Marcia Ball stepped up and called friends of hers and had an impromptu benefit concert that gave musicians stranded in the Texas area money to help them get through the crisis. So there was a feeling of a lot of camaraderie and joyfulness that we could work together and still produce good music.

Paste: Two years ago, you were on the cover of Paste with Allen Toussaint, Elvis Costello and The Neville Brothers, and one of our writers, John Swenson, interviewed you for a story about New Orleans music a year after Katrina. At that point, you had been displaced—you lost your home, your club The Lion's Den, and you said you were getting out of the nightclub business, but that you were going to stay and try to rebuild your home.
Thomas: Oh, I did. I been back in my home a year this past April.
Paste: How has the recovery process been for you and for the city?
Thomas: Recovery, in terms of materialistic things—I'm still buying furniture because, between working and trying to get your house back in order... the house itself, we're in it, and I have some furniture, but I guess I'm a traditionalist in that I'm kind of picky about the furniture. (laughs) I don't know if I'm trying to hang on to old memories or what, but I'm not into this oversized stuff, so I was trying to find something that was today, but not overstuffed. So it's taken me a little longer to get the house refurnished, but we're enjoying it the way it is. But that's all secondary. The feeling of being home is the best part. Being home and having the option of being able to buy a piece of furniture and put it in your own house again.
Paste: I read that you had also been displaced by Hurricane Camille back in 1969.
Thomas: I sure was. But that was totally different. Camille created a situation where work was affected, but my home living was not affected. But [with Katrina] my house was destroyed, in terms of being able to live in it. Having had a brick home, I was able to have it gutted out down to the studs and rebuilt from the inside. But Camille didn't do that, it just destroyed the work I had booked along the Gulf Coast in Mississippi, whereas Katrina destroyed everything¬—your livelihood, your memorabilia, all that went down with the water. So it was a different kind of affect as opposed to the way Camille affected my life. The other side of that—Katrina had people thinking I was resting in peace, and I was not resting in peace. That's kind of a humbling thing to turn on the TV and see them say, "We don't know where Fats Domino and Irma Thomas are." And I'm sitting in front of the television saying, "I'm not lost, I'm OK."
Paste: It was scary.
Thomas: It was more than scary. It was horrific to be sitting there. And I was concerned about Fats, too, because I knew he was getting up in age. And he's another one who's a stubborn person about getting out and moving on, like most of us New Orleanians were stubborn about moving. I don't think they'll have that problem the next time around. But we've weathered so many hurricanes before where our city was not destroyed. So you can understand the feeling of a lot of us older people about not really being in a hurry to move. And there were also quite a few of people who were not able to move, as far as not having the vehicles to move in. But a lot of folks who lost their lives were among the ones who were stubborn and said, "OK, I'm not going anywhere, 'cause we ran before and nothing happened." Of course, the storm itself was not the culprit. It was the aftermath of the levees not being strong enough to withhold the force of the water that came in with the storm. But being that it happened when Katrina came through, it was blamed on poor Katrina. She done got blamed for everything. (laughs) But it just showed us how unsafe the levees were. So some lessons were learned.
Paste: Do you feel like people are taking those lessons to heart?
Thomas: Oh, definitely. And the other side of that is that we, as New Orleanians, realize we can't take anything for granted. And I think the country, as a whole, has learned that you can't take anything for granted.
Paste: With some distance from that terrible event at this point, how do you feel about the future of the city and its musical traditions going forward?
Thomas: As far as the musical traditions are concerned, there are musicians—including myself, in my own little way—who are making sure that the youth of this city are being taught, and that the music is being carried on. I had a drummer who was with me for 27 years who passed away [in 2004]. His name was Wilbert Widow, and his two sons—who are now in the teaching profession—joined up with another young man from a group called The Roots Program, and they're teaching the younger kids the music of this city, to carry it on for the next generation. And they're making sure that even the youngest kids who really have a feel for the music get an instrument and learn to play at an early age. They used to wouldn't start 'em until nine, but now they're getting them as early as they can pick up a trumpet and blow air in it. So the tradition will be carried on. It'll be a little different because a lot of the musicians who lived in the Lower Ninth Ward are still having some financial difficulties getting back to their properties because the houses are just gone. And since it was a generational property where the grandparents and great-grandparents passed it down... they didn't have a lot of money. A lot of musicians live from paycheck to paycheck, and by not having a paper trail it's a little more difficult for them to get loans to rebuild. But even the sources have come into the city to help them create that paper trail they need to get back into their homes, and keep the music alive in the city the way it was.
It'll never be the way it was, but it'll have some semblance of how it was, in terms of the music industry, because when you grow up in a place like New Orleans with music all around you, it's in your bloodstream. It's kind of hard to just pick up roots and move and live somewhere else without missing this place. So even though, they may not be back right now, they are on their way back in their hearts, and are striving as much as they can to get back. And this city will always be a city of dominance when it comes to the kind of music that's played here. It's just different. And even though you may live somewhere else, you can't explain it to anybody—they have to come and be among it and be a part of it to really understand; to understand that love affair New Orleans put in you to make you want to be here and stay here.
Others Tagged With