Isobel Campbell & Mark Lanegan: Sunday at Devil Dirt
[V2/Cooperative]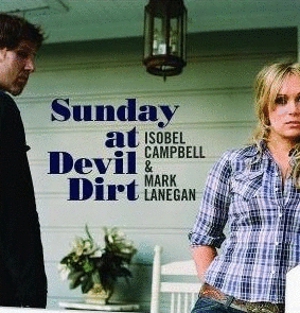 Former Screaming Tree and Sebastian's Belle encore—call them the "Butter Twins."

Although he's become a terrific solo artist, former Screaming Trees frontman Mark Lanegan still has a taste for collaboration. Whether as half of the Gutter Twins (with ex-Afghan Whig Greg Dulli), part of Josh Homme's Queens of the Stone Age, or as an occasional member of Dulli's Twilight Singers, Lanegan has often done his most compelling work in partnership with others whose strengths offset the raw power of his nicotine-and-bourbon-stained rasp. In 2006, this took the shape of
Ballad of the Broken Seas
, a duet with former Belle & Sebastian member Isobel Campbell, whose sweetness-and-light persona is as removed from Lanegan's barroom brio as Scotland is from Seattle. The album worked precisely because of the starkness of the contrast, going down like a tumbler of aged scotch.
Sunday at Devil Dirt
finds the pair reprising this approach with similarly rewarding results. Like last time, the new album features Lanegan handling lead vocals while Campbell takes on the writing, production and arrangement chores, resulting in a twilight-soaked bundle of songs for the wee small hours, when the light is low and the mood is too. Drink up.
Listen to Isobel Campbell and Mark Lanegan's "Come On Over (Turn Me On)" from Sunday at Devil Dirt:

Others Tagged With