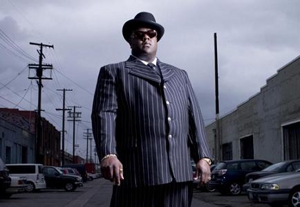 Release Date:
Jan. 16
Director: George Tillman Jr.

Writers: Reggie Rock Bythewood and Cheo Hodari Coker

Cinematographer: Michael Grady

Starring: Jamal Woolard, Derek Luke, Angela Bassett, Anthony Mackie

Studio/Run Time: Fox Searchlight Pictures, 100 mins.
Despite how few truly great music biopics there are, it's a genre that never seems to lag in terms of prolificacy. But it's also notoriously difficult to do right, since getting the support of an artist's fans almost certainly precludes telling a truly dramatic story, especially without reducing the entirety of an artist's career to a small set of highs and lows. Notorious retells the story of Christopher Wallace, aka The Notorious B.I.G., in this typical fashion, though with perhaps a slight caveat. In the world of Notorious, everything Biggie did is a peak, leading to a film that his hero worshipers might enjoy, but one that ends up on the screen cold and flat.
Jamal Woolard stars as Wallace and gives what would be a breakout role if the rest of the film could support him. Biggie's charisma has always been ineffable yet undeniable, and Woolard's portrayal captures both his naivete (at his death, Biggie was only 24) and his wearied experience from a life of prison and selling drugs. He begins selling basically because he can until a friend hooks him up with a young dreamer named Sean Combs, played by Derek Luke. Like everyone else, Luke also gives a strong performance, even if he doesn't seem to be playing anything remotely resembling the man who would come to be known Puff Daddy. They make it to the big time, all the while Biggie dealing with soap opera-style problems with his wife Faith Evans (Antonique Smith), his mistress Lil' Kim (Naturi Naughton), and his ex-wife. And also several other mistresses.


But even at the worst of times, Notorious' version of Wallace just slides on through life unhindered by these slight personal problems. In fact, he seems far more concerned about the end in his brief friendship with Tupac than he is about visiting any of his children, not to mention his mother, who fades in and out of the film whenever Notorious needs someone to alternate with Puff Daddy to tell Biggie not to sleep around and sell drugs so much. By the end of the film, Biggie has magically patched up all of his issues and has become the perfect alpha male—an idealized person so much bigger than life that he couldn't feel more fake.
A good biopic doesn't necessarily tell us the true story of a human being, but it does reveal something to us that feels true about them. Sometimes, like in the case of a film like I'm Not There, it's simply that the subject is unknowable. Notorious sticks pretty well to the actual events of Biggie's life, at least the famous ones, but it has little to say about the man that's not available on his Wikipedia entry.
Watch the trailer for Notorious:

Others Tagged With