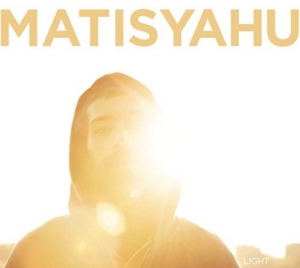 by Matt Fink
Having struggled to find middle ground between refining his novelty for a wider audience and retaining his reggae and hip-hop flourishes on 2006's
Youth
, Matisyahu's third album finds him caught between returning to his core and pushing further into the mainstream. The surprise is that the world's leading (and only) Orthodox Jewish dancehall star actually succeeds by doing the latter, enlisting producer
David Kahne
(Sublime,
Paul McCartney
) and an eclectic cast of reggae all-stars (
Sly & Robbie
, Stephen McGregor), creating an album loaded with oversized guitars, electronic beats and anthemic choruses. Reggae and spiritual self-improvement remain Matisyahu's foundation, but they're increasingly buried in the mix, allowing him to focus on his developing ear as a pop songwriter (the soulful "I Will Be Light" and the pitch-shifted hookery of "Struggla"). Add in a few banjos, clarinets and a children's choir, and you've got an eclectic album that's unrepentantly over the top.
by Brian Howe
The fundamental problem isn't that Matisyahu is an Orthodox Jew making reggae music. Yes, it sounds like the premise for an Andy Samberg parody: Jews like Zion,
Rastafarians
like Zion, therefore—Ras Trent, now with forelocks! The biggest hurdle for white, Western reggae singers to overcome is phoniness: How to make reggae without faking patois (which sounds silly and condescending), and how to embrace its themes without reducing a racially and politically charged genre to mere schtick? Matisyahu spectacularly fails to solve these predicaments, but the biggest problem with his reggae is simpler: He's unequivocally terrible at it. Not only do we get fake patois, but also raging
electric guitars
and cluttered hip-hop production. We can perhaps thank the existence of marijuana, dorm rooms and the safe allure of gentrified exoticism for the fact that he's parlayed this dross into a fertile recording career. Seriously: Who the bloodclaat is buying all of these Jah-damned Matisyahu records? It has to be the same people keeping Sublime's back catalog inexplicably in print.
Listen to Matisyahu on imeem.