Nas and Damian Marley: Distant Relatives
[Universal Republic]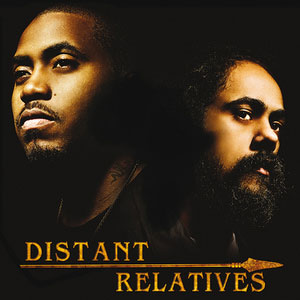 Two heavyweights leave their egos at the door
Read enough pre-release commentary, and you might begin to think that Distant Relatives, Nas and Damian Marley's new collaborative album, is unprecedented, transformative, and revelatory—not because it features great music, but merely because it exists. And it's not just Universal's press kit doing the talking: During an on-stage discussion at the Grammy Museum last year, Nas and Marley made clear that this would be an entirely new and unique record. And last December, the National Geographic Society hosted a panel in D.C. about the diverse roots of hip-hop, with Relatives as the event's focal point.
All this talk is tossed aside by the album itself, which very rarely sounds "important" and mostly just sounds like a lot of fun. Relatives finds Marley and Nas in surprisingly humble form; at this point, the multiplatinum Queensbridge rap giant and the multi-talented, Grammy Award-winning son of Bob can sell out anything from amphitheaters to, well, panel discussions. But there's very little ego evident on an album that could easily have had double the dosage. Even more unexpectedly, Nas seems perfectly content to let Marley take the reins; the latter gets more verses and handles all-important production duties with his brother Stephen.
Nas and Marley first collaborated on "Road To Zion," from Marley's 2005 album, Welcome to Jamrock. Though most of the song's vocals were Marley's, "Zion" sounded a lot like a Nas track—eerie, atmospheric, minor key. But aside from the occasional handclap (the perfect accompaniment to Nas' breathy, urgent delivery) Relatives lacks much of the rapper's sonic signature; instead, we get plenty of reggae, Afrobeat-inspired percussion, keyboards, and Marley's programming—some elegant, some excessive.
"As We Enter," the album's opening (and best) track, is a case study in flawless collaboration; it offers up as Distant Relatives' first sound a horn sample that evokes Fela Kuti or a Bernard Herrmann film score—an expansive tune rooted in Afrobeat tradition, which seems just right for these two, who make quite clear their interest in the links between the genres. From there, the two emcees trade rhymes (Nas: "Real revolutionary rhymers" / Marley: "Rhythm piranhas" / Nas: "Like two Obamas / Unfold the drama") over a pulsing beat and the occasional chant. It's a song at once fiery and generous.
The mournful "Wisdom" is another highlight that stays true to African music (it features a prominent sample from Amadou & Mariam's "Sabali") without feeling bound by it. The original song, after all, was produced by Damon Albarn: Surrounded by Marley's soulful flow, the sample sounds like something straight out of Bollywood.
It's not all bliss; at a few points, Marley's programming feels overbearing and slick, and it's hard not to imagine how the album would have sounded with more live instrumentation, which managed to give even Jay-Z's curmudgeonly "Death of Autotune" such incredible immediacy. And on an album devoted to African musical history and crafted by two connoisseurs, a backing band would not have seemed at all out of place. It's also unclear whether Lil Wayne's guest verse on "My Generation" is earnest ("A generation led by a black President / Now how's that for change?") or just phoned in ("Man I gotta keep it moving / To the beat of my drum").
Still, this is a solid, serious collection of songs—the product of two thoughtful and ambitious musicians—and an album that doesn't need a panel discussion to establish its importance.
Others Tagged With