Best of What's Next: Esben and the Witch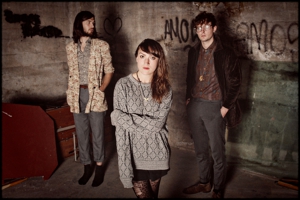 Hometown: Brighton, England
Members: Daniel Copeman, Rachel Davies, Thomas Fisher
Album: Violet Cries
For Fans Of: Florence and the Machine, Siouxsie and the Banshees, Warpaint
Daniel Copeman is nervous. The Esben and the Witch guitarist just finished up a photoshoot for a publication in the band's hometown of Brighton, England. He and his bandmates have a gig tonight—their first time playing at home in nearly a year. Familiar faces will fill the audience, strangely more terrifying than faces unknown. Soon, though, the trio will take the stage and the fear won't matter.
Esben and the Witch formed in 2008 when Copeman and fellow guitarist Thomas Fisher began collaborating and producing music, both layering electronics, keyboards and drums. The pair worked out a sound they were happy with, but one not truly complete until singer and bassist Rachel Davies lent her voice, crying out alternately as a wailing banshee and a whimpering child.
Gothic, ethereal, dark. These are fitting descriptors for a band that takes its name from a Danish fairytale about a boy's encounter with a murderous witch. Esben's debut album, Violet Cries, out Feb. 8 on Matador, combines heavenly vocals with brooding guitars and a thundering rhythm section. The sound is intense. "I think it's very important to challenge the listener," Copeman says. "There should be a level of hostility within the music that you make. You're trying to describe a whole gambit of emotions with the course of an album. Musically, the best way to do that is to pull people around."
Esben and the Witch's music pits violence against delicacy. The band's videos flicker dark, battered and cold. Violet Cries could serve as the score to a haunting. Wholly immersive, the album screams with the quiet desperation of a trauma victim trying to piece her life back together. On stage, though, Esben takes on a different persona entirely. In the studio, the band utilizes myriad layering techniques to create a dense wall of noise, but to recreate that visceral intensity onstage, Esben comes forth aggressively, attacking its songs.
The process is, to hear Copeman tell it, excruciating. The band's songwriting evolves from the initial idea, to the live version, and finally, into the studio. "Then we have to learn how to play it live again," Copeman says. "It's this horrible kind of three headed beast."
Others Tagged With