Those Darlins: Screws Get Loose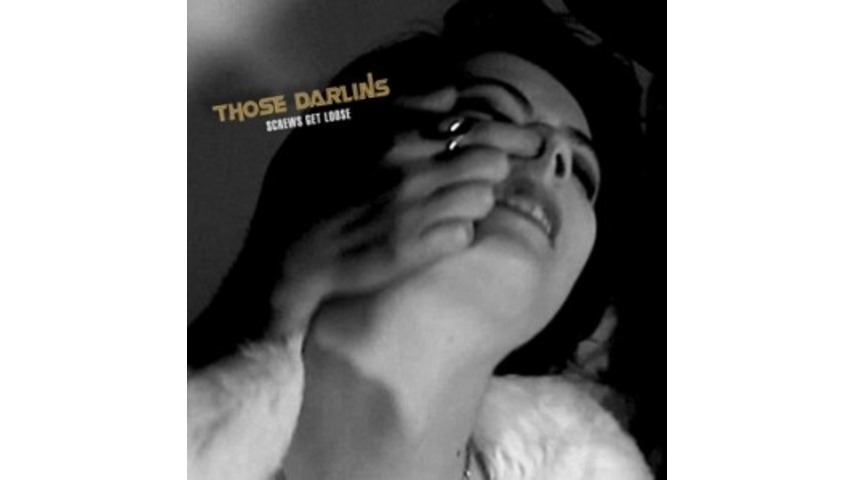 Murfreesboro's finest sweep out the garage…
Whether you thought they were a quirky-obnoxious novelty act or a gang of infinitely charming, boots-are-made-for-rockin' Americana party girls, forget your initial impression of Those Darlins. Because, over the last few years, the band has become the spirit of rock 'n' roll incarnate — a slightly older, wiser, modern-day Southern-garage version of The Runaways. "Why should the boys have all the fun?" their mere presence seems to shout. "We will out-drink, out-party and out-rock all of you!" And anyone who's witnessed the runaway-train-wreck amphetamine cattle prod of their live performances knows they take this fearless, let-it-ride approach with them on stage every night.
But, unlike The Runaways, Those Darlins weren't assembled by some hotshot producer looking to cash in. No, this band was their brainchild — and a wild one, too. And, to their credit, they get better every time they come around, having made enormous strides as both players and songwriters since their self-titled 2009 debut.
So it's no surprise that Screws Get Loose is a major creative breakthrough for the Murfreesboro, Tenn.-based Darlins. It seems their time on the road with bands like Deer Tick, Black Joe Lewis & the Honeybears and (especially) Gentleman Jesse has expanded their musical horizons, shedding any last hint of novelty-act baggage and drawing out the accomplished artists that had always been lurking within.
The album-opening title track, an alternately desperate/shrugging ode to holding it together on the road, is an instant garage/power-pop classic that would make everyone from Iggy Pop to the Apples in Stereo to King Tuff proud. With its unforgettable melody, chiming strums, erratic detuned anti-guitar solo and a bell part that channels the hypnotic piano lick from The Stooges' "Gimme Danger," "Screw Get Loose" is a perfect statement of purpose, kicking off an album that redefines what Jessi, Nikki and Kelley Darlin and their drummer Linwood Regensburg are capable of.
The latter, the group's lone (and often tragically forgotten) male, proves he can go toe-to-toe with his lady bandmates on "Let U Down," his lead-vocal debut. And on "Be Your Bro" he chops away at the kit, providing a thunderous, inventive backbeat over which the rest of the Darlins hilariously — and irreverently — explore the dynamics of mismatched romantic/platonic male/female interaction ("I just want to run and play in the dirt with you," the girls lament. "You just want to stick it in"). It was 30-plus years coming, but I think we've finally got an answer song to The Ramones' "I Wanna Be Your Boyfriend."
"Hives" and "Boy" make for a near-perfect one-two punch of garage-surf anthems, and the foreboding, introspective dirges "Mystic Mind," "$" and the slightly more upbeat but still hypnotic "Waste Away" bring an appropriate balance to the record's blissful pop side.
Sonically, Screws spit-shines things just enough to give the songs an almost radio-friendly glimmer without losing their ramshackle mojo, sense of urgency or danger —cleaner, but not too clean for rock 'n' roll. And, in just 35 minutes, this record sets an impressive new course for a band that — if the loose screws somehow hold — will be knocking 'em back and knocking 'em dead for years to come.
Others Tagged With