Jeff Bridges: Jeff Bridges
[Blue Note Records]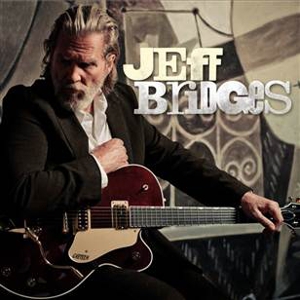 It's a common question. If you could spend a night out drinking with if any fictional character, who would it be? My own answer always changes, but I can imagine enjoying a meandering midsummer's night amidst clattering ten-pin rolls, endless White Russians and clipped roaches with The Dude. I can also imagine enjoying a drunken debacle where every drink laments lost love with Bad Blake or a straight whiskey roller coaster with Rooster Cogburn. And each of these amazing imagined evenings brings the problem of reviewing a celebrity album into focus. How does an actor make us forget their most memorable characters, people we feel we know, and allow us to lose ourselves in their music? The varying roles I've just listed are proof Jeff Bridges has a remarkable ability to shed even his most iconic past performances, but is it possible to forget Jeff Bridges the actor when listening to Jeff Bridges the singer?
It's not a question I'm going to wait until the end to answer. I'm not building suspense for a late second-act climax. There's a bluesy affectation and natural honesty to his delivery that make it easy to just hear the music and nothing else. Of course collaborating with his old friend, Oscar and Emmy-winner T. Bone Burnett sure helps. Bridges says they were inspired to make an album together after their Oscar-winning work on Crazy Heart, and their friendship may be the best thing to come out the cautionary tale and historic failure that was the movie Heaven's Gate. Burnett's touch is easily felt throughout the 10 tracks on Bridge's self-titled album, both from his soulful style and from his inclusion of a number of his regular players on the album, talents like Keefus Ciancia (keyboards), Jackson Smith (plus Burnett himself on guitar), Rosanne Cash (vocals) and Ryan Bingham (vocals). They fill out the sound in a way that makes the music about more than any one man. It's an album that easily alternates between country croons and folky serenades and blue-grassed rock, the last of which is my personal favorite, if only because it breaks up the methodical julep drawl of the thing, the hurry-free pace, the self-assured slowness. My favorites (tracks 1, 7 and 10) are all performances of other people's songs, in this case Steven Bruton and John Goodwin, but that's not so much a comment on Bridge's (and Burnett's) compositions as it is another nod to my enjoyment of the more upbeat turns.
Jeff Bridges' new album won't hook you with a hit or a sing-along single, because it doesn't move that way. It sits and takes in the moment. It's the kind of album Sam Elliot probably listened to before he wandered into a bowling alley, ordered himself a sarsaparilla and starting spitting chewed up cuds of wisdom at us about The Dude, a guy we'd all one day imagine hanging out with.
Others Tagged With