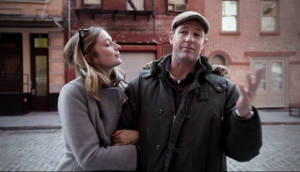 Ed Burns' latest writing and directing venture holds the perfect recipe for swiftly putting audiences into a New York state of mind. Like Burns' own early films, Newlyweds is reminiscent of early Woody Allen films (Annie Hall, Manhattan, Hannah and Her Sisters), utilizing rich characters and relatable story lines that depict complicated relationships. Even the theatrical poster for Newlyweds brings to mind those of Allen's early days, suggesting a simplicity and authenticity to the story at hand. Shot on an estimated $9,000 budget, Burns hired virtually all unknown actors and worked with a three-man crew. Together with 2010's Nice Guy Johnny—and shot under similar self-imposed constraints—the film marks Burns' dramatic (and unlikely) return as the type of filmmaker who charmed audiences with The Brothers McMullen, She's the One and Sidewalks of New York. And as with Sidewalks of New York, in Newlyweds Burns strays from his beloved Long Island working class setting, taking a look this time at the lives and relationships that can be found within the spacious lofts of Tribeca.
Buzzy (Burns) and Katie (Caitlin Fitzgerald) are still in their honeymoon stage—newlyweds, as the title suggests—and over brunch they assure longtime married couple Max (Max Baker) and Marsha (Marsha Dietlein), Katie's older sister, that the key to keeping a relationship fresh is maintaining distance and seeing one another as little as possible (though in the film they seem to spend as much time together as any other average New York couple). Marsha derisively refers to the axiom "Absence makes the heart grow fonder" before launching into a "marriage is sacred" rant during a moment of cut-away commentary. These brief, interview-style confessional moments—wry and important to the storyline—are sprinkled throughout the film and feature all characters.
Both on their second marriages, Buzzy and Katie have their fair share of baggage that will all coincidentally be unpacked within the two days we follow the couple in this documentary-esque film. It appears at first that Katie packs the most annoying array of hanger-ons—her sister and her alcoholic ex-husband, Dara (Dara Coleman), who drops by unexpectedly one Sunday evening looking for handouts. Quite possibly the only larger-than-life character in the film, the presentation of Dara and his artistic ideals reach only a bit beyond what's typical within the downtown area in which they live, providing humor in an otherwise not-funny-because-they-exist character line up.
Then there's Linda (Kerry Bishé), Buzzy's Californian runaway half-sister who he has not seen in nearly a decade. The girl we all know, Linda is a free spirit on a path toward destruction, unaware that it is not in good form to simply drop in on family members unannounced and bring home strangers on the first night there. Katie bites her tongue in the beginning, allowing Buzzy to handle it, but, predictably, this simply won't last. Linda is in Manhattan on a mission to reclaim her ex-boyfriend from his fiancée, an action that would surely be deemed despicable by the seemingly sinless Marsha.
Linda's presence sends things into a tailspin for Katie and Buzzy, the couple who earlier claimed to have "the perfect relationship." A ripple effect is soon created, one that somehow seeps into the walls of Max and Marsha's relationship. After having side arguments of their own and appearing to be sick of one another after eighteen years of marriage, Max and Marsha choose divorce for their dessert during a night out with Katie and Buzzy. Enter a new houseguest and a fresh obstacle for the newlyweds.
Though the film's story arc is entirely predictable, there are just enough surprises such as this to keep things interesting.
Ed Burns, who is well aware of his chatty-film style as defined in his Twitter bio—"I make those small, talky New York movies…"—brings audiences authentic portraits of Manhattanites from the grass roots up. As such, Newlyweds proves an acceptable substitute for Woody Allen fans who crave a modern New York story. It's intelligent, entertaining and relatable. It's good that Ed Burns is back to making Ed Burns films again.
Director: Ed Burns
Writer: Ed Burns
Starring: Ed Burns, Caitlin Fitzgerald, Kerry Bishé
Release Date: 2011
Others Tagged With