Eleni Mandell: I Can See the Future
[Yep Roc Records]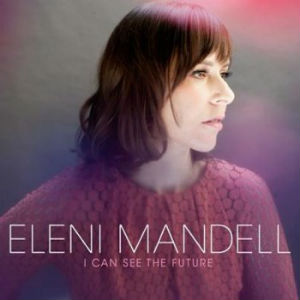 Eleni Mandell should get some sort of medal for the circumstances under which she recorded her latest album, I Can See the Future. Not only did she write it during one of the most difficult periods of her life, a time when she split up with her boyfriend because of procreative differences, sought out a sperm donor, and then, finally, was able to get pregnant (with twins), but she began the recording process when she was eight months pregnant.
It's fitting that she gave birth to twins and her new album around the same time, as the songs on I Can See the Future are, understandably, very closely tied to this trying period of Mandell's life. More than it's about hard times, though, the album is about her newfound happiness, and the joy that the impending birth of her twins brought into her life. It is about learning to let go of the past and the life you had imagined for yourself, and claiming what lies ahead.
This means there are a lot of marked differences between I Can See the Future and Mandell's previous releases. Gone are Mandell's smoky, noir-ish edge and sultry, mysterious vocals. Nothing on I Can See the Future comes close to biting as hard as the title track from her previous release, Artificial Fire, or seeping seductive intrigue like "My Twin," from 2007's Miracle of Five. Instead, the songs on I Can See the Future are sung with a sense of blissful contentment. Even one of the album's most lovelorn songs, "Crooked Man," is sung as if it's a retrospective look at a situation Mandell has long since moved past and come to accept. Same goes for "Never Have to Fall in Love Again," on which Mandell sings, "I dreamed that we would spend our lives together / But now I'll have to find somebody new," like she is celebrating the fact, backed by lively, up-tempo instrumentation and twangy, almost peppy, pedal steel.
Though this might be a different, more contented Mandell than fans are used to (no one is going to compare I Can See the Future to Tom Waits), it doesn't change the fact that she is a songwriter of the highest ilk. The album's sunny disposition is a reflection of her newfound optimism and forward-thinking approach to life, and she does an amazing job conveying her new outlook with songs like "Magic Summertime," "I'm Lucky" and "The Future."
The album's songs tell richly imagined stories (some things don't change), often dealing with Mandell's unique tribulations leading up to the recording of the album. "Bun in the Oven" is perhaps the album's most affecting song. She sings, "Who's gonna kiss my lipsticks lips, who's gonna hold me tight / I got a bun in the oven, but I still need lovin' / Will you be my man tonight?" with a resigned, complacent longing that imparts just as vivid of an idea of Mandell's situation as the song's lyrics. The detailed imagery on "So Easy" also cuts deeply, as Mandell sings "So easy for some people / But I don't know what love is all about," with a similar air of resignation.
Though I Can See the Future marks a new phase of Mandell's life, and, in turn, her songwriting, she is still as adept as ever crafting compelling storylines, as well as using her voice's versatility and nuance to breathe another dimension into her songs. An expertly chosen rhythm section and the production of Joe Chiccarelli (The Strokes, The Strokes), only serve to deepen the texture of this impressive collection of songs.
Others Tagged With