Satan is Real: The Ballad of the Louvin Brothers by Charlie Louvin with Benjamin Whitmer
Satan hits the high notes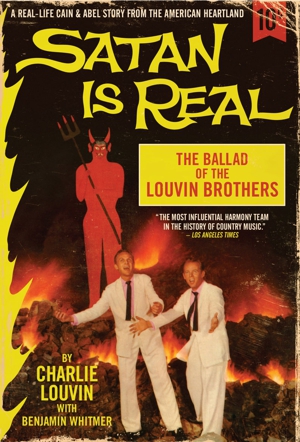 Picking cotton the old fashioned way—by hand—was damned hard and unpleasant work. For the late Charlie Louvin, picking country music and making a living at it was hard as hell too. He did both and lived to tell about it in his unadorned country way. Neither the life he led nor his descriptions of it turn out to be stuff for the weak of heart.
Louvin's memoir tells the story of a generation of country music now gone. Charlie finished writing Satan is Real with Benjamin Whitmer shortly before he passed away in 2011. The era when he and his brother Ira rose to fame as the Louvin Brothers died years before. If you ever saw Louvin, Bill Monroe or Roy Acuff perform, you witnessed an icon of a way of country music life that no longer exists—history as it happened.
Charlie Louvin's musical history lasted until very shortly before he died. It took him from 4:30 a.m. radio shows and schoolhouse concerts to the Grand Ole Opry and finally to the ultra-hip Bonnaroo stage.
The journey started on Sand Mountain, Ala., an Appalachian ridge that spawned several notable country and folk singers, including the Delmore Brothers and Jim Connor. The Delmores wrote and sang the early country classics Nashville Blues, Freight Train Boogie and Mobile Boogie. In a later generation, Connor joined The Kingston Trio and wrote John Denver's 1970s hit Grandma's Feather Bed. Old-time banjo players over many decades have performed a claw hammer banjo tune called "Sand Mountain Holler." Sand Mountain inspires music.
It's where the Loudermilks lived. (The Louvins later changed their name for show business reasons.) Charlie Loudermilk was born in 1927 and began picking cotton, as his whole family did, as soon as he could haul the long, heavy sack. Older brother Ira, a strong influence as well as an instigator, provoked their father into rages that resulted in brutal beatings of the two boys. One of their sisters married at age 13 to get out of the house.
When not picking cotton daylight until dusk, Ira looked for ways to get into trouble and Charlie went along. For instance, Ira once wanted a persimmon they couldn't shake down. He instructed Charlie to fetch an ax and chopped down the tree. The boys ate all the persimmons (and got sick from them), then propped the tree back up in hopes their father wouldn't notice. Colonel Mareno Allen Loudermilk (Colonel was a name, not a military designation) did notice and proceeded to beat Ira so hard that their mother finally intervened to stop him. It took Ira days to recover from injuries inflicted by his own father. Similar scenes happened all through the Louvins' childhoods.
The boys found a less troublesome interest: music. Their mother taught them to sing ballads already ancient in the 1930s, songs like "Mary of the Wild Moor." Charlie and Ira joined friends at a neighbor's house on Saturday nights to listen to the Grand Ole Opry, beamed in from Nashville on WSM AM. The young Loudermilks grew especially enamored with Roy Acuff's singing; They watched him perform once by carefully positioning themselves outside a schoolhouse on Sand Mountain while Acuff and his Smoky Mountain Boys and Girls played inside. On the long walk back home, the brothers decided they could sing as well as Acuff, and they set their minds on doing what he did on the Opry.
They already had some ideas. Throughout his life when asked about influences on the Louvin Brothers' sound, Charlie immediately answered with the Blue Sky Boys (the Bolick brothers) and the Monroe Brothers (Charlie and Bill). Bill Monroe was especially known for his "high lonesome" tenor singing, and it's easy to hear the influence in the high tenor notes Ira could reach. More importantly, the Loudermilk family attended a Sacred Harp singing in Shady Grove, Ala. That experience changed Ira's notion of singing forever.
If you have never been to a Sacred Harp singing, do yourself a favor. Seek one out. In the mid-1970s, I drove to Bruce, Miss., not far from Oxford, with my folklore class at Ole Miss. It turned out to be a classic "all-day singin' with dinner on the ground," as bluegrass legend Jimmy Martin sang it.
The little white church house on the outskirts of Bruce hosted monthly Sacred Harps. The men wore dark slacks, white shirts and ties. The women dressed in church clothes. Inside the church, the pews faced one another in a square, a space in the middle. A leader of each Sacred Harp hymn, called forward by the choral leader or simply called from within, stood in the hollow square and announced the number of a hymn in the Sacred Harp Songbook. He or she then led the song, a cappella, no instruments at all. Notes in the hymn book appear as shapes rather than traditional music score notes. According to University of Mississippi music and Southern culture teacher Warren Steele's Sacred Harp Singing website, the practice stems from a method taught in singing schools during colonial times. Many church-goers couldn't read then; they wouldn't recognize a traditional note as A or F or G. Notes with distinctive shapes and names—fa, so, la, ti, do—linked their voices to the sounds.
In Shady Grove, Ira witnessed a young girl singing higher than he had ever heard anyone sing. He determined to match her vocal abilities, and the high notes from the Sacred Harp tradition inspired Ira's incredible tenor. It became the trademark of the Louvin Brothers' sound.
Next came the hard part … reaching the world.
In his book Truth is Stranger than Publicity, Alton Delmore described how he and brother Rabon made a living by going from town to town to land 15-minute shows on local radio stations. Radio served as an electronic megaphone. Performers relied on the airwaves to spread the music they performed locally in auditoriums, schools and other venues. Eventually, showmen would wear out a market and move on. Delmore called this "being stationed" in a town, the way career military personnel refer to a stint in a specific location.
The Louvin Brothers used the same method. Their first radio show, a 15- minute program on a Chattanooga station, came after they won a talent contest. They then moved to cities across the Southeast, including Memphis and Knoxville. In Memphis, they did three radio shows a day—one as a duo, one with a band and one as a trio with Smilin' Eddie Hill, the man who helped get them on the air.
Migrations of the Louvins, it turns out, didn't come only after they wore out a market. Ira's drinking often made them personae non grata with stations and venues. Ira threw tantrums, smashed his mandolin and verbally abused the wrong people at the wrong time.
Even with these troubles, the Louvins began auditioning for the Opry. With the help of record producer Ken Nelson, they finally became members. They also began recording, first gospel music only, then non-gospel songs, some they wrote themselves. One, "Satan is Real," includes a dramatic recitation by Ira as a man who informs a church congregation and pastor that Jesus is real … but they should not discount the existence of Satan.
"It doesn't insinuate nothing to the listener," according to Charlie in this eponymous memoir. "It speaks very plainly…Just like if there's a God, there has to be a Satan. Half of it can't be true. That's what the song's about."
The album cover for Satan is Real surpassed the song as a country music icon. It depicted a large, almost comic book-type Satan complete with horns and pitchfork, standing in flames behind the Louvins, who wear their white stage suits. Ira designed the 16-foot-tall devil. The brothers built it of plywood that anchored the electric train set of Charlie's son, Sonny. At the photo shoot, they surrounded the sinister figure with old tires and set them on fire. Though it rained and the photographer complained about his equipment getting wet, the shoot went on. (Publishers of this memoir chose the historic photograph for a cover.)
If Satan was real … so was Ira's drinking. The Louvins gained popularity, but Ira's mouth and attitude (with or without whiskey) grew less controllable.
The Louvins toured with an up-and-coming kid named Elvis Presley, who opened for them. Charlie writes that Ira spewed venom to the man who would soon be king of rock and roll.
"Well, Ira'd been drinking some. It was happening more and more by that time, now that we'd started to have a little success. 'Well, you damned white nigger,' he said to Elvis. 'Why do you play that crap on stage if that's [gospel music] what you love?'"
Charlie says in this memoir that he was convinced the Louvins had been Elvis' favorite duet. Charlie died believing that Ira's insults kept Elvis from ever recording any of their songs, even though he recorded songs of many other country artists in his career.
Ira constantly berated even Charlie. Ira told his little brother that his own tenor singing and mandolin playing, not Charlie's lower voice and guitar work, made their act. Ira often declared at the end a show or a tour that he would quit, his frustration culminating in a broken mandolin or a stumble offstage during a performance. Finally, Charlie had enough. He told Ira he wouldn't work with him anymore. Ira tried to reconcile, but Charlie went on the Opry without him the next Saturday and for the rest of his career.
They disputed who should end up with the name "Louvin Brothers," so Charlie writes here that he agreed to let Ira have his share of songwriting credits in exchange for use of the name. After Ira reneged, Charlie used his own name, which he felt turned out to be a blessing.
After the breakup, Charlie continued to play the Opry, and Ira continued to play elsewhere. On tour in Kansas, Ira was driving himself, his fourth wife and two friends. A car steered by a drunk driver crossed the yellow line and hit their vehicle, killing half the Louvin Brothers and all Ira's companions.
After his brother's death, Charlie began to observe the passing of another part of his life, traditional country music. Although Louvin Brothers songs influenced rock musicians, including Gram Parsons, and the Louvins were championed by Emmylou Harris and others, Charlie sadly watched the genre that brought them into existence give way to new beats, new sounds. Critical of so many country acts crossing over to pop music, Charlie declared, "Country music ain't country music now. The so-called country artists now get it as close to pop and rock as they can and still call it country."
What's happened to the Opry? Many have asked, including Charlie Louvin.
Through a concerted effort to bring in new, high-profile members like Keith Urban and Blake Shelton, the Grand Ole Opry changed. Today many long-time, older Opry members don't step into the stage lights. This trend has grown under Opry manager Pete Fisher. The main reason? The Opry believes new acts keep new (read young) audiences interested. Still, many question the way the Opry treats older members. Charlie Louvin was no exception.
"The longer you've been at the Opry, the worse they treat you," Louvin writes in Satan Is Real. "That's the truth of it. They treat you ten times worse than they treat people who come onstage with one song out…They'd be happy if every one of us old-timers dropped dead tomorrow."
Did Charlie forget the Opry has always evolved, always changed?
Some thought Bill Monroe and Earl Scruggs ruined mountain music by using the innovative and exciting tempos and instruments of bluegrass. Once upon a time, neither drums nor electric instruments could appear on the Opry stage. Many credit Ernest Tubb with breaking those barriers to bring the changing sound of his records to live and radio audiences.
While Louvin and many others expressed shock at changes on the Opry, change itself has been consistent, constant. In fact, what many locals call the "new Opry House" opened in 1974 near the now defunct Opryland theme park. With the official name of the Grand Ole Opry House, its tenure as the Opry's home has eclipsed that of the venue most associated with the show's history, the Ryman Auditorium, aka "The Mother Church of Country Music."
Disillusioned with the music business, Charlie stopped recording for a couple of decades. A phone call from record company owner Josh Rosenthal in 2000 changed that. Charlie got back in the studio and in front of live audiences.
Some of Louvin's new fans qualified as the very demographic the Opry tries to court with its younger talent lineup. He appeared at Bonnaroo in 2007. Music City Roots, a hot weekly Nashville radio show featuring Americana music, hosted Charlie as a special guest in 2009. I attended that performance, and Charlie Louvin blended the grit of his raising and his professionalism as an entertainer. Some in the audience remembered him from the old days, but many more only knew his music in the 21st century.
Louvin died in 2011 of pancreatic cancer. He left a legacy of great music and a fascinating memoir for anyone who is a fan of real country music … and for anyone who doubts the power of devils in us and around us.
Les Kerr is a songwriter, recording artist and author originally from the Gulf Coast. His latest CD is New Orleans Set. A Nashville resident since 1987, he co-authored The All-American Truck Stop Cookbook (Thomas Nelson Publishers) and Tennessee (Graphic Arts Press). He contributes to PASTE and other publications. www.leskerr.com
Others Tagged With