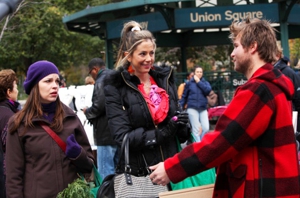 A reunion of sisters leads to simmering tension, shocking revelations and cathartic healing and understanding of a pat sort in Union Square, a small-scale drama set largely in an apartment in Manhattan's titular neighborhood. Nancy Savoca's film wears its indie-ness on its sleeve, relegating itself to one primary location and a number of sequences shot on the streets of New York, a low-budget construction that concentrates squarely on the story's two protagonists, Lucy (Mira Sorvino) and Jenny (Tammy Blanchard). Lucy is in town to meet up with a boyfriend, a plan that—involving going shopping for leopard-print dresses to impress her beau—is quickly negated by the guy's cell-phone excuses about being busy at work. Furious and stuck in the city with nothing to do, Lucy drops in on Jenny, who runs a health food business with her husband, Bill (Mike Doyle), out of their Union Square apartment, and who hasn't seen Lucy for three years. The reasons behind this split are, at least initially, left vague by Savoca and Mary Tobler's script, allowing minor mystery to build as the pushy Lucy imposes on her demure—and clearly unhappy-about-this-surprise—sibling, barging into her home and, without permission, setting up temporary residence.
Alas, as Lucy makes herself a guest on Jenny's couch, Union Square settles into a familiar and limited affair in which the specifics of these characters' problems prove secondary to the fact that the writer/director telegraphs—simply through the yin-yang nature of her protagonists, as well as her uninvited-guest scenario—that everything is headed first toward angry conflict, and then happy inner and interpersonal reconciliation. Squawking in a heavy Bronx accent that, along with her loudmouth profanity, gaudy clothing style, and general tornado-like impropriety, marks her as a dull caricature, Lucy is a grating presence from the get-go, and though Sorvino does her best to offset this obnoxiousness by flashing the occasional sincere smile, Lucy's general unpleasantness is a hurdle the film can't clear. It doesn't help that Savoca gives her nothing but clichéd bad-girl behavior in which to indulge, from having one of her friends over for gimlet- and pill-fueled partying—this despite the fact that Jenny and Bill are vegans who don't consume anything unhealthy—or dragging Jenny out for an impromptu night of clubbing and fake-suicide self-pitying.
As becomes increasingly clear, the root cause of the women's issues with each other stems from Jenny abandoning the Bronx and her family—and, specifically, her horrid mother—because she was repulsed by their lack of culture and class, and subsequently reinvented herself with a new backstory (she's from Maine, apparently), a new voice and a new hoity-toity attitude. When Lucy drops the bombshell that mommy-dearest is now dead, however, regret and second-guessing soon start to crack Jenny's holier-than-thou façade. At that point, the film also takes a drastic turn, transforming Jenny from a put-upon victim of her uncouth sister into a smug cretin who desperately needs to confront her own past and lies, and in the process embrace her true self. Savoca's rooting-interest switcheroo, however, feels so forced that it manages to make Jenny unlikeable without also turning Lucy into a figure of sympathy—rather, it just leaves them both as repugnant nobodies too absorbed with their own needs and desires to treat anyone they care about with decency.
Third-act revelations involving Lucy's own romantic and parental circumstances are matched by a late bout of hugs and tears as everyone stands around a computer screen and watches a homemade online video tribute to the women's mother (Patti LuPone). As with Union Square's contrived softening of Lucy, this climactic unveiling reveals mom to be far less than a monster—despite sitting in a recliner and meanly flicking her lighter at children while bemoaning parenthood as a mistake, LuPone's mother nonetheless tells the camera that she both misses and loves absentee Jenny, thus proving both her inherent goodness and Jenny's status as an ungrateful deserter. Mostly, though, it exposes the film's desire to feign nasty conflict before resolving it in the easiest and most comforting means possible—all the while indulging in the pro- and anti-organic food debates (replete with an unfunny misadventure/trip by Lucy and Jenny to Union Square's farmer's market) that are as stale as the story's uplift.
Director: Nancy Savoca
Writer: Nancy Savoca & Mary Tobler (screenplay)
Starring: Tammy Blanchard, Mira Sorvino, Michael Rispoli
Release Date: July 13, 2012
Others Tagged With