Somebody Up There Likes Me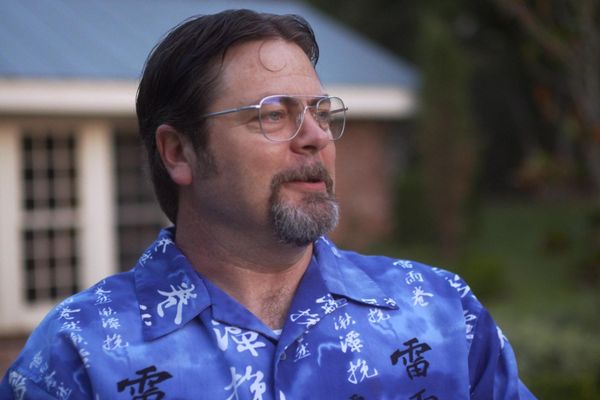 At first glance, Somebody Up There Likes Me might be mistaken for a debut film from a recent graduate of the Wes Anderson School of Offbeat Filmmaking, but the pedigree of its director is concurrent with that of Anderson. The film, which premiered at last year's SXSW, is director Bob Byington's fifth writing/directing effort. His first was 1996's Shameless, which, ironically enough, is the same year Anderson came along with his debut feature, Bottle Rocket.
Somebody Up There Likes Me begins at the end with Sal (an excellent Nick Offerman) somberly stating, "I think it's funny we all sorta think we're not gonna die." The opening scene also marks the introduction of a mysterious blue suitcase that, when opened, emits animated light indicating it contains something along the lines of supernatural.
The owner of the suitcase is Max (Keith Poulson), who fits right in to the Byington mold as a whimsical albeit sardonic character who more or less floats through life, seemingly unaffected on the surface yet tragically heartbroken within. His recent divorce leaves him more morose than what he probably already was. But it isn't soon before long that he meets Lyla (Jess Weixler), a fellow waiter at his new job, who he wastes no time in marrying. At this point, we meet Sal once again, who Max asks to serve as best man.
Lyla is a compulsive breadstick eater who is wide-eyed and odd, making for a properly balanced mix of bright and gloom between her and Max. It is not until Lyla finds out she is pregnant with Max's son that the web of twisted relationships begin to take flight. As we jump in five-year increments—totaling 35 years by the film's end—we witness one deranged storyline after another. If it wasn't for the unremitting sunny disposition of the film—enhanced by Scott Baio's (Vampire Weekend) chirpy soundtrack—and absence of angry emotions from the cast of characters, one might mistake the storyline for that of a soap opera.
Max not only proves to be the sole character to not physically age in three decades, but also continues to remain unaffected by the fact that the men in his life don't value the classic "guy-code" when it comes to his women. Nevertheless, this numbness allows him to maintain a strong relationship with Sal, which eventually leads them to launch a successful business venture together, before tragedy strikes.
The Tenenbaum-esque cast individually sport a trademark uniform of both personality and apparel, such as the signature red hat and glasses that adorn the face of Lyle throughout his thirty-five years, quite similar Chas and sons' red Adidas track suits or the sweatband and shades that Richie, Luke Wilson's character, notoriously wears throughout Anderson's The Royal Tenenbaums.
Wes Anderson knock-off or not, Somebody Up There Likes Me is an entertaining film with a strong artistic exertion and a resilient attention to detail, making for a memorable seventy-five minutes thanks to its outlandish quirk and well-defined characters.
Director: Bob Byington
Writer: Bob Byington
Starring: Keith Poulson, Nick Offerman, Jess Weixler, Stephanie Hunt, Jonathan Togo
Release: Mar. 15th, 2013
Others Tagged With