Big Star: Nothing Can Hurt Me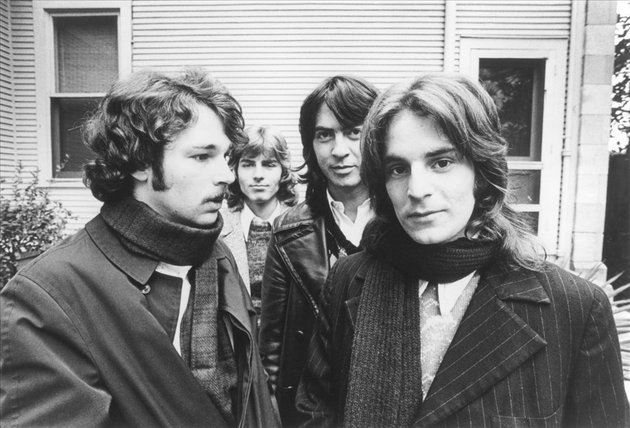 Outside of the Velvet Underground, Big Star are probably the one American band whose towering influence stands in such stark contrast to their meager commercial success. Over the course of three albums in the early-to-mid 1970s, this Memphis group helped give birth to power-pop, producing a combination of appealingly rollicking garage-rock, shimmering folk-rock, and increasingly experimental sounds that were slept on during their time but created the roadmap for later indie-rock artists like Matthew Sweet, R.E.M. and Teenage Fanclub.
Whether you're discussing Big Star's poignant music or the fate of some of the band's members, sadness suffuses their story, and so it shouldn't be a surprise that Big Star: Nothing Can Hurt Me, a documentary about the group, has a melancholy tinge to it. Directors Drew DeNicola and Olivia Mori follow a pretty typical rock-doc structure—oral-history biography mixed with rare footage and testimonials from high-profile fans—but what's striking is how few highs there are in comparison to the many lows. Even when Nothing Can Hurt Me reaches its inevitable feel-good conclusion that shows all the musicians who were inspired by Big Star's example, you wonder if it was worth it considering what the band went through.
With a breezy confidence, the documentary lays out all the important information about Big Star early on. The band was the brainchild of two talents: songwriter/vocalist Alex Chilton (who had recently split from the Box Tops, famous for the huge hit "The Letter") and songwriter/vocalist Chris Bell. Teaming up with bassist Andy Hummel and drummer Jody Stephens, they married Beatles melodies to jangly guitars on their terrific debut, 1972's #1 Record, but despite receiving plenty of glowing reviews, the album failed to make a dent on radio or the charts. Long before the band's second release, Radio City, Bell had made his exit, in part because he didn't want to be perceived as second banana to Chilton, who was the more famous of the two thanks to the Box Tops.
Because Big Star's recorded legacy is so small—their final studio effort, Third/Sister Lovers, was completed in 1974 but didn't come out for four years—Nothing Can Hurt Me doesn't dwell entirely on the group's time together. Crucially, the film also includes Bell's subsequent (and frustratingly unrewarding) stab at a solo career and Chilton's odyssey through punk and other musical styles as he all the while dismissed his time in Big Star. Unfortunately, Nothing Can Hurt Me suffers because it features little of either man's voice in the movie. (Bell died in 1978, while Chilton passed away in 2010.) As a result, Nothing Can Hurt Me has to rely on others to fill in the blanks—including Hummel, Stephens and Bell's brother, David—which robs the film of some of its vitality and immediacy. But, in a way, Bell and Chilton's absence works for a portrait of a band whose lack of popularity in their era always made them seem somewhat invisible. And it adds to their bittersweet mystique: Even now, when Big Star are rightly celebrated, their creative architects aren't here to fully appreciate it.
Still, the time spent on Big Star in their time is easily Nothing Can Hurt Me's strongest section, with DeNicola and Mori doing solid work explaining how precisely the band failed to capture the public. (The blame can be pinned on everything from poor business decisions on their label's part to the industry's increased interest in blockbuster acts, a strategy that's only intensified in subsequent decades.) You won't hear much about how indelible songs like "September Gurls" and "Thirteen" were created—or exactly how the group hit upon their distinct sound. But if the film skimps on the behind-the-scenes anecdotes, it compensates with an understated approach that doesn't try overselling the band's legacy. The filmmakers needn't worry: The songs, which are featured generously throughout, remain dazzling, and the particulars of the band members' personal lives, which include tragedy and deep disillusionment, are dramatic enough without any embellishment.
As is usual with such music documentaries, Nothing Can Hurt Me is probably too affectionate about its subject to offer the truly authoritative, objective examination that would make the movie a definitive overview. But with a band like Big Star, DeNicola and Mori's sentimental treatment is understandable. This was a band that never got big but was passionately loved by their fans, who treated the songs like holy relics. It would be strange for a documentary about the group to be any less devotional.
Tim Grierson is chief film critic for Paste. You can follow him on Twitter.
Directors: Drew DeNicola, Olivia Mori
Writer: Drew DeNicola
Starring: David Bell, William Eggleston, John Fry, Andy Hummel, Carole Manning, Chris Stamey, Jody Stephens
Release Date: July 3, 2013
Others Tagged With