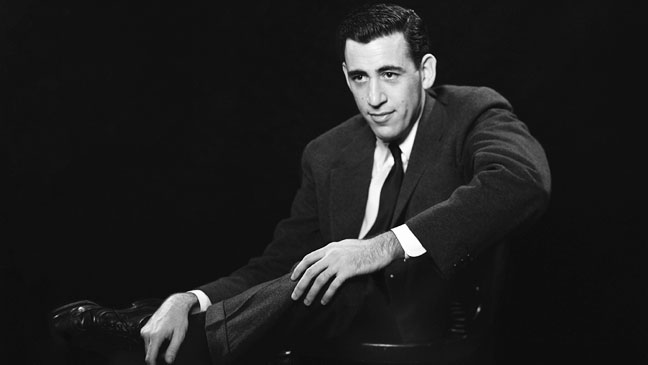 It's hard to overstate the significance and mystery of J.D. Salinger. His 1951 novel Catcher in the Rye has sold more than 60 million copies and still moves 250,000 copies a year, and he eschewed celebrity to live in self-imposed seclusion in Cornish, N.H., for almost 60 years. Yet screenwriter Shane Salerno's nine-years-in-the-making documentary on the author manages to oversell its subject, demanding awe about footage and photos and information that are cool, sure, but not earth-shattering.
Salinger covers the same biographical material that can be found on Wikipedia: the author's privileged upbringing in New York City, his ambition to be published in The New Yorker, his experiences during World War II (including D-Day and the liberation of Dachau), his strained family life and his numerous affairs with young women. Yet Salerno has put together an oral history from original and archival interviews that teases titillating details from these broad strokes. The interviewees—friends, lovers and fans of all stripes—are intellectuals and natural storytellers, aided by deft questioning (one can assume) and clever editing between separate interviews with the same person to piece together compelling anecdotes.
Few images exist of the famously reclusive writer, so it's understandable that Salerno makes the most of what he does have, and the repetitive use of just a few pictures actually doesn't get old—maybe because he fills in the gaps with gauzy reenactments. These re-creations take place both "on location" and on a spare stage furnished with just a desk and a giant projection screen that give parts of the film a theatrical flair. Though the face of the actor playing Salinger is mostly obscured, the use of this device grows increasingly distracting, especially since he bears little resemblance to the man he's portraying.
Meanwhile, the movie makes much of the few exclusives it does have: an otherwise uninteresting bit of film from World War II billed as the only existing footage of Salinger from that period, played in its entirety to the dramatic soft clatter of a projector; a series never-before-seen stills taken very late in the recluse's life; and the fact that Salinger left instructions for the publication of at least five more books starting in 2015.
Before the release of an accompanying 720-page biography on Tuesday, Harvey Weinstein, who is distributing the film, wanted critics to keep this last bit of information to themselves, but this bid for suspense backfires when the same details revealed in a New York Times article appear on the screen to a swelling score. Yes, it's exciting news, but it's not that exciting.
Salinger reportedly bristled at assessments that described Holden Caulfield as "crazy," for Salinger's signature character was a stand-in for himself. By the end of Salinger, though, he seems kind of like a madman. The guy wrote in isolation for nearly 50 years—how do we know if any of it is any good? Maybe we should wait until then—two years from now, if the film's info is right—before falling for all this fanfare.
Director: Shane Salerno
Release Date: Sept. 6, 2013
Others Tagged With