The 25 Best Live Moments on TV (2000-2009)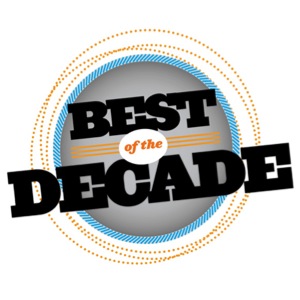 Page 1 of 5
For today's Best of the Decade list, Paste looks back on our favorite live TV moments from 2000-2009.
To be clear, this is a very different list from most important or most memorable moments—there were many live events that were burned into our minds during this difficult decade (most notably the attacks on Sept. 11, 2001, the Iraq War, the Indian Ocean tsunami, the China earthquake and other such terrible tragedies).
But here, instead, we focus on those magical, often spontaneous moments we witnessed live on TV this past decade—moments that captured our imaginations and had us glued to the set out of sheer joy and excitement rather panic or melancholy.
25. Radiohead and the USC Marching Band Mesmerize at the Grammys (2009)
At the 2009 Grammy Awards, Radiohead's Thom Yorke and Jonny Greenwood were joined by the University of Southern California Marching Band for this hypnotic performance of "15 Step," the lead track from the band's
In Rainbows
album.
24.
SNL
's First Gore vs. Bush Presidential Debate (2000)
Even before reaching a comedic climax with Will Ferrell's Bush muttering "strategery" and Darrell Hammond's Gore monotoning "lockbox," this sketch had already gone down in
Saturday Night Live
history as one of the show's greatest, most on-the-money political parodies.
23. Springsteen's Super Bowl Slide (2009)
While performing an inspired rendition of his song "Tenth Avenue Freeze Out" at Superbowl
XLIII
, Springsteen—at just shy of 60 years old, in a moment of overzealous, childlike awesomeness—executed one of rock's greatest power slides ever. It was such an ample slide that The Boss overshot his intended mark by several feet and accidentally punched the camera with his crotch, which surprised everyone—especially him. It was the perfect antidote, curing the Superbowl Halftime Show of any lameness it had been infected with during the infamous wardrobe malfunction of five years prior.
22. Letterman Apologizes to Comedian Bill Hicks' Mother (2009)
In 1993, comedian Bill Hicks' would-be final standup appearance on
The Late Show
was cut at the last minute because host David Letterman and the producers deemed the material too offensive and controversial. What Letterman and company didn't know at the time was that the 32-year-old Hicks was dying of pancreatic cancer and wouldn't live through the next year. In hindsight, Letterman realized how groundbreaking and gutsy Hicks' comedy was. To right the wrong he'd done, he had Hicks' mother, Mary, on the show and—in an emotional, sincere TV moment—apologized for the "heartache and sadness" he'd caused Hicks and his family.
21. Vince Young's National Championship Touchdown Run (2006)
With time running out in the 4th quarter of the National Championship game between the Texas Longhorns and the
USC
Trojans, in one of the greatest back-and-forth college-football battles of all time, Longhorns quarterback Vince Young took his team's fate into his own hands. Behind by five points on 4th down and 5, at the Trojans' 13-yard line, he made a brilliant dash for the corner of the end zone, pulling off this dramatic game-winning touchdown with seconds left on the clock.