We've got nothing against being green. In fact, we're all for celebrating the luck of the Irish – and everybody else – with hues so verdant they inspire a ton of spring fever. But we are absolutely against that nasty artificial food dye, and see no reason to ruin perfectly good beer with it. Instead of ingesting something that looks more like the juice of grass than fermented hops, why not toast the saint with some naturally green cocktails? Here are five to try:
---
The Midori Mebuki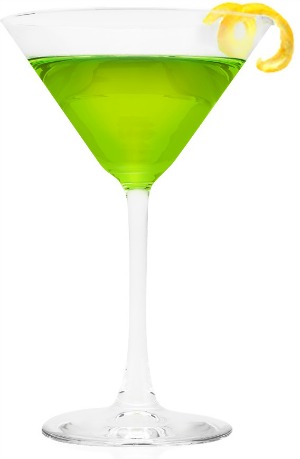 This melon-fresh masterpiece was created by Iron Chef Masaharu Morimoto, who combines the emerald liqueur with sake, tart lemon juice and simple syrup. "'Mebuki,' which means 'budding' in Japanese, references the fresh start of spring, and its vibrant green color makes it festive to enjoy this holiday," the Iron Chef says.
Ingredients:
1 part Midori® Melon Liqueur
1 part Junmai-Style Sake
1/2 part Fresh Lemon Juice
Splash Simple Syrup
Directions: Combine ingredients in a mixing glass with ice and shake. Strain into a chilled martini glass. Garnish with a lemon peel. 
---
Mojito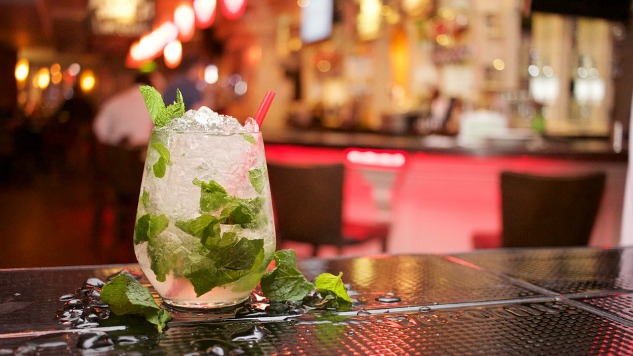 Mojitos are how Miami does St. Patrick's Day. To do likewise, muddle that mint and squeeze that lime for a fresh, light green glow in this easy-breezy highball, made with white rum, sparkling soda and simple syrup.
---
Green Bloody Mary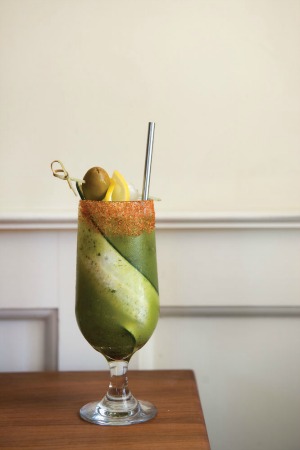 In the book, America's Best Breakfasts: Favorite Local Recipes from Coast to Coast (Clarkson Potter, April 2016), by Lee Brian Schrager and Adeena Sussman, a whole chapter of Blood Mary cocktails includes two that are easy being green: One from Elad Zvi and Gabe Orta's 27 Restaurant in Miami that features a cucumber ribbon and another made with tomatillos from Kapnos in Washington, D.C., that is topped with a grilled green tomato. Taha Ismail, the mixologist at Kapnos, lends us his recipe for a brunch crowd, below.
Ingredients:
2 quarts grilled green tomato and tomatillo juice
3 grilled Serrano peppers
1 grilled garlic clove
Handful cilantro
2 tablespoons horseradish
2 tablespoons Sherry vinegar
2 tablespoons green Tabasco
1?4 up lime juice
1 cup water
Salt to taste
Pepper to taste
Directions: Using a blender, blend some of the green tomato juice with the grilled serrano peppers, garlic and cilantro until finely pureed. Mix in the rest of the ingredients. Pour 2 ounces of vodka over ice into Collins glasses and fill with mix.
---
The Grasshopper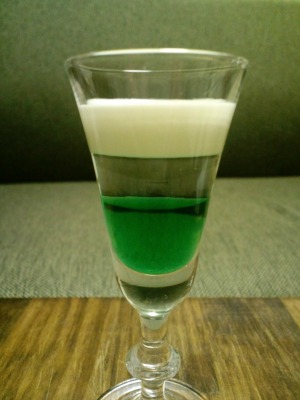 As elusive these days as a leprechaun, the Grasshopper, when made correctly, does not lie heavy I the man – or woman – in the high castle. Shake 1 ounce each of crème de menthe, crème de cacao and fresh, sweet cream over ice and strain into a cocktail glass.
---
The Green Slipper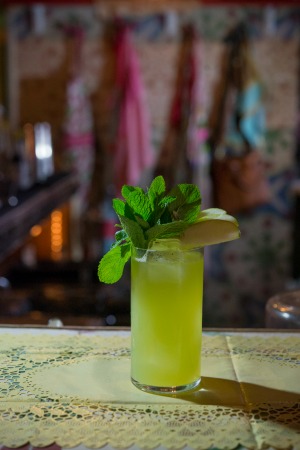 The Green Slipper, from the book Cuban Cocktails: 100 Classic & Modern Drinks (Sterling Epicure, 2015) by Ravi DeRossi, Jane Danger & Alla Lapushchik, is meant to be shared with friends. Lapushchik notes that it's a perfect St. Patrick's Day punch. She says, "The Green Slipper was created to capture the excitement of the first bits of springtime greenery budding out after a long, hard winter. The apple, mint, and cucumber provide a holy trinity of green freshness, while the St. Germain provides the floral notes to tie all the greens together."
Ingredients:
36 Mint leaves, plus extra for garnish
18 Apple slices, plus extra for garnish
18 Cucumber slices, plus extra for garnish
6 ounces Flor de Caña 4 Year Extra Dry Rum
3 ounces St. Germain
4½ ounces simple syrup
6 ounces lime juice
Directions: In a blender, blend all ingredients for 20 to 30 seconds. Fine strain through a mesh strainer into a punch bowl with 3 large ice cubes. Garnish with extra mint leaves, apple and cucumber slices.