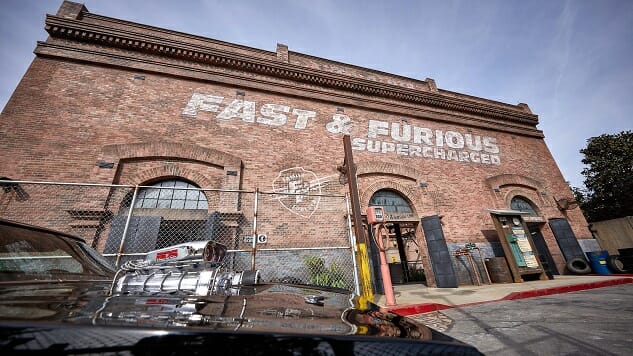 Universal Studios Florida's string of attractions based on popular movies continues with Fast and Furious—Supercharged, which officially opened today at the Orlando theme park. The beefed up version of Universal Studios Hollywood's dark ride features appearances from many of the stars of the film series, including Dwayne "The Rock" Johnson, Vin Diesel and Michelle Rodriguez. The new version will also exclusively include cameos from Ludacris and Jordana Brewster.
Set in a recreation of the warehouse from the movies, with actual props and vehicles seen on screen, Supercharged will let guests "join up with the Fast crew as they feel what it's like to step into their favorite Fast & Furious film," according to Universal's press release. It looks like as much of a film as a ride, with the actors appearing in the same room as your studio tour-style tram vehicle. If you've ridden the Hollywood version, it seems to essentially be the same ride, with the addition of Ludacris and Brewster; if you haven't, well, you have at least one new experience waiting for you when you next go to Universal.
The new ride is based in the San Francisco portion of the park, using space previously occupied by the Disaster! film production attraction. It's the latest ride in Universal to use the "virtual line" technology, which uses a mobile app (also found at kiosks in the park) to reserve a specific time in hopes of cutting down on the wait.
Expect more from Paste on Supercharged in a couple of weeks, after the official grand opening on May 2.