Gramovox Floating Record Player: A Gorgeous Turntable That Also Sounds Pretty Great
Tech
Reviews
Gramovox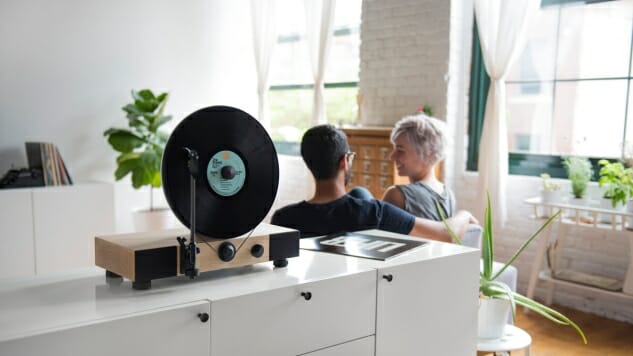 It's not terribly often that a Kickstarter darling delivers on its claims, but sometimes, crowdfunding does pay off. The Gramovox Floating Record Player raised $1.5 million to get the product green lit in late 2015. Now, the units are in the wild, and the almost unbelievable engineering feat works pretty much as advertised. It is, for all intents and purposes, a floating record player.
Vinyl has obviously been around a long time, and its exceedingly rare for something to actually make the activity of listening to a record feel fresh and new. But, this is almost magical when you turn it on, and in a way, it makes you pay more attention to the music coming out of it.
The unit comes split into a few different pieces for shipping, but assembly takes about 10 minutes, tops — no high-level turntable assembly knowledge required. The instructions are clear, precise and very easy to follow, even if you're a layman who doesn't know a platter from a cartridge. A few minutes in, and you're ready to start rocking out.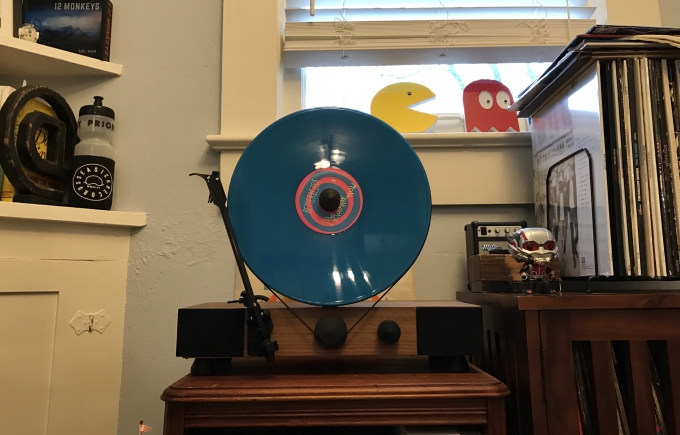 If you're looking for a record player that can display your vinyl in a unique way and serve as the centerpiece of a room, look no further. The Floating Record Player is pretty much the best (and only) option on the market to truly check that box, and it plays really well for a system its size, to boot. There's a reason most of Gramovox's promotional material features the unit sitting on a table in the center of a room, or on display on a prominent shelf — it's simply a gorgeous piece of kit. The guts are housed in a solid wood base, with 2-inch stereo speakers on each side. The controls are condensed to literally one knob for power and volume, which makes for an elegant, uncomplicated look. But, the whole design is framed to accentuate the platter, which sits up vertically so that whatever is playing at the moment is on full, glorious display.
The record sits on a hefty platter and is held in place by a screw-on center (complete with felt backing, so it doesn't rub up against your LPs). It's a bit complicated to swap records, but only takes a few seconds longer than a typical turntable once you get the hang of it. The record spins thanks to a belt drive system that runs down the center of the base, and you can change the speed from 33 1/3 to 45 RPM by switching the notch for the belt from a larger loop to a smaller one. The belt drive does take a moment or two to ramp up, but it always got up to speed for me in a few seconds or less.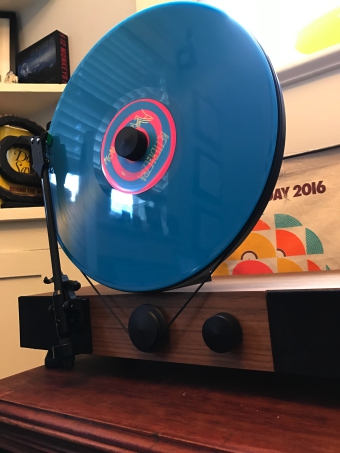 The internal speakers are solid and put out good sound for their size, but if you're looking to tie this into a larger stereo system, you can do that, too. It already has a built-in phono pre-amp, built-in RCA line out ports and a headphone jack if you're looking to just dive headfirst into an album. So, you have options, and the audio carries out great to bigger speakers — just like any other quality turntable would.
But, the most creative bit of design comes in the mechanism that actually plays the record without skipping across your old Beatles LPs like nails on a chalkboard. The solid, carbon fiber tone arm is balanced by a counterweight that keeps it in place to host the cartridge and needle. Speaking of which, the Floating Record Player sports a solid mid-to-upper tier cartridge, the Audio-Technica AT95E. It provides more than enough clarity and nuance for the average audiophile. I threw on Ryan Adams' new LP Prisoner with a pair of noise-canceling headphones, cranked up the volume, and it sounded great. The audio was rich, clear and warm. A bit depressing, sure, but that's more Adams' fault than the table's. That said, there are obviously more expensive and better cartridges available out there, but, if you're the type of person who pumps thousands of dollars into your home stereo, you're probably not in the market for what Gramovox offers here.
I dug deep into my vinyl collection, and it handled everything I could throw at it. From high quality pressings on 180-gram vinyl, to older LPs in decent shape dating back to the 1960s and 1970s, and cheap pressings on thin vinyl, it held its own and played as well as you'd expect from a mid-tier turntable, on par with comparable Audio Technica units and the like.
The player is held up on a set of vibration dampening feet, which do a solid job of cutting down jumps and skips. But, the weighted tone arm and fancy feet are working hard to make up for the help of gravity, the typical anchor for a horizontal turntable. I didn't have any skips during my controlled testing, which was impressive. Considering the fact this entire rig is playing up in the air, I thought that could be a problem. It wasn't.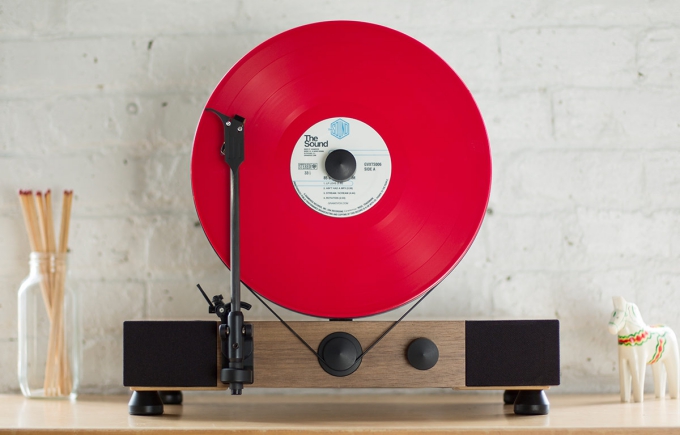 Put simply: The specs are solid, but you're not here for the specs. You're here for the spectacle, and the Floating Record Player absolutely delivers. Gramovox has created a great, mid-tier record player and figured out how to make it play horizontally and look fantastic while doing it. It's striking. Case in point: My five-year-old has grown up around vinyl and music. He popped into my office while I was testing and saw the unit playing a colored pressing of The Decemberists' Picaresque. His jaw hit the floor. It just has that effect when you see it in action. Plus, even when it's not playing, the platter is still a gorgeous frame for colored or decorative vinyl.
The only real fault, so to speak, is the price. You could walk away with a pretty great home stereo set-up for the $550 this thing will set you back, but that's where you have to make your own decision. Yes, you could arguably get a "better" set-up for that kind of cash, but it certainly won't be this cool. The Floating Record Player may not be for everyone, but if you think it's for you, you'll fall in love.