Hair Will Follow Jesus Christ Superstar as NBC's Next Live Musical
Photo via Virginia Sherwood/NBC
TV
News
NBC's Hair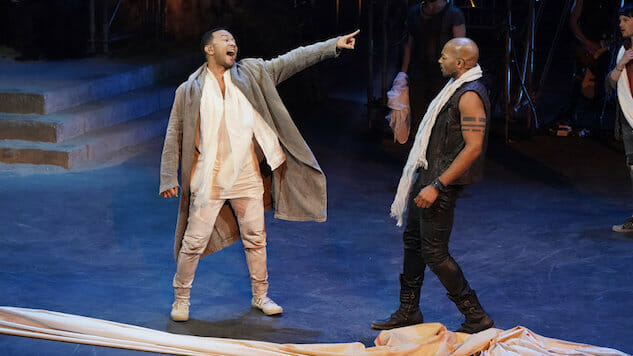 In 2013, NBC took their first whack at live televised theatre with a rendition of The Sound of Music Live! and, since then, other networks have even followed suit—Fox has broadcasted The Passion, A Christmas Story Live! and Grease Live!, for instance. But, NBC remains the original bar-setter for live TV musicals, and now they've announced their sixth production in six years: the funky rock musical Hair.
Following April's righteous live production of Jesus Christ Superstar Live in Concert, NBC will broadcast Hair in the spring of 2019, the network announced on Thursday. Craig Zadan and Neil Meron, who also worked on NBC's other five productions—Superstar, as well as The Sound of Music Live!, Peter Pan, The Wiz and Hairspray—are signed on to produce the project. There's no word yet on who will star in the production.
The New York City-set Hair is similar to shows like Superstar in that it's a rock musical (though the John Legend-helmed Superstar carries the title "opera," too). The spectacular Superstar, which was an epic in every sense, will be a tough act to follow, but Hair's troupe of rollicking hippies navigating the Vietnam War to the sounds of funk and rock just might do the trick. The show, written by Gerome Ragni and James Rado with music by Galt MacDermot, premiered on Broadway in 1968 following an Off-Broadway run. It was reignited in 2009 with a Broadway revival starring theatre veterans Gavin Creel and Caissie Levy.
Producers Zadan and Meron anticipate a thrilling interpretation in a joint statement:
When we both, individually, saw Hair on Broadway, we were knocked out by how musical theatre could be stretched into something so daring, immersive, and audacious. Its recent Broadway revival showed how timeless the show is and that it's relevant to any era. Hair is filled with heartfelt emotion, joy, and thrilling music, and it really will be the new dawning of the Age of Aquarius.
We listed Jesus Christ Superstar Live in Concert as one of the best live TV musicals produced so far. Where will Hair land among those ranks? We'll have to wait a year to find out.