Hear Death Cab for Cutie's New Single, "I Dreamt We Spoke Again"
Images via Eliot Lee Hazel, Atlantic Records
Music
News
Death Cab for Cutie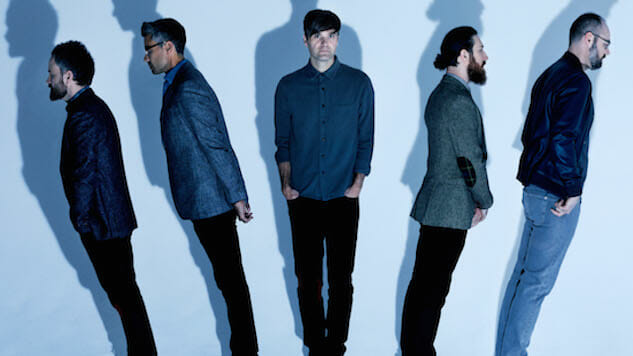 Death Cab for Cutie are no strangers to the lingering ghosts of old relationships, a theme that is all too clear on their newly released single "I Dreamt We Spoke Again."
In the vein of songs like "The Ghosts of Beverly Drive" and "You've Haunted Me All My Life" off the band's last album Kintsugi—frontman Ben Gibbard's 2015 divorce album, tellingly titled after the Japanese art of repairing broken pottery—Gibbard actively describes feeling haunted by thoughts of a former lover on "I Dreamt We Spoke Again," singing "I dreamt we spoke, I dreamt we spoke again / Been so long, been so long your voice was like a ghost in my head."
While there's certainly a moodiness permeating the song, it doesn't dive as deeply into the melancholia that defines some of Death Cab's previous work. Instead, the track reflects the hazy dreamlike quality of its subject matter, with Gibbard sounding more detached than upset before he shrugs off the experience entirely as something he can barely remember.
"I Dreamt We Spoke Again" is the second single from Death Cab for Cutie's forthcoming album Thank You for Today, following June's "Gold Rush." The album is due out via Atlantic Records on Aug. 17 and is available for preorder here. The band is embarking on a North American tour in support of Thank You for Today in August; find a full list of dates and venues here.
Listen to "I Dreamt We Spoke Again" below, and check out Death Cab for Cutie performing Narrow Stairs cut "Cath" circa 2008 in a clip from the Paste Cloud.