Exclusive: Los Angeles Slowcore Outfit Milly Share New Single "Crazy Horse"
Photo by Derec Patrick
Music
News
Milly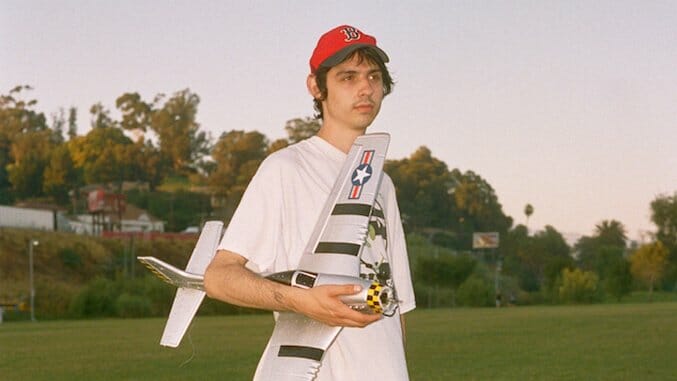 Los Angeles slowcore outfit Milly have shared a new single "Crazy Horse," which follows their debut single "Talking Secret." The band of teens recently signed to L.A.'s Dangerbird Records, and their new single serves as the second installment of the label's Microdose Series. Milly began as the home recording project of songwriter and multi­-instrumentalist Brendan Dyer, who spearheaded the project in his hometown of Bristol, Connecticut before moving to Los Angeles and evolving into a live band. The band will support British shoegazers and Dangerbird labelmates Swervedriver in North America this October and November, and you can view their tour dates below.
"Crazy Horse" is deliberately rumpled, opening with slo-mo programmed beats and yearning vocals that drag their feet. Though submerged in a thick sonic mud, "Crazy Horse" embodies the mountain-moving feeling from the gaze of a love interest, and it cuts to the heart of a young romance that could never be. "Indifferent people then / Still different people now / You work the greatest on your own," Dyer sings over enticingly languid guitars and subtle piano. The accompanying music video's depiction of flowers and model airplanes further emphasizes the delicate innocence and lovey-dovey tunnel vision that comes with teenage love.
"'Crazy Horse' started off as a demo I made while living in CT at home with my parents," Dyer says. "I was messing around with open tunings and the idea of mixing programmed drums with real drums. A year later when living in LA I was invited to record with my friend and superb producer, Sachi. He was my guiding light, helping me really grow the arrangement of the song to what it is today. He showed me things I never thought to do on the original demo (slide guitar, vocal manipulation, piano)."
"The video was shot and directed by my best friend, Justice Ott," Dyer says. "We went to a hardware store out in North Hollywood and picked up this sweet fighter plane he had been eyeing down for a video's use for a few years now. The connection with planes to the song is this idea of freedom. The plane scene was filmed out in Malibu at Pepperdine University. The funniest thing is that only one of the shots is actually a real flight, as the plane proved a lot harder to operate than we assumed. The other shot is of our own Scarlet Knight walking backwards through downtown and put in reverse to look like she's walking forward. Trippy shit."
Listen to "Crazy Horse" exclusively via Paste, and check out their upcoming dates with Swervedriver below.
Milly Tour Dates:
October
10 – San Diego, Calif. @ Casbah
11 – Phoenix, Ariz. @ Valley Bar
13 – Dallas, Texas @ Club DADA
14 – Austin, Texas @ Empire Control Room
16 – Atlanta, Ga. @ Hell (The Masquerade)
17 – Nashville, Tenn. @ Mercy Lounge
18 – Carrboro, N.C. @ Cat's Cradle
19 – Washington, D.C. @ Rock & Roll Hotel
20 – Pittsburgh, Pa. @ Spirit Hall
21 – Philadelphia, Pa. @ Milkboy
22 – New York, N.Y. @ (Le) Poisson Rouge
23 – Asbury Park, N.J. @ House of Independents
24 – Boston, Mass. @ Sonia
27 – Detroit, Mich. @ El Club
28 – Chicago, Ill. @ Bottom Lounge
30 – Denver, Colo. @ Bluebird
November
03 – Seattle, Wash. @ Columbia City Theater
05 – San Francisco, Calif. @ The Independent
06 – Los Angeles, Calif. @ Teragram