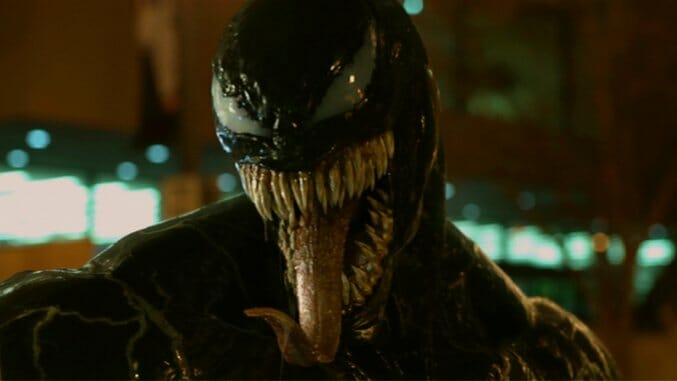 The shortest month of the year has already all but flown by, meaning it's time to start looking ahead to March and the many new streaming titles it brings to our TV screens. The Starz streaming library is set to expand and contract in noteworthy ways next month, as you'll see below.
Our overview of Starz's incoming film titles can only begin one way: like a turd in the wind. One of 2018's best bad movies, Tom Hardy-starring super-antihero blockbuster Venom hits Starz on March 30, so brace yourselves for all the absurd comedy, over-the-top action and human/symbiote bromance you can handle. But we're getting ahead of ourselves—a tall pile of titles arrive on the first of the month, including essential Steven Spielberg blockbuster Jurassic Park (plus sequels The Lost World: Jurassic Park and Jurassic Park III), Martin Scorsese's mid-'90s mob epic Casino, Oscar-nominated Paul Verhoeven thriller Basic Instinct, iconic 1987 romantic drama Dirty Dancing (and 2004 sequel Dirty Dancing 2: Havana Nights), Helen Mirren-led Oscar winner The Queen, Spike Lee crime thriller Inside Man, screwball sports comedy Dodgeball: A True Underdog Story, Tim Burton's 2010 Alice In Wonderland and horror videogame adaptation Resident Evil. Following those films later in the month are beloved George Lucas dramedy American Graffiti (March 8), M. Night Shyamalan's side-splitting unintentional comedy The Happening (March 8), iconic Scorsese/Robert De Niro crime thriller Cape Fear (March 15), Ron Howard's Oscar-nominated political bio-drama Frost/Nixon (March 16), acclaimed John Cho-starring thriller Searching (March 16), the premiere of Oscar-nominated 2018 documentary Of Fathers and Sons (March 18), Brian De Palma-directed crime drama Carlito's Way (March 22) and 2018 prehistoric adventure Alpha (March 23), among others.
As for what's next in Starz TV, March's most noteworthy addition is the second season of American Gods, the channel's original one-hour drama series adaptation of Neil Gaiman's 2001 novel of the same name, centering on "a war brewing between Old Gods and New Gods: the traditional gods of mythological roots from around the world steadily losing believers to an upstart pantheon of gods reflecting society's modern love of money, technology, media, celebrity and drugs," per Starz. The show's second season premieres on March 10, as does new comedy series Now Apocalypse, starring Avan Jogia (Tut, Twisted) as Ulysses, who is struggling to figure out his life in the surreal and bewildering city of Los Angeles. Other new episodes of television coming to Starz include Diff'rent Strokes (Episodes 101-819, March 1), Good Times (Episodes 101-624, March 1), Knight Rider (Episodes 414-421, March 8), Miami Vice (Episodes 414-522, March 22), Voltron: Defender of the Universe (Episodes 115-152, March 22) and more.
Don't over look what's leaving Starz next month, as a litany of notable titles are on their way out. These include disaster blockbuster 2012 (March 14) and Evil Dead II (March 23), as well as dozens of titles departing on March 31: Addams Family Values, American Psycho, Beavis And Butt-Head Do America, Coming To America, Ferris Bueller's Day Off, John Carpenter's Escape From L.A., Rudy, Sands Of Iwo Jima, Saw (and six sequels), Sense And Sensibility, Shaft, South Park: Bigger, Longer & Uncut, Tommy Boy, A Troll In Central Park, Underworld: Evolution and many more, so catch 'em while you can.
See the complete list of what Starz adds and subtracts in March below.
WHAT'S NEW ON THE STARZ APP – MARCH 2019
AVAILABLE MARCH 1
Alice In Wonderland (2010)
All Dogs Go To Heaven 2 (1996)
American Chaos (2018)
Assassination Tango (2002)
Basic Instinct (1992)
Bulletproof (1996)
Casino (1995)
City Of Ember (2008)
Cotton Comes To Harlem (1970)
Curse II: The Bite (1989)
Curse, The (1986)
Dirty Dancing (1987)
Dirty Dancing 2: Havana Nights (2004)
Dodgeball: A True Underdog Story (2004)
End Of Days (1999)
Far And Away (1992)
Inside Man (2006)
Jurassic Park (1993)
Jurassic Park III (2001)
Lost World: Jurassic Park, The (1997)
Martin Lawrence Live: Runteldat (2002)
Never Back Down (2008)
Nurse (2013)
Pony Post (1940)
Queen, The (2005)
Resident Evil (2002)
Riders of Pasco Basin (1939)
Shrink (2009)
Simple Wish, A (1997)
Spy Game (2001)
Tenting Tonight On The Old Camp Ground (1942)
Waiting To Exhale (1995)
"Diff'rent Strokes" – Episodes 101-819
"Good Times" – Episodes 101-624
"His and Her Circumstances" – Episodes 101-126
"The Irresponsible Captain Tylor" – Episodes 101-135
"Shingu: Secret of the Stellar Wars" – Episodes 101-126
AVAILABLE MARCH 4
Inside My Heart (2018)
AVAILABLE MARCH 8
American Graffiti (1973)
Cove, The (2009)
Criminal Law (1988)
Dead Man's Revenge (1994)
Doctor Dolittle (1967)
Dogville (2003)
Dr. Dolittle 3 (2006)
Frank & Lola (2017)
Happening, The (2008)
Heist (2015)
Hellfighters (1968)
Hostage (2004)
Invaders From Mars (1986)
Let Me In (2010)
Let's Go To Prison (2006)
More American Graffiti (1979)
Necessary Roughness (1991)
Sea Of Love (1989)
Stop! Or My Mom Will Shoot (1992)
Voltron: Fleet Of Doom (1986)
"Knight Rider" – Episodes 414-421
AVAILABLE MARCH 10
Season Two Premiere of "American Gods" – Episode 201
Series Premiere of "Now Apocalypse" – Episode 201
AVAILABLE MARCH 15
55 Steps (2017)
Cape Fear (1991)
Caveman's Valentine, The (2000)
De-Lovely (2004)
Dream Team, The (1989)
Frank & Jesse (1995)
Heaven Can Wait (1978)
Law Of The Range (1941)
Life Stinks (1991)
McHale's Navy (1997)
Mockingbird (2014)
Motorcycle Diaries, The (2004)
My Life In Ruins (2008)
Ox-Bow Incident, The (1943)
Redemption (2013)
Resident Evil: Extinction (2007)
Street Fighter (1994)
Thick As Thieves (1998)
Tin Star, The (1957)
Trees Lounge (1996)
Wash, The (2001)
"Galaxy Angel" – Episodes 601-613
"Polvo Carnavalero" – Episodes 139-156
AVAILABLE MARCH 16
Charlie St. Cloud (2010 )
Frost/Nixon (2008)
Grey, The (2011 )
Larry Crowne (2011)
Searching (2018)
AVAILABLE MARCH 17
"American Gods" – Episode 202
"Now Apocalypse" – Episode 102
AVAILABLE MARCH 18
Documentary premiere: Of Fathers and Sons
Green Hornet, The (2011)
AVAILABLE MARCH 22
Allan Quatermain And The Lost City Of Gold (1986)
American Girl: Isabelle Dances Into The Spotlight (2014)
American Girl: Lea To The Rescue (2016)
American Girl: McKenna Shoots For The Stars (2012)
American Girl: Saige Paints The Sky, An (2013)
Another Kind of Wedding (2017)
Boss Of Hangtown Mesa (1942)
Boys: The Sherman Brothers' Story, The (2009)
Bury Me Not On The Lone Prairie (1940)
Carlito's Way (1993)
Carlito's Way: Rise To Power (2005)
Charlie Wilson's War (2007)
Choke (2008)
Funhouse, The (1981)
Great Raid, The (2004)
Gunfight In Black Horse Canyon (1961)
Happy Tears (2009)
Jane Eyre (2011)
Last Command, The (1955)
Living Out Loud (1998)
Lonely Are The Brave (1962)
Monkey Trouble (1994)
Monsoon Wedding (2001)
Moshi Monsters: The Movie (2013)
One Night Stand (1997)
Rare Breed, The (1965)
Rawhide Rangers (1941)
Robbers' Roost (1955)
Saddle Tramp (1950)
Showdown (1972)
Strangers, The (2007)
"Miami Vice" – Episodes 414-522
"Voltron: Defender of the Universe" – Episodes 115-152
AVAILABLE MARCH 23
Alpha (2018)
AVAILABLE MARCH 24
"American Gods" – Episode 203
"Now Apocalypse" – Episode 103
AVAILABLE MARCH 25
"The Big Valley" – Episodes 219-230
AVAILABLE MARCH 27
Battle: Los Angeles (2011)
AVAILABLE MARCH 29
"Cat in the Hat Knows A Lot About That!" – Episodes 209, 311-314, 317-320
"He-Man and the Masters of the Universe" – Episodes 134, 139, 142-165, 215, 216, 231, 245, 247, 251,
262
"She-Ra: Princess of Power" – Episodes 101-106, 110, 122, 133, 135, 149, 157-193
AVAILABLE MARCH 30
Venom (2018)
AVAILABLE MARCH 31
"American Gods" – Episode 204
"Now Apocalypse" – Episode 104
Bug (2006)
River Runs Red (2018)
WHAT'S LEAVING ON THE STARZ APP – MARCH 2019
LEAVING MARCH 3
Ghost World (2001)
LEAVING MARCH 5
Prey (2006)
LEAVING MARCH 7
Jason X (2000)
LEAVING MARCH 8
Dear John (2010)
LEAVING MARCH 13
Unlocked (2016)
LEAVING MARCH 14
2012 (2009)
G-Force (2009)
LEAVING MARCH 16
Miss Potter (2006)
LEAVING MARCH 18
Eve Of Destruction (1991)
LEAVING MARCH 19
"Speed Racer" (Episodes 101-226)
LEAVING MARCH 20
Arthur Christmas (2011)
Journey To The West: The Demons Strike Back (2017)
Land Of Mine (2016)
LEAVING MARCH 23
Evil Dead II (1987)
LEAVING MARCH 24
Legion (2010)
LEAVING MARCH 30
No Pay, Nudity (2015)
LEAVING MARCH 31
30 Days Of Night (2007)
30 Nights Of Paranormal Activity With The Devil Inside The Girl With The Dragon Tattoo (2012)
41 Year Old Virgin Who Knocked Up Sarah Marshall And Felt Superbad About It, The (2010)
Addams Family Values (1993 )
American Psycho (2000)
American Psycho 2 (2002)
Andy Richter's Home for the Holidays (2016)
Annie (1981)
Apache Drums (1951)
Away From Her (2006 )
Bag Man, The (2013)
Basic Instinct (1992)
Beautiful Blonde From Bashful Bend, The (1949)
Beavis And Butt-Head Do America (1996)
Before I Go To Sleep (2014)
Better Living Through Chemistry (2014)
Blue Collar (1978)
Bounce (2000)
Bride Of Frankenstein (1935)
Buffy The Vampire Slayer (1992)
Bull Of The West, The (1972)
C.O.G. (2013)
Care Bears Movie, The (1985)
Chinese Zodiac (2012 )
Clueless (1995)
Coming To America (1988)
Congo (1995)
Copa De Elite (2014)
Crocodile Hunter: Collision Course, The (2002)
Curious George 2: Follow That Monkey (2009)
Dakota (1945)
Death Warrant (1990)
Don't Be A Menace To South Central While Drinking Your Juice In The Hood (1995)
Down To Earth (2001)
El Dorado (1966)
Fatal Beauty (1987)
Feel The Noise (2007)
Ferris Bueller's Day Off (1986)
First Wives Club, The (1996)
Flashdance (1983)
Frankenstein (1931)
Garden Of Evil (1954 )
Ghosts Of Mars (2001)
Good Burger (1997)
Gunfight In Abilene (1967)
Higher Learning (1995)
Hired Hand, The (1971)
I Think I Love My Wife (2007)
In The Mix (2005)
Iron Sheriff, The (1957)
Jason's Lyric (1994)
Jersey Girl (2004)
John Carpenter's Escape From L.A. (1996)
Kalifornia (1993)
Katt Williams: Pimpadelic (2009)
King Kong (1976)
Kiss The Girls (1997)
La Bamba (1987 )
Last Sunset, The (1961)
Law Of The Lawless (1964)
License To Drive (1988)
Like Mike (2002)
Marine 2, The (2009)
Married To The Mob (1988)
Mental (2013)
Mike Epps Presents: Live From Club Nokia (2011)
Missouri Breaks, The (1976)
Mother (1996)
Old Chisholm Trail, The (1943)
Open Road (2013)
Original Gangstas (1996)
Overboard (1987)
Poetic Justice (1993)
Private School (1983)
Return (2012)
Rookie Of The Year (1993)
Rooster-Doodle-Doo ( 2014)
Rudy (1993)
Rules Of Engagement (2000)
Runaway Bride (1999 )
Sands Of Iwo Jima (1949)
Save The Last Dance (2001)
Saw (2004)
Saw II (2005)
Saw III (2006)
Saw IV (2007)
Saw V (2008)
Saw VI (2009)
Saw VII (2010)
Secret Of Convict Lake, The (1951)
Sense And Sensibility (1995)
Shaft (2000)
She's Having A Baby (1988)
Snow Day (2000)
South Park: Bigger, Longer & Uncut (1999)
Species (1995)
Species II (1998)
Species III (2004)
Spy Kids 3: Game Over (2003)
Star In The Dust (1956)
Thing Called Love, The (1993)
Tommy Boy (1995)
Trespass (1992)
Troll In Central Park, A (1994)
True Crime (1995)
Ultraviolet (2005)
Underworld: Evolution (2005)
Underworld: Rise Of The Lycans (2009)
Undisputed (2001)
Unforgiven, The (1960)
Vampire In Brooklyn (1995)
War Arrow (1953)
Way Of A Gaucho (1952)
Welcome To The Jungle (2012)
Yellow Sky (1948)
Young Jesse James (1960)