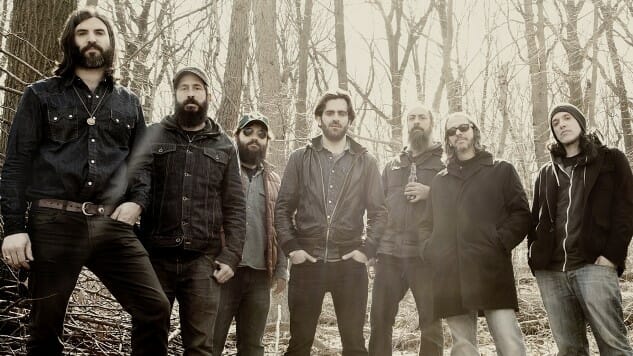 It's safe to say that 2017 was an incredibly trying year for everyone at Brooklyn's Daptone Records. The NYC-based home to some of the world's best funk, soul and afrobeat bands is now without two of its most visible luminaries—two of the faces that any music fan immediately would have associated with the word "Daptone." First there was the incomparable Sharon Jones, a dynamite live performer and reigning queen of soul who passed away in late 2016 after battling pancreatic cancer for years, but left us a final gift—her wonderful last album Soul of a Woman, which hit shelves in November.
Then there was Charles Bradley, the magnanimous "Screaming Eagle of Soul," who never met a crowd to which he didn't immediately profess undying love. Like Jones, he was stricken by cancer, which cut short a miraculous late-career revival that had made the soul singer one of Paste's favorite performers in the world—just check out the video from an incendiary live show he played for Paste in front of a hometown crowd in 2015. As with Jones, Bradley was a titanic figure on stage. They're both irreplaceable.
And yet, the show must go on for Daptone, and one of the major standard bearers are the wonderful Budos Band. It was about 10 years ago that I first stumbled across their intoxicating rhythms, likely via some long-forgotten Pandora station, and immediately I knew it was like nothing I'd heard before. At the time, I had no conception of "Afrobeat." I'd never heard the name "Fela Kuti." All I knew is that the music of The Budos Band immediately resonated with me like the soundtrack to a private film I was composing in my head. Every track evoked cityscapes, or vistas, or moments of cinematic importance. Everything about them screamed "This is the best band that Quentin Tarantino somehow hasn't discovered yet."
That doesn't necessarily make it easy to write about, or properly describe, The Budos Band. Their sound is a unique melange that isn't quite like any other large instrumental funk band on Earth. Drawing upon inspiration from the roots of Ethiopian music, along with some of the Afrobeat sounds found on the 1998 album Soul Explosion of stablemates The Daktaris, they fused that foundation with the grooves of '60s American soul music to make something entirely their own, which was originally referred to as "afro-soul." Over time, that sound has grown heavier, incorporating more guitars and influences from early '70s heavy metal, while retaining the signature Budos horns and hand percussion. (Read Paste's review of their 2017 album .) One thing has never changed: The sinister, wicked vibe with which almost every song carries itself. If a Budos Band song could be personified, it would look like Lee Van Cleef in The Good, The Bad and The Ugly, and that's a fact.
In honor of their four albums and 12 years at Daptone, then, let's commemorate The Budos Band by mulling over 10 of their greatest compositions.
10. "Raja Haje" – Budos Band III
The first three albums by The Budos Band—appropriately titled Budos Band I, Budos Band II and Budos Band III—feel of a kind. Their cover images imply power and danger with a single, fierce image. A volcano erupting. A sinister-looking scorpion. A hooded king cobra, hissing and ready to strike. The sounds on each album reflect those images in ways that are largely subliminal and empathic. Budos Band III is the cobra, but although "Raja Haje" does have a certain "slinky" quality to it, what they really seem to be pulling from more here is the "king" in cobra. Consider: naja haje is apparently Egyptian, referring to "the cobra used by the Pharaohs as a symbol of their power over life and death." And "raja" of course has kingly connotations, being a title for a king or monarch in south and southeast Asia. The composition is incredibly fitting for these purposes, full of pomp and circumstance, it has the slow beat of a march. It reminds one of the procession of a great kingly figure as he parades before the populace, probably mounted on the back of an elephant. Imagine Aladdin's arrival in Agrabah, only with more dignity and momentousness, and you're basically there.
9. "Chicago Falcon" – Budos Band II
Because I grew up in the suburbs of Chicago, it's difficult for me to not love this song on name alone, but it's also one of The Budos Band's most recognizable and approachable jams. There's some gritty urban flavor here; a certain sound that seems like it would have been well at home in a classic '70s blaxploitation movie set on the Chicago streets, or perhaps in a modern throwback such as Black Dynamite, which incidentally does have a character named "Chicago Wind." The impeccable organ solo midway through nails a late '60s/early '70s vibe that conjures images of stretched Cadillacs with fuzzy dice hanging from the rearview mirror.
8. "Magus Mountain" – Burnt Offering
2014's Burnt Offering, the most recent Budos Band album (announce a new one, please), marked the moment when the group took a collective breath and decided to make a conscious departure from the formula of their first three numbered LPs. Not a huge departure, mind you, but a calculated, purposeful one. The album takes some very clear inspiration from early '70s heavy metal and the mysticism of bands like Led Zeppelin, Black Sabbath and Deep Purple, and nowhere does that form a more perfect synthesis with the Budos sound than on "Magus Mountain." The mere reference to a "magus" or wizard certainly feels like it fits the psychedelic vibes of the era, does it not? The song opens with some very un-Budos-like guitar noodling that could easily be the opening of a Led Zeppelin jam, before interweaving the lead guitar with driving Budos horns and psychedelic keys in an irresistible groove and the big conclusion you'd expect. This song is a perfect example of the more recent Budos sound, which I've found appeals to certain listeners who don't gel with the first three albums. If you need plenty of guitar to be hooked, Burnt Offering is going to be your jam.
7. "Up From the South" – Budos Band I
"Up From the South" feels like the signature tune of early-era Budos Band, and perhaps it was the composition that hooked the band's first listeners. Regardless, this one brings some of that Afrobeat influence, with hand percussion that evokes the work of Fela, The Daktaris, Antibalas and so many others, while letting the horns and keys take center stage on the melody. But there's one moment in particular that just knocks it out of the park in "Up From the South"—the dynamic use of a brief, one or two-second pause at around 2:49 in the video below, which brings the groove to a sudden stop at the height of its build, before redoubling in intensity for the final repetition of the refrain. If that moment doesn't have you jamming out in the car, then nothing ever will.
6. "Turn and Burn" – Burnt Offering
More than any of the previous Budos Band albums, Burnt Offering works best as a whole, played from start to finish, to allow its hypnotic funk-rock grooves to do their thing and mold your subconscious. As a result, "Turn and Burn" just sounds from start to finish like a closer—you couldn't put this song anywhere else on the album. It's very patient, opening with a long, slow build of tapping cymbals and a sustained organ note, while the horns establish some of the motifs, like we're listening to the overture of an orchestra. "Turn and Burn" then roars to life in a composition that is both groovy but somehow also sounds swaggering and adventurous. The main theme sounds like something that could have been a great James Bond theme in the mid-'70s, something from the middle of the Roger Moore era, perhaps. As Budos Band songs are wont to do, it builds throughout, gathering strength and additional layers before coming crashing down into a long fade out. This one represents The Budos Band at their more patient.
5. "T.I.B.W.F." – Budos Band I
"T.I.B.W.F." was the first Budos Band song I heard in a commercial, which has always made me wonder: Why isn't this band in every commercial, anyway? It's also one of their shorter tunes, and this is because it accomplishes everything in a groove, and then just peaces out when that's done. The band has never written a tune that sounded cooler, with more cocky, self-assured swagger, than the bass-and-keys driven main theme of "T.I.B.W.F.," which heavily features one of my favorite instruments, the baritone saxophone, which thunders here like the voice of God. It simultaneously also features one of the band's best solo horn solos, on the trumpet part that starts around 1:45. Just imagine how Tarantino could use it for a long, crawling sequence of a crew of dangerous mobsters/fighters walking down the street or a hallway like the entrance of the Crazy 88 in Kill Bill: Vol. 1. These songs were absolutely made for the movies.
4. "Aynotchesh Yerefu" – Budos Band I
Because you're sure to wonder what the hell this title means, I can only say that I'm not sure. The best I've found is that it may mean something akin to "let your eyes rest" or "wandering eyes" in Ethiopian, which would at least fit with the band's African inspirations. Regardless, this tune is simply a perfect synthesis of multiple classic Budos elements—ridiculously funky bass lines (my favorite bass in a Budos Band song), psychedelic keys, swinging horns and tight-as-a-drum, um, drums. Great organ solos appear throughout, with a tune you'll find yourself unconsciously humming or whistling for days after hearing it for the first time. It's just catchy as hell.
3. "Nature's Wrath" – Budos Band III
It can be hard (especially for a non-musician) to summarize The Budos Band's evolution between the first and third album, being less clear and stark than the choice they made to experiment a bit more in Burnt Offering. But if there's a song on Budos Band III that probably couldn't have existed at the time of Budos Band I, then it would be "Nature's Wrath." This is a much more patient, slowly building side of the band than some of the earlier barnburners/groove-oriented songs, a composition that seems to be trying to tell you a story as it unspools (aided by a suggestive title). It spotlights instruments like the flute, not typically seen in Budos compositions, acting as a sort of ingenue presence among the big bruisers of the Budos brass swirling around it. It all builds to the biggest and most dramatic of all the Budos Band finales, a thunderous peak where the lead trumpet takes its intensity up a notch to claim center stage. It's difficult for another song to come on afterward and not feel like a dramatic letdown.
2. "Mas o Menos" – Budos Band II
The first Budos Band song I ever heard, and the one that immediately hooked me for good. This track is just a dancefloor classic in the making, a righteous celebration of the band's ultra-tight horn and rhythm sections. It has one of the best Budos horn solos ever in the first 90 seconds, and never slows down after that, keeping the groove going up until the big finish. Unlike so many of the sinister-sounding tracks in the fearsome Budos lineup, this one is undeniably joyous sounding, an invitation to get out on the dance floor with these guys and cut a rug. It's the track I inevitably turn to when I decide to introduce someone to The Budos Band for the first time.
1. "Unbroken, Unshaven" – Budos Band III
Look, I know that I've been bringing up Quentin Tarantino a lot. I'm aware of the fact that I make a lot of comparison to that particular director's oeuvre when I'm listening to The Budos Band. But listen to "Unbroken, Unshaven" and tell me that you can't imagine Tarantino using this track during one of the big fight sequences in Kill Bill. This song is the greatest '70s kung fu accompaniment ever written (although the video below imagines it as a western). Pair this with anything from The Shaw Bros. and you're going to have a very good time. The central melody is blaring, explosive, irresistible, while an undercurrent of psychedelic organ holds things together. It features my personal favorite Budos saxophone solo starting around 1:23, which shows off just long enough before threading beautifully into the continuation of the refrain. It's less song, more adrenaline injection, and one that never overstays its welcome. In fact, as it fades out, you're desperate for it to continue. You want another three minutes. What higher praise can you give than that—listening to The Budos Band makes me desperate for more Budos Band music. So please, you Daptone soul maestros, how's a 2018 album sound?