The Bill Frisell Invitational Highlights This Year's Alternative Guitar Summit
Photos by Scott Friedlander
Music
Features
Bill Frisell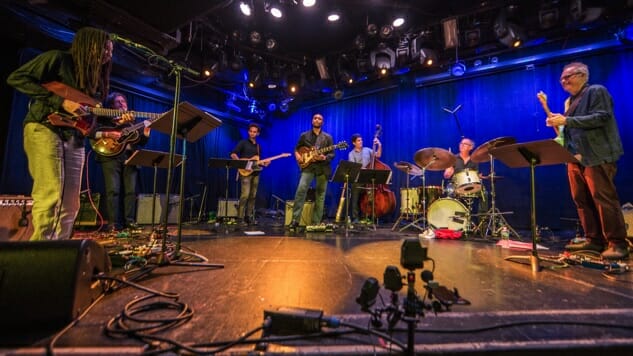 An annual event since 2010, the Alternative Guitar Summit is a festival of daring, inventive players who emphasize new and unusual approaches to the guitar. Pat Metheny, who was feted in last year's event, had this to say about guitarist-promoter Joel Harrison's pet project: "The work that Joel has done with this festival to showcase the development of the guitar and the expanded role that it has taken in music is a testament to the almost unlimited sonic dimensions the word 'guitar' can invoke in the imagination of musicians and fans alike."
While Harrison has taken pride in presenting new inventive players at the AGS (this year's three-day run from June 21-23 included such discoveries as Jeff Miles, Matteo Liberatore and Anthony Pirog), he is also mindful of paying tribute to esteemed masters of the instrument who are still active on the scene. This year's AGS kicked off with a salute to innovative guitar master Bill Frisell. As Harrison, who first saw Frisell play in a 1977 duo performance, read to the audience before introducing the celebrated guitarist: "He under-plays everything, his notes a haiku. His rubbery tone contains celebration and mourning at the same time. He makes a hard tune sound easy, and he makes you laugh."
This Bill Frisell Invitational had the honoree joined on the Le Poisson Rouge stage by four formidable fellow axemen in Julian Lage, Brandon Ross, Matt Munisteri and Marvin Sewell, each a distinctive player bringing singular qualities to the party. Backed by Frisell's longtime reliable rhythm tandem of bassist Tony Scherr and drummer Kenny Wollesen, Frisell and his guitar army opened with a funky take on "I'm So Lonesome I Could Cry" that sounded more "Honky Tonk Women" than Hank Williams. With Frisell cue-ing the band and imbuing the melody with signature lyricism, this plaintive piece was embellished by Sewell's emotive volume swell slide work on his Fender Telecaster guitar while Ross delivered bent-string blue notes on his Klein guitar solo and Lage nonchalantly tossed off melodic filigrees on his flowing Fender Telecaster solo. Ross and Frisell were featured with Scherr and Wolleson on a graceful rendition of Frisell's haunting "Strange Meeting," then Munisteri and Frisell paired up for a relaxed, rocking chair rendition of "Old Folks," with Munisteri comping in fingerstyle fashion on his vintage Gibson L-5 and Frisell alternating between chordal magic and flurries of improvised lines that built off the melody.
Lage and Frisell next combined for tight unisons on the swinging Benny Goodman-Charlie Christian staple "Seven Come Eleven" and followed with a gorgeous reading of the jazz standard "The Days Of Wine and Roses" that began with Lage comping and Frisell implying the melody with a fragmented approach informed as much by Thelonious Monk as Jim Hall.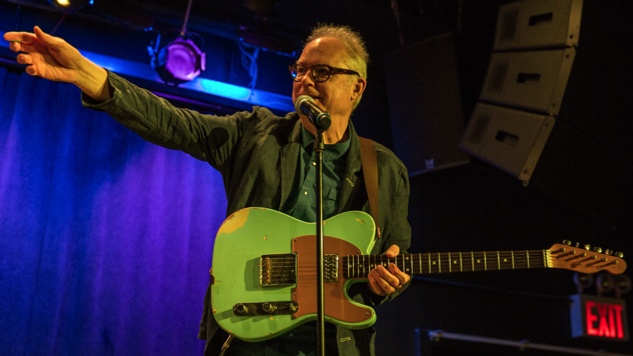 Bill Frisell photo by Scott FriedlanderThe whole six-string ensemble returned for a stark, raw-edged take on Howlin' Wolf's 1960 blues hit "Spoonful," with Sewell switching to a Les Paul guitar for his piercing Muddy Waters-styled slide work. They followed with an entrancing rendition of Paul Motian's rubato classic "It Should've Happened a Long Time Ago," the title track of Motian's 1984 trio album with Frisell and Joe Lovano which Frisell reprised on his intimate 2017 duo album with bassist Thomas Morgan, Small Town. And they also turned in a delightful rendition of Frisell's buoyant "Egg Radio" (from 1998's Gone, Just Like a Train). For a powerful finale, the five played the '60s protest song "We Shall Overcome." That anthemic closer put a politically-tinged exclamation point on this scintillating six-string summit.
Day two of the AGS at Nublu in the East Village saw three potent examples of powerhouse fusion trios in fretless guitarist Dave Fiuczynski's Micro Kif Jamz, Adam Rogers' DICE (with bassist Fima Ephron and drummer Nate Smith) and Harriet Tubman (bassist Melvin Gibbs, guitarist Brandon Ross, drummer JT Lewis). The Alternative Guitar Summit concluded with a wide-ranging "Across the Generations" series of guitar duets at The Jazz Gallery featuring a swinging encounter between veteran arch top player Peter Bernstein and inventive, effects-laden newcomer Gilad Hekselman (which featured a stirring rendition of John Coltrane's minor blues "Equinox"), an avant garde excursion between Joe Morris and Italian guitarist Matteo Liberatore, an engaging face-off between festival promoter Joel Harrison and D.C.-based fingerstyle picker Anthony Pirog (their set included renditions of Johnny Cash's "Folsom Prison Blues" and Horace Silver's "Peace"), and a simpatico hookup between Rez Abbasi and newcomer Jeff Miles.
Harrison is already plotting out next year's six-string encounters for the 2019 Alternative Guitar Summit. But it would be hard to top the fireworks of this years event.
Watch Bill Frisell and Thomas Morgan perform in the Paste Studio in New York below.