Chicago (and its surrounding suburbs) are great, but there's a lot more to Illinois than its biggest city. Quaint communities, historical sites and breathtaking parks across the state are often missing from itineraries. With no disrespect to Chicago's impressive skyline, renowned food scene and world-class museums, these eight destinations are worth visiting for a true view of Illinois and a taste of Midwestern hospitality.
1. Shawnee National Forest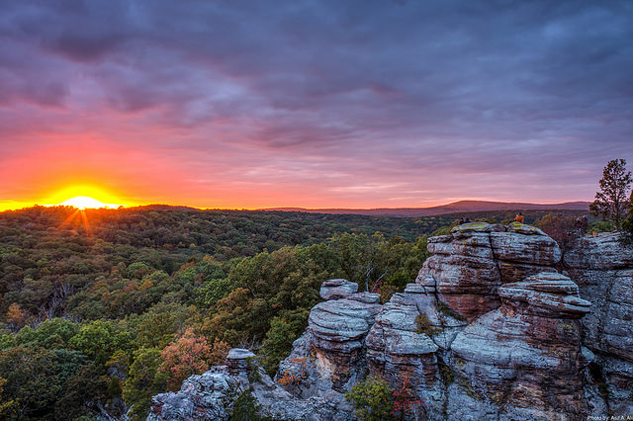 Photo by Asif A. Ali, CC BY-NC-ND 2.0
Just outside Harrisburg in southern Illinois you'll find the Shawnee National Forest and its 280,000 acres of wilderness. It's the state's only national forest and it contains no shortage of attractions sure to please those looking to see Illinois' more natural side. There are four sites designated National Natural Landmarks, 58 distinct ecological areas, four sites listed on the Nation Register of Historical Places, two distinct geological areas, as well as 14 botanical areas and 80 additional natural areas. The Garden of the Gods (pictured) is not to be missed, especially in fall when the towering rock formations pierce the fiery canopy of foliage.
2. Galena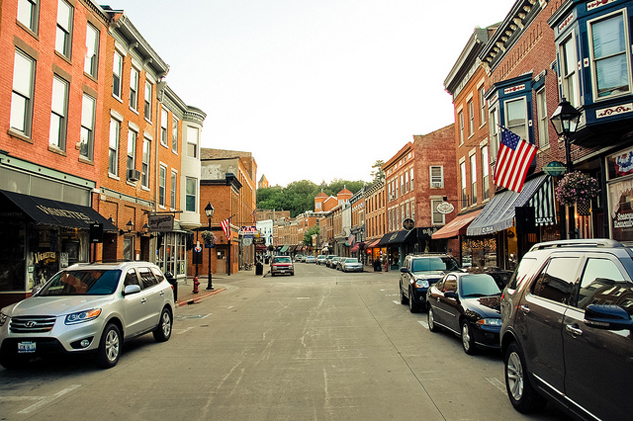 Photo by Matt Northam, CC BY-NC-ND 2.0
Galena is as charming as it is small. With a population just over 3,000, this quaint community was once home to Ulysses S. Grant and served as a thriving Mississippi River hub. Today it remains a popular destination for anyone looking to experience the Midwest at its best. The city and the surrounding county are home to no less than 10 golf courses. While much of Illinois is considerably flat, Galena is rugged in comparison and makes a great local ski destination in winter. Walking along Main Street is like stepping back in time. Old shops are filled with boutique clothing, antiques, hotels, as well as restaurants to please every palate. Don't miss a visit to the Ulysses S. Grant Home State Historic Site, which served as home to the general after he returned from the Civil War and contains his original furnishings.
3. Springfield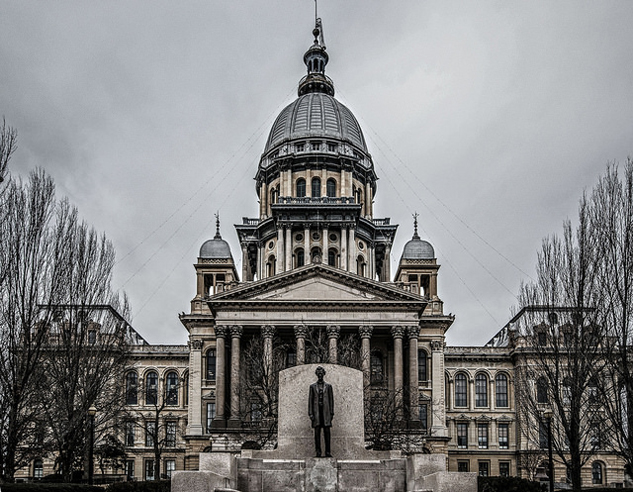 Photo by Jeff Sharp, CC BY 2.0
Illinois' capital has an array of attractions catering to an array of interests ranging from Route 66 Americana to politics. Steeped in Civil War and Abraham Lincoln-era history, Springfield is home to both his presidential library and museum. You can also visit his 1860s residence at the Lincoln Home National Historic Site, as well as the Lincoln Tomb where he and Mary Todd Lincoln's remains lie. The Illinois State Capitol (pictured above) and its stunning 405-foot dome (pictured at the top) is also worth a visit, and don't miss a meal at Cozy Dog Drive In.
4. Peoria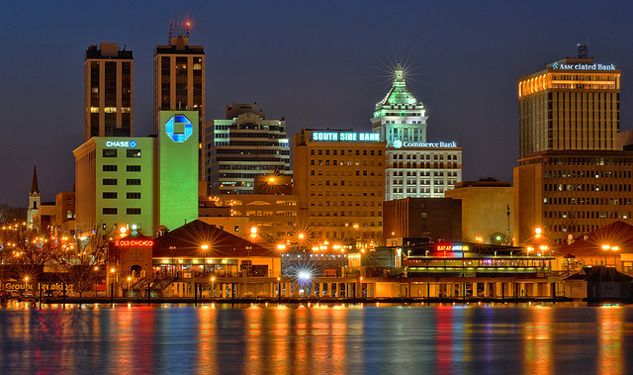 Photo by David Davila Photography, CC BY-NC-ND 2.0
Peoria is a big little city or a little big city, depending on how you look at it. Either way, it has plenty to pack an itinerary with. The Peoria Riverfront Museum has a little something for everyone, including art, science and history exhibits. The city is located along the Illinois River, which you can explore on a variety of tours aboard the Spirit of Peoria paddlewheeler.
5. Quincy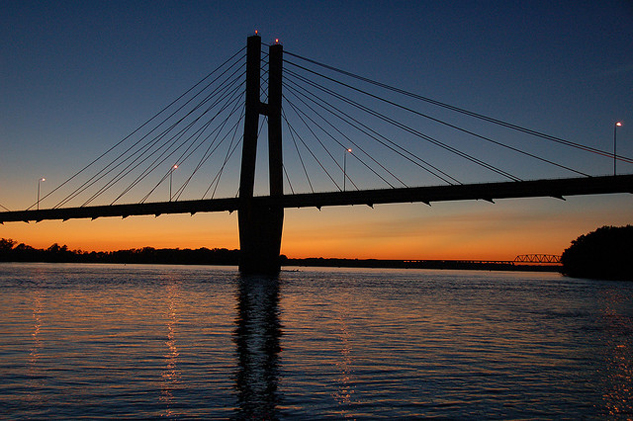 Photo by Dave Herholz, CC BY-SA 2.0
Located along the Big Muddy, Quincy is a cornucopia of Midwest culture. The city has a vibrant art, theater and music scene, which only add to its historically-important sites. Villa Kathrine, a 1900 Mediterranean-style mansion on a bluff overlooking the Mississippi River, makes a great starting point on any Quincy itinerary. Not only is it on the National Register of Historical Places, it also houses the city's tourist information center. Quincy is also home to 11 museums, including the Quincy Arts Center, Lincoln-Douglas Debate Interpretive Center and the Mississippi Valley Antique Auto Museum. Quincy also lies along the Mississippi Valley Wine Trail and makes a great staging point for visiting the area's five family-owned wineries.
6. Staved Rock State Park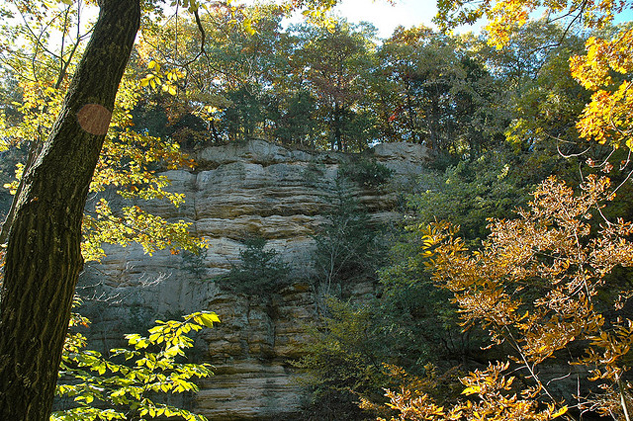 Photo by joenevill, CC BY-ND 2.0
With a history dating back to 8,000 BC and offering one of the most unique natural destinations in Illinois, Starved Rock State Park is a must-visit for nature buffs. The park is home to 18 canyons and more than 13 miles of hiking trails that take you by waterfalls, sandstone overhangs and bluffs, as well as an abundance of wildlife. Camping within the park is available, but if you're looking for a more comfortable way to end a day outdoors book a room at Starved Rock Lodge. The 1930s log lodge offers cabins and luxury rooms, along with several restaurants. The cafe on the veranda should not be missed, especially in fall, if not only for its view.
7. Champaign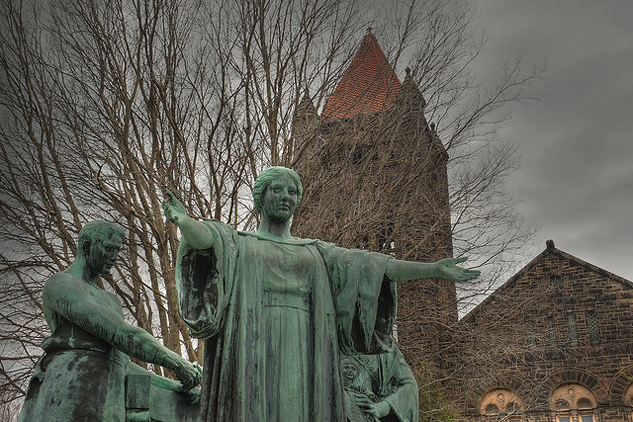 Photo by JanetandPhil, CC BY-NC-ND 2.0
This thriving community is home to the University of Illinois' main campus and a lively bar and restaurant scene you would expect from a college town. Touring the campus, especially its arboretum is a nice way to kill some time. If you're visiting during football season, be sure to don blue and orange and head to Memorial Stadium to cheer on the Fighting Illini.
8. Rockford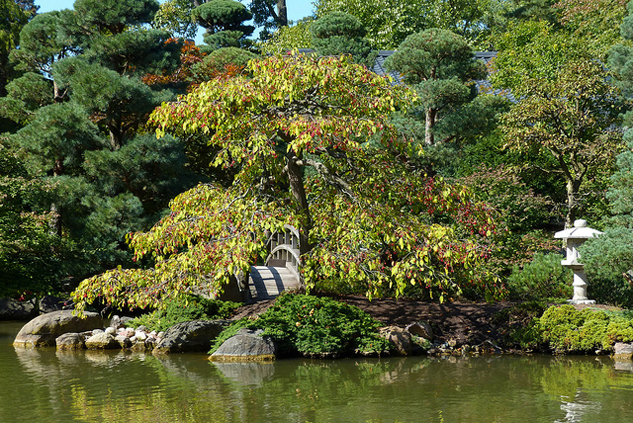 Photo by SnapDoc, CC BY-NC-ND 2.0
Despite being Illinois' third largest city, Rockford is often overlooked. While it's admittedly a community in a state of comeback, Rockford is worth a visit, if even briefly while passing through on your way to Galena. The Anderson Japanese Gardens and its farm-to-table restaurant Fresco are are great when weather permits. The Nicholas Conservatory and Gardens is an equally green attraction. To learn a bit about the city's history and for a chance to experience a 19th century northern Illinois community, visit the Midway Village Museum. The 26-structure attraction lets you tour a general store, blacksmith shop, school house, town hall, police station, bank, hotel, hospital, fire station, church, barber shop, and four farm houses, among others.
Top photo: Jeremy Wilburn, CC BY-NC-ND 2.0
Paste Travel's Bucket List columnist Lauren Kilberg is a Chicago-based freelance writer. Her travels have found her camping near the Pakistani border of India and conquering volcanoes in the Philippines.