The Teenage Mutant Ninja Turtles are Ready to Shell Shock Injustice 2 in New Gameplay Trailer
Images via Netherrealm/WB Games
Games
Video
Injustice 2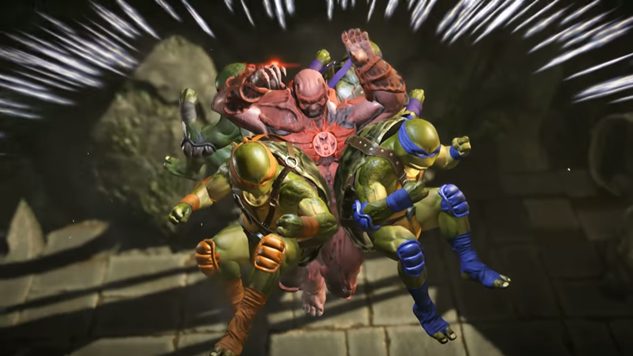 Injustice 2 was already continuing the outstanding legacy set forth by the first game, and when it was announced that the roster would expand to include the Teenage Mutant Ninja Turtles last year, fans erupted in response. The turtles haven't graced the fighting game stage since the overlooked 16-bit gem TMNT: Tournament Fighters and have their origins in the same comic book landscape as the rest of the roster. It just makes sense to bring the Heroes in a Halfshell back.
Developer Netherrealm and publisher WB Games released the first look at Leo, Donnie, Mikey and Raph in action, and they pack quite the punch. While they don't have individual character slots in most modes, each character is selectable via the game's gear customization mechanic. Simply choose one of the turtles' iconic weapons—kitana, bo staff, nunchuks or sai—and he becomes playable with unique movesets for each one. For tournament and online modes, which prevent certain gear loadouts, each turtle will be individually selectable.
No matter which mode you play, the brothers fight as a unit somewhat, with every member of the foursome contributing to special moves. Regardless of which turtle you choose, they appear to play fast and produce some nasty combos. Take a look for yourself above and then grab a slice of pizza. You'll be compelled to.
Leonardo, Donatello, Michaelangelo and Raphael join the Injustice 2 roster on Feb. 13 for Fighter Pack 3 and Ultimate Edition owners, and as a standalone DLC purchase on Feb. 20.