Whitney Release Covers of Lion, Dolly Parton in Anticipation of Upcoming, Newly Expanded Tour
Images via Sandy Kim, Secretly Canadian
Music
News
Whitney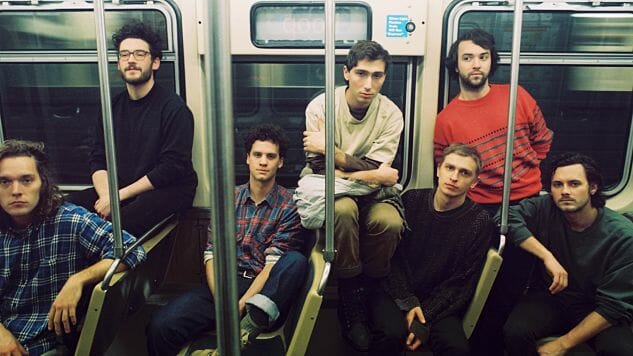 Whitney have a busy spring and summer ahead of them, filled to the brim with headlining shows and festival appearances, not that it'll be all that different from the year that's preceded it. To give fans a taste of something new before they hit the road, now that it's been almost a year since the group released their stellar debut, Light Upon the Lake, the band have released a pair of covers that will be making their way to a 12" single in June.
The first is a cover of "You've Got A Woman" by obscure Dutch psychedelic-pop band Lion. From Max Kakacek's grooving guitar parts to the playful backing vocals against Julien Ehrlich's falsetto, Whitney's performance of the song could have fit snugly onto Light, which speaks both to the expert song choice and to the fact that the sound they've developed is distinctively their own. In a press release, Ehrlich describes the appeal in tackling the song, stating, "It's quite evil-sounding for us. It was fun to mess around with something darker and throw strings in." The band also deliver a piano- and trumpet-laden cover of Dolly Parton's "Gonna Hurry (As Slow As I Can)," which has made its way onto their set lists a number of times, that clocks in at under two minutes but delivers nonetheless.
Both songs make interesting choices for covers. Neither were anything close to hits for their respective artists, but Whitney show you why maybe they should have been. Listen to both songs below, where you can also find a full list of their newly expanded tour slate. Read our original Best of What's Next feature on the band here.
Whitney Tour Dates:
April
01 – Iowa City Iowa @ The Mill
02 – Minneapolis, Minn. @ Triple Rock Social Club
03 – Fargo, N.D. @ Aquarium
04 – Winnipeg, Canada @ WECC
06 – Saskatoon, Canada @ Amigos
07 – Edmonton, Canada @ Needle
08 – Calgary, Canada @ Commonwealth
10 – Vancouver, Canada @ Biltmore Cabaret
11 – Seattle, Wash. @ Neumos
12 – Portland, Ore. @ Revolution Hall
13 – Eugene, Ore. @ WOW Hall *
14 – Sonoma, Calif. @ Gundlach Bundschu Winery
16 – Indio, Calif. @ Coachella
17 – San Francisco, Calif. @ The Independent
18 – San Francisco, Calif. @ The Independent
19 – San Francisco, Calif. @ The Independent
20 – Los Angeles, Calif. @ El Rey Theatre
22 – Pomona, Calif. @ The Glass House
23 – Indio, Calif. @ Coachella
25 – Santa Fe, N.M. @ Meow Wolf
27 – Houston, Texas @ Secret Group
28 – New Orleans, La. @ Tulane University
29 – Baton Rouge, La. @ Spanish Moon
30 – Ft. Worth, Texas @ Fortress Fest
May
01 – Lawrence, Kan. @ Bottleneck
06 – Grinnell, Iowa @ Grinnell College *
07 – Bloomington, Ill. @ The Castle Theater *
08 – Bloomington, Ind. @ The Bluebird
09 – St Louis, Mo. @ Delmar Hall
10 – Oxford, Miss. @ Proud Larry's
14 – Atlanta, Ga. @ Shaky Knees Festival
16 – Chapel Hill, N.C. @ Cat's Cradle Main
20 – Washington, D.C. @ 930
22 – Philadelphia, Penn. @ Union Transfer
24 – Brooklyn, N.Y. @ Brooklyn Steel
26 – Boston, Mass. @ Boston Calling
27 – Woodstock, N.Y. @ Levon Helm Studios – Midnight Ramble *
June
02 – Barcelona, Spain @ Primavera Sound
03 – London, U.K. @ Field Day
04 – Manchester, U.K. @ The Ritz
05 – Milan, Italy @ Magnolia
06 – Turin, Italy @ Astoria
07 – Rome, Italy @ Monk
08 – Bologna, Italy @ Biografilm
09 – Porto, Portugal @ Optimus Primavera Sound Porto
11 – Nimes, France @ This Is Not A Love Song Festival
14 – Bergen, Norway @ Bergenfest
15 – Aarhus, Denmark @ Voxhall
17 – Hilvarenbeek, Netherlands @ Best Kept Secret Festival
18 – Mannheim, Germany @ Maifeld Derby
22 – Oslo, Norway @ Piknik I Parken
27 – Brighton, U.K. @ Concorde 2 *
28 – Paris, France @ Café De La Dance *
29 – Werchter, Belgium @ Rock Werchter
July
14-16 – Louisville, Ky. @ Forecastle Festival
21-23 – Los Angeles, Calif. @ FYF Festival *
21-25 – Seattle, Wash. @ Capitol Hill Block Party *
28 – Toronto, Canada @ Danforth Music Hall *
August
04 – Chicago, Ill. @ Lollapalooza Music Festival *
5-6 – Montreal, Canada @ Osheaga Music And Arts Festival *
(* = Newly added)