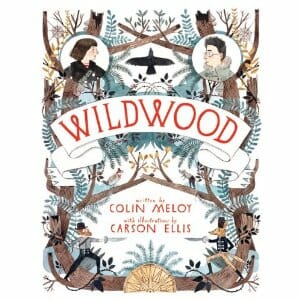 Colin Meloy always has fancied himself an author. And as frontman for The Decemberists, indie rock's most well-read band, he's been forever flogged for it. The blows often get low, but because those throwing them are typically more bookish than your average 2.0 troll, he's gotten plenty pithy barbs like "Great Books snob," "Huckelberry huckster," or my favorite, "little Lord Fauntleroy." And while I, myself, haven't always cared for everything Meloy's done—Colin Meloy Sings Morrissey was surely a guilty plea in 2005—I've never really questioned his intentions. He's just that sincere. Sticking with those cover records though, the following year's Shirley Collins encomium was a better, more thoughtful rendering; by Colin Meloy Sings Sam Cooke, the former's earnestness made for a truly great tribute. Again, sincerity had trumped pretense.
Likewise, I've heard the same with The Decemberists' discog. From the early Kill Rock Stars releases through to their 2006 breakout disc for Capitol, The Crane Wife, Meloy's lyrics had become less concatenation of literary heroes and more genuine absorption of them within his own voice. 2009's The Hazards of Love was a pitch-perfect concept album equal parts Anne Briggs folk and Edmund Spenser magick. If he over-extended tenor or vehicle there, I simply didn't catch it. Ultimately, what draws the most hipster ire in regards to Colin Meloy (aside from The Decemberists' defection to EMI), is that, on paper, he reads like the worst kind of dilettante. To wit, there seems a certain pretentiousness to his band's new, Infinite Jest-inspired video for "Calamity Song"—the third single from this year's admittedly uninspired The King Is Dead. That said, has not indiedom been the once and future king of all pretension? Moreover, doth I protest that old we-hate-what-we-don't-understand adage?
Regardless, we now have Colin Meloy's first proper book. Never one for brevity, at nearly 600 pages it's only the first in a saga of three eventual tomes. As if for wit, however, Meloy's Wildwood is a tale of young adult fiction. Illustrated by his wife Carson Ellis' rustic, soft-focus pictorial—Ellis has provided art for almost every one of Meloy's projects—this couple's collaboration is indeed a welcome addition to the genre's Twilight years. And thus far anyway, Wildwood sounds an awful lot like a Decemberists album: Prue McKeel's baby brother gets abducted by crows and flown off into the "Impassable Wilderness," a dank and tangled forest on the wrong side of Portlandia. As per usual, no one's ever gone into the brambles and come out alive. Thus begins a rescue mission that will take Prue and her best guy friend Curtis deep into the woods—"a world full of warring creatures, peaceable mystics and powerful figures with the darkest intentions." Of course, what starts as a ransom soon becomes a much heavier ordeal, as the very freedom of the Impassable Wilderness falls into the reluctant hands of Prue and Curtis.
So, Gentleman Quixote of La Mancha this one's certainly not. Then again, The Wildwood Chronicles is but Book I of a plot that's sure to thicken quickly. Listening to a Decemberists record like Picaresque, with its 11 separate variations on the same Spanish theme, it's claro that Colin Meloy has the forethought to sustain an idea in song. Whether or not his lyrical prudence can provide for an entire YA franchise, well, we'll have to wait until those trees fall. Lest we forget, Meloy's portrait as an author here isn't written for Harold Bloom's cognoscenti or grizzled scenesters out in Oregon. Wildwood is for tweens. And yet, Harry Potter this one's not either. Honestly, I don't think Meloy would want for it to be. For all the oblique allusions and major label overtures that have come to define today's Decemberists, just like those Colin Meloy cover songs eventually sounded right, Wildwood will read true. As it turns out, Meloy is every bit as sincere a writer of fiction—even if it's for an audience too young to remember his hit song, "O Valencia!"
Unlike tepid tidings from would-be teen scribes like Madge and Macca, Meloy never panders to them in his inaugural installment. His prose is sometimes a bit florid, but the words he chooses therein always seem apt and vivid. And despite the Narnia-like phantasm that is Wildwood, the structural devices he employs still retain a type of archetypal integrity. Fran Lebowitz's fantastic Mr. Chas and Lisa Sue Meet The Pandas from 1994 was the first children's book I read to realize that kids, in fact, are readers, too. Some two decades later, I've since realized that kids know more about sacred indie tropes like authenticity and self-reliance than we ever gave them credit for. As far back as Castaways and Cutouts, in the most fantastic of Decemberist songs, there exists a kind of naïve charm, an unadulterated beauty that make them ready-made children's stories as is. For Colin Meloy's debut novel then, all he really had to do was turn down the music. All the rest, for this Wildwood at least, was child's play.
Logan K. Young is a writer in Washington, D.C. He last wrote about Lou Reed's graphic novel The Raven for Paste.