Patti Smith to Receive the PEN America Literary Service Award
Smith recently released her memoir Year of the Monkey
Photo by Johnny Louis/Getty
Books
News
Patti Smith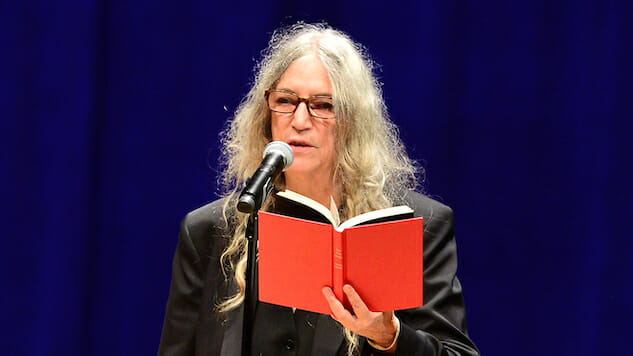 Poet, artist and roker Patti Smith will be honored with The PEN America Literary Service Award at PEN's annual gala at The American Museum of Natural History in New York on May 19, 2020.
According to Rolling Stone, PEN President and Pulitzer Prize-winning author Jennifer Egan (Manhattan Beach, Black Box, A Visit from the Goon Squad) said in a statement, "In all of Patti Smith's thrilling incarnations—rock goddess, poet, eloquent witness to the bohemian New York of her youth—she has testified to the transformative power of literature in her own life, and used her stardom to encourage reading and writing in the legions who revere her." Egan added, "A polestar of my own teenage years, she set an example of badass female artistry, coupled with deeply principled humanity, that I'm still trying to live up to."
The nonprofit PEN America works to protect human rights, literature and free expression in the United States and across the globe. Previous honorees include Toni Morrison, Stephen King, Bob Woodward, Margaret Atwood and Philip Roth.
Smith recently released a memoir, Year of the Monkey (2019), following Just Kids (2010), a reflection on her relationship with Robert Mapplethorpe.
Watch a 1979 Smith performance from the Paste archives below.