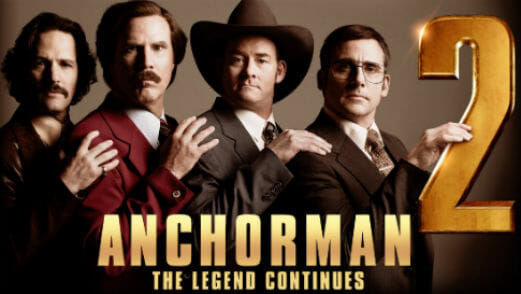 Anchorman fans had to wait almost a decade for a sequel to the 2004 cult classic, but it looks like the series' newest entry will be coming just months after the release of Anchorman 2. Officially titled Anchorman 2: The Legend Continues: Super-Sized R-Rated Version, the movie will be raunchier and "considerably longer" than the original when it hits theaters on Feb. 28, according to The New York Times.
Similar to 2004's Wake Up, Ron Burgundy: The Lost Movie, the alternate cut will be made up of unused takes filmed during the making of the original. Unlike that movie, however, the Super-Sized R-Rated Version will follow the same plot as its source material, but with 763 new jokes.
An estimated 95% of Anchorman 2's comic material has been replaced in the new cut, a process made possible by modern digital editing technology and the casts' heavily improvisational background. As exciting as the news is, here's hoping these edits don't lose the core movie we found to be a success last December.