Aziz Ansari and Billy Eichner Inform the Public That It's The Golden Age of TV on Billy on the Street
Image via truTV/YouTube
Comedy
Video
Billy on the Street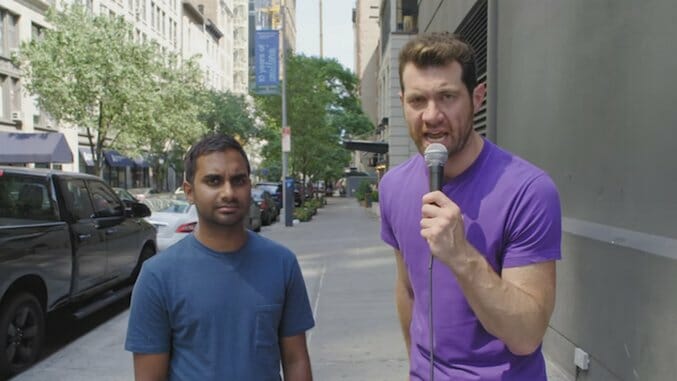 With Aziz Ansari in tow, Billy Eichner has made it his mission to make sure people know that it's the "Golden Age of Television" on tomorrow's Billy on the Street, and if the segment above is anything to go on, people really don't care.
Aziz (who is personally responsible for one of those golden shows) and Billy ambush a number of people and get responses ranging from not knowing the difference between a telephone and television, to being unimpressed at how far TV has come since The Practice, to a woman simply saying, "TV's horrible."
Later in the episode, Billy and Aziz play "Is This a Kanye West Quote or Not?" (which Aziz should excel at) and Rachel Dratch appears to go through the obstacle course "Escape Margot Robbie's Moment!"
You can watch Aziz and Billy inform the public in the video above and see the full episode tomorrow night at 10:30 p.m. EST on truTV. Find more recent Billy on the Street clips here.