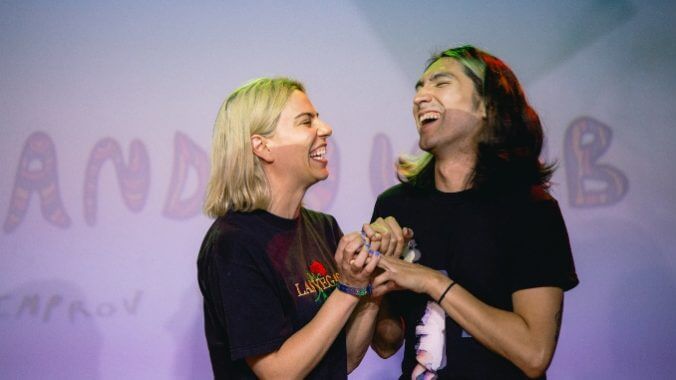 When the Del Close Marathon moved to LA in 2019, the New York City improv scene dramatically shifted. Also known as the DCM, the festival was famous for putting on three days of nonstop shows, allowing performers to explore virtually any improv form they could think of, from your typical Harold to "Springsteen Prov." But the festival had been based in NYC since its inception in 1999, and its transfer across the country left a massive hole in the local improv scene. No longer was there a singular event that brought together the best (and/or most determined) improvisers in New York. The city's improv community felt more disjointed than ever.
At the Brooklyn Comedy Collective, an alternative comedy teaching and performance space in Williamsburg, that shift didn't go unnoticed. Helmed by Philip Markle, artistic director and co-founder; Maya Sharma, programming director; and Julian Hernandez, managing director, the theater had been working to grow its own programming. It was Hernandez, according to Markle, who, a few years after the DCM left New York, "came up with the idea of just, like, you know, there's no improv festivals, the UCB closed in New York—what if we did our own?"
That original what-if has since grown into BCC's Fun and Dumb Improv Festival, which just concluded its second year. And compared to the inaugural festival, this year's event was massive. "Everyone went full send," comedian Will Braithwaite, who performed the musical improv show The Brothers Braithwaite with—surprise—brother Owen Braithwaite on Saturday night, told me. "I saw so many faces at 2 am on Friday night and 11 am the next morning, ready to inhale another 12 hours of improvised madness."
The 2023 festival saw a turnout two to three times bigger than 2022, according to Markle, and another day was added to the schedule, expanding the event's length from three days to four. Luckily, the collective opened a third performance space last year to give its constantly increasing pool of student comedians more chances to perform. "It feels like the community at the theater has tripled," performer Chloe Troast shared. "I think everyone's like, 'Wow, this is becoming a true institution now.'"
This year's festival managed to draw audiences daily—not always a common sight at comedy shows, let alone big events. "You might do an improv show for, like, two people," Kelly Cooper, a festival performer, explained. "But at least, in my experience, I felt like every show had a solid crowd." I found that to be true when attending, regardless of the show's subject, location, or timing. Audience members welcomed the experience of sitting in a basement or in front of a stage at all hours of the day, uncertain whether the next show would be worth missing other plans or even sleep for. And they weren't tame crowds either; often, I would enter a room mid-show to find an audience raucously laughing, actively engaged with the ridiculousness in front of them. "The crowds are, like, insane; they're so electric, so it's just, like, feeding off of that," said Wilfredo Diaz, a comedian who took part in the festival. "I'm just like, you know… having fun and being fucking dumb."
Though the Fun and Dumb Festival was born in the wake of the DMC move, BCC had no desire to replicate the famous festival. Instead, it came up with something all its own. Rooted deeply in the collective's desires to strengthen its community and revel in comedic passion without expectations or limits, improvisers were encouraged to take themselves seriously, but not their performances. "Improv to us is at its most free and fun when it is loose, and stupid, and just, like, not taking itself too seriously," said Markle.
One way the festival did this was through how much time—and in a way, respect—performances were granted. Despite there being 130 shows over the course of four days, each improv troupe was given 30 to 45 minutes to perform. Compare that to the DCM, where audience members were bouncing between 10ish-minute shows, essentially "comedy speed-dating." By offering improvisers almost full-length set times, audiences got to see performances that felt high-energy and fully-formed, rather than frantic and thrown-together. And taking away the stress of an almost-impossible-to-abide-by time limit meant improvisers felt less anxious about the seriousness of meeting administrative standards and more focused on the fun of performing.
An element the DCM did influence, Sharma said, was the late-night schedule. Famously, UCB's event scheduled performances in such a way that they'd get more ridiculous as the hours went on, sometimes choosing shows with nonsensical or hard-to-follow premises as a way to get audiences to leave the theater when they were tired. "I actively was thinking about, towards the end of the night at DCM, there would be the kind of wackier shows, and that was something I considered—like, 'Ok, it's one in the morning, let's put something that people are checking out because they're like, what is this? Like, what exactly am I going to even see right now?'" Sharma said.
But at the DCM, those oft-confusing, out-there shows weren't just a way to tell audience members that performers were tired; they were a way to express that the DCM was built for the comedians, not them. While the Fun and Dumb Festival programming followed a similar trajectory, late shows were picked with less of a desire to devolve into madness and more of an interest in keeping audiences entertained and engaged. Where the DCM saw ticket-holders, BCC saw community members.
There was something so palpably special about this year's edition of the BCC's Fun and Dumb Festival. The excitement over what is and what could be created an overwhelming sense of electricity that permeated every minute of the nearly 35-hour-long event and could be felt everywhere: in side rooms, on staircases, in the city streets between performance spaces. Comics buzzed about, anxious to perform or eager to watch their fellow improvisers, and seats were filled with audiences willing to go along with whatever foolishness transpired. "People felt very included," Markle said. "It felt like a really important moment for the comedy community to just have a banger weekend. … It was like the whole comedy world was just in three blocks of East Williamsburg."
Thanks to the reintroduction of UCB and the opening of a Second City theater, the NYC improv scene is once again about to shift. Everyone I spoke to at the BCC—from its directors to performers—hope that, despite all that outside change, the Fun and Dumb Festival will remain its own entity, with the same foundations and fundamentals. "It's just a beautiful place where you can be recognized for your talent and have your creativity supported without … [the pressure] to ascend an invisible hierarchy and prove you deserve the opportunity to perform," Maggie Olmsted, a festival performer, told me.
Cooper agreed that the theater's foundational community focus is what will ultimately lead to its success, but added that in order for the festival to reach its full potential, it needs to keep evolving. "I just hope next year continues to build off the success of this year with, like, just having a really diverse set of performers and shows," she said. "I just hope more people hear about it. I hope that more fans come. I hope that more people have come to get inspired to try comedy themselves, because, you know, BCC is the place to do that."
---
Isabelle Lichtenstein is a New York-based journalist who writes and publishes the newsletter observational comedy. For niche thoughts and terrible jokes, follow her @lichtenstyle on Twitter (X?) or Instagram.