Watch David Letterman and Queer Eye's Jonathan Van Ness Discuss Self-Care and LGBT Rights
Images via Netflix/YouTube
Comedy
News
David Letterman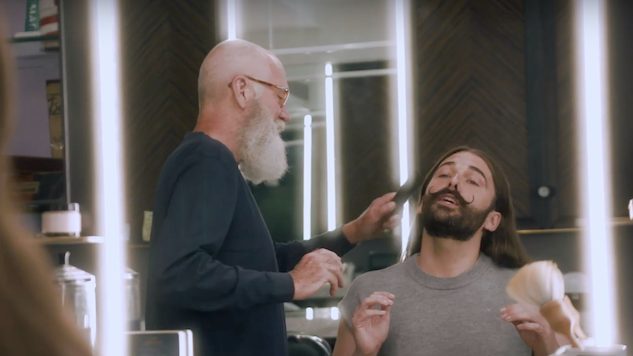 David Letterman, the host of Netflix's My Next Guest Needs No Introduction, recently sat down with Queer Eye's Jonathan Van Ness to talk all things beard care, gender and LGBT rights.
The two are all laughs as JVN sits Letterman down in a barber's chair to tend to his "post-retirement beard." After a bit of beard oil and mustache wax, the two dive into more serious topics, including Stonewall. With the interview located near the site of Stonewall riots, the duo recognize the riots and JVN points out that though Pride is a huge, celebratory event that happens each year, it was born out of a major riot.
The two also touch on gender, with JVN talking about their own identification as non-binary, and the progress of LGBT rights and acceptance.
"I do think that, like, socially in America we have made, you know, some progress," JVN says. "Even though I do think there is a concerted effort as we speak right now to roll back those efforts."
Despite the conversation taking a serious route, the two end on more self-care and laughs.
Letterman's second season of My Next Guest Needs No Introduction recently premiered, and the host interviews Kanye West, Ellen DeGeneres, Tiffany Haddish Melinda Gates and Lewis Hamilton. Otherwise, season four of Queer Eye returns to Netflix July 19.
Watch the clip of Letterman and JVN below.