David Letterman's Netflix Talk Show Premieres on January 12 with Barack Obama
Photo courtesy of Netflix
Comedy
News
David Letterman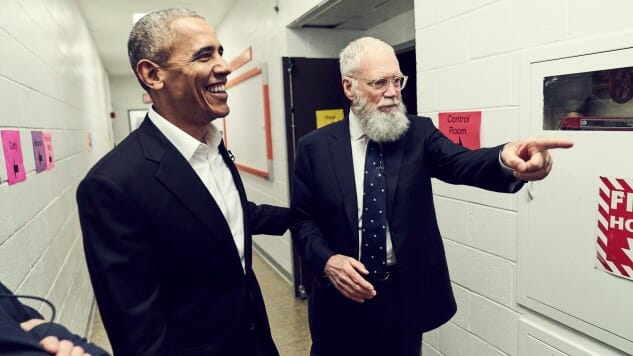 David Letterman's return to TV (and computers, and phones, and pretty much any device that can run apps and has a screen) is only a week away, Netflix announced today. The legendary comedian's new talk show, My Next Guest Needs No Introduction with David Letterman, will launch exclusively on Netflix on Friday, Jan. 12, 2018. And his first guest really needs no introduction: it's former president Barack Obama, which will mark his first talk show appearance since leaving office.
My Next Guest Needs No Introduction will be a monthly 60-minute talk show, combining Letterman's interviews with guests with the kind of remote field segments that he excelled at on his network shows. Other than Obama, guests will include Tina Fey, George Clooney, Jay-Z, Malala Yousafazi, and one of Letterman's favorite repeat guests, Howard Stern. According to Netflix's press release, the show "is centered around one extraordinary figure whom Dave finds fascinating. In interviews that take place both inside and outside a studio setting, the conversations are intimate, in-depth and far-reaching, with the levity and humor Dave's fans know and love."
Letterman redefined the late night talk show in the 1980s with NBC's Late Night with David Letterman, influencing an entire generation of comedians and comedy writers in the process. In 1993 he left NBC for CBS after losing out on The Tonight Show, with a 22-year-run on The Late Show with David Letterman that made him one of the highest paid performers on TV. During that time he engaged in affairs and behind-the-scenes behavior with employees that wouldn't be tolerated in today's post-Weinstein climate. After his retirement in 2015 he's kept a relatively low profile; My Next Guest is his first major TV project since the end of his Late Show run.
You can watch a trailer below.