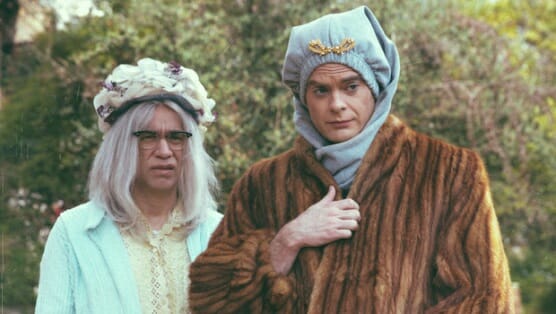 IFC, the television network that began as a channel for independent films before shifting gears to focus on offbeat comedies like Portlandia, Maron, Spoils of Babylon and the forgettable/unforgettable Trapped in a Closet, debuted its latest series, Documentary Now , on Thursday night. There must be magic in those IFC water coolers because the first episode, "Sandy Passage," is brilliant.
The six-episode series is a hybrid docu-comedy created by Fred Armisen, Bill Hader and Seth Meyers and stars Hader and Armisen. You'd think that with those Saturday Night Live veterans in charge there would be a little slapstick and a lot of cornball. You'd be wrong. We hesitate on even calling the show a "mockumentary" because instead of merely poking fun at its subjects like Spinal Tap or Christopher Guest's films do, Documentary Now also pays homage to the direct cinema (akin to cinéma vérité) documentary form itself.
The episode opens with a Masterpiece Theater-like introduction by Dame Helen Mirren. She's straightforward in her delivery, stating that for the past 50 years, Documentary Now has been delivering the "most thought-provoking cinema," and that this latest series will revisit some of the more monumental films, including this week's "Sandy Passage." She explains that the Fein Brothers, Larry and Abraham believed that they were there "to observe and not direct" when they captured the lives of Big Vivvy and Little Vivvy van Kimpton on film.
From Mirren's intro, those who know a little film history will deduce that "Sandy Passage" is a riff on the 1975 documentary Grey Gardens by Albert and David Maysles. Their film chronicled the reclusive and eccentric lives of Big Edie and Little Edie Beale, a mother and daughter, who were Jackie Kennedy Onassis' aunt and first cousin, respectively. It turns out that "Sandy Passage's" tribute to Grey Gardens is much more detailed than we ever expected.
Even before Hader and Armisen appear in drag as Little Vivvy and Big Vivvy, the episode lovingly recreates the opening credit sequence to the Maysles documentary. There are little changes such as "Salus Films" instead of the original Janus Films, and "A Maysles Brothers' Film" now reads as "A Fein Brothers' Film," but the faded forest green background as well as the fonts used on the latter's title cards are nearly identical. The opening shots also capture the grainy and ethereal quality of the Maysles' work, with the camera lingering on items around the home, such as an antique brush on a night table, a white curtain billowing in the breeze or the cracks around the dilapidated estate. It's all beautifully done.
This painstaking faux recreation of the Maysles' documentary all happens even before Armisen and Hader exchange their first words. And when they do, the episode gets even stranger, stronger and funnier. Big Vivvy (Armisen) yells for Little Vivvy to do something about the big raccoon that's returned to the upstairs living quarters. Little Vivvy yells back from downstairs, admonishing her mother for feeding the raccoon. Big Vivvy denies feeding the animal as the camera focuses on a seated Armisen silhouetted against a window, shoo-ing away the raccoon—by throwing chips at it. A few moments later, we meet Little Vivvy as she's asked by the Fein brothers to describe her outfit. She explains that she's wearing sweatpants on her head because "it's very practical—like a built-in scarf." Hader then steps out of the camera's frame and whispers to the filmmakers (as if the mics weren't there to pick it all up) that "Mother doesn't like it. Mother doesn't like it at all."
Like Grey Gardens, the Sandy Passage estate is in ruins, and the women are living in their own dream world, where they sing, dance, perform for each other and the camera. Little Vivvy does a little show and tell of various portraits, photos and images of her mother. When she gets to a police sketch, she explains that Big Vivvy was walking down the street one day and her top fell off, which led to her arrest. Nearly bed-ridden Big Vivvy defends herself from the bed, "I didn't realize that it had fallen off."
The story of the Beales is one already filled with eccentricity, weirdness, hoarding, cats, health department violations and mental health issues, which makes it perfect fodder for the Documentary Now team. But "Sandy Passage" takes an unexpected turn during its last few minutes to introduce a whole other dimension to the episode. During filming, the Fein Brothers, Larry and Alfred (played by Rob Benedict and James Thomas Gilbert), discover that the women are somehow linked to the disappearance of local grocery boys. "Sandy Passage" then turns a little ominous—and truly creepy—with suspenseful and gruesome surprises that are definitely not in the Grey Gardens storyline.
The humor in "Sandy Passage" is sometimes subtle, and won't appeal to everyone, but those who know the basic story behind Grey Gardens will appreciate not only the humor, but the outstanding and painstaking replications in themes and designs in "Sandy Passage." Documentary Now got picked up for its second and third seasons even before its first episode aired, so we can't wait to see what Hader, Armisen and Meyers have in store next week.
Christine N. Ziemba is a Los Angeles-based freelance pop culture writer and regular contributor to Paste. You can follow her on Twitter.