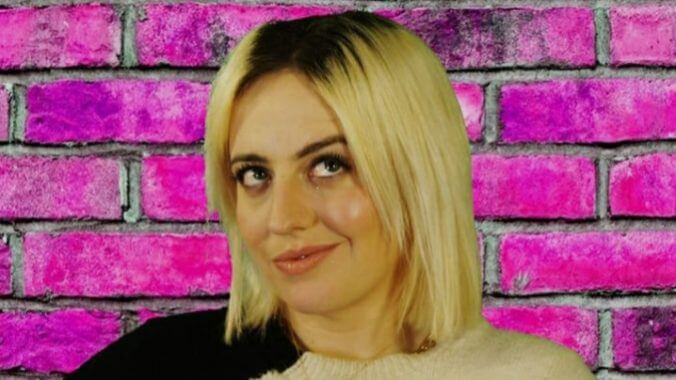 It's difficult to imagine a more archetypal Edinburgh Fringe experience than watching Síomha Hennessy's show. About 50 chairs are laid out in a room upstairs in Just the Tonic's "The Mash House," the venue itself located on a set of steps in an alley between two streets and about four venues. For some performances, people have had to be turned away at the door; on the day I attended, there were seventeen punters, including Hennessy's loyal sister in the front row.
But there's nothing lackluster about either Hennessy or her audience: after she saunters onstage like a jazz singer in her favorite speakeasy, dressed like Judy Garland's Dorothy but with braided orange hair, and talks to her pianist like he belongs in Casablanca's gin joint, warm bursts of laughter soon fill the ramshackle space and barely let up over the next 60 minutes.
Oversharing, absurd character bits, pitch-perfect musical comedy, and crowd work straddling the line between affectionate and mean-spirited—Hennessy's show isn't just the complete package, it feels like the ideal Fringe performance. Sat in this tucked away spot, with zero expectations on what we're about to see, Hennessy's show is an utter gem that reminds you that the true festival spirit can still be found in an overwhelming, testing, and at times saturated comedy festival.
We're in the middle of the Fringe Festival staging its third annual "big comeback" from the 2020 coronavirus cancellation—2021 featured barely any international acts, 2022 was a tenuous return to full volume but with clear, marked changes to how comedy was being shared, and 2023 is keen to put its teething issues behind and reclaim the global spotlight (not to mention the tremendous revenue) that was traditionally enjoyed over its long lifetime.
But there's caveats: the economic hardships and industry starvations faced by comics and artists since COVID, not to mention the effects of Brexit and a cost of living crisis (they're all connected and all hate the arts), have excessively punished those on the "fringe" of mainstream artistic success. It's harder to bring a show to the Fringe, harder to have a successful run, and harder to feel like the whole system isn't rigged in the favor of those with access to cash. (That first point was highlighted by Hennessy herself in a candid crowdfunding appeal video before the festival, before her producer off-screen recommends not shit-talking the festival too much.)
Candidness is the lifeblood of Hennessy's show, clashing with a comedic persona that begs us to think of her as wise, romantic, and successful, all of which is undermined by her admitted vindictive, pathetic, and dejected tendencies. Obviously, everything is a performance, Hennessy is never unlikeable or asking for pity—there's a precarious balance maintained between someone who has everything together and someone who has no idea what's going on. Behind each shade of personality is a performer exercising near-total control over her audience, leaving just enough room for spontaneous, self-aware riffs and heightened, clownish crowd work.
Hennessy is 35, single, and without long-term career plans ahead of her—what she does have is a sincere, pleading hope that the arts will work out for her. Her talent is obvious: she has a warm, engaging stage presence and an expert command of timing and tone. Her songs, the topics of which range from an IUD complaining about never being used or a list of all the expenses she's paid to stage an artistic career, stand above a lot of cloying modern musical comedy thanks to Hennessy's sheer ability. The melodies—a couple parodying traditional and contemporary Irish folk music—are catchy and robust, her voice is gorgeous to listen to, and her lyricism jumps from being comedically sharp to unexpectedly poignant.
The hour takes a dip at some extended jokes about the oddities of Hennessy's home life (the best insight into the comedian's family was when she locked eyes with her sister and said, completely unprovoked, "What? Fuck off!") but The Coil's Lament keeps feeling livewire thanks to aggressive and targeted audience interaction, hyper-specific but relatable caricatures of friends and partners, and one blindsiding segue into Irish genocide. The chaos of Hennessy's work renders the show a glorious exercise in self-sabotage, which makes for a hilarious and empathy-provoking watch.
Even when she shifts into earnestness, giving reflections on love, validation, and the psychology of oversharing to strangers, it feels less abrupt and jarring than other comics doing what's been recognized as "The Fringe Formulas" Here, it feels earned–we want to hear about what Hennessy feels, what she struggles with, because listening to her voice has been so rewarding thus far. (Also, brushing past family trauma by saying, "We'll talk about that another time" is an objectively funny thing to say during a stand-up set.) For those jaded with the guaranteed cacophony of mediocrity in Edinburgh this month, Síomha Hennessy is a complete stand out—there doesn't seem to be a more winning hour than The Coil's Lament.
---
Rory Doherty is a screenwriter, playwright and culture writer based in Edinburgh, Scotland. You can follow his thoughts about all things stories @roryhasopinions.