Hannah Gadsby Announces World Tour Behind New Show, Douglas
Photo by Charley Gallay/Getty
Comedy
News
Hannah Gadsby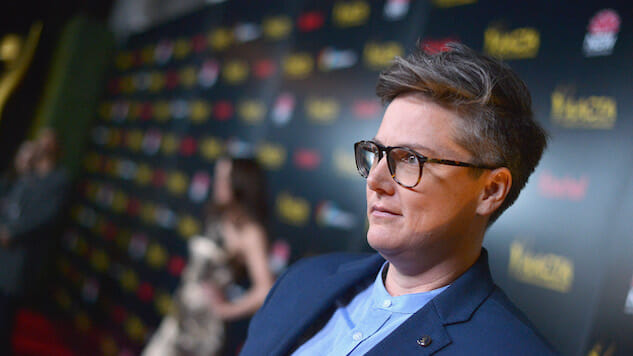 Comedian Hannah Gadsby has announced a new stand-up world tour to follow her 2018 special Nanette. The tour will see Gadsby debut her brand-new show Douglas, which revolves around her pet dog in the same way Nanette focused on its eponymous barista. The announcement comes as a significant change of course for Gadsby, who couched Nanette in her intention to quit comedy, and discussed the possibility of calling it quits and returning to her native Tasmania in interviews following the glowing success of the special.
I have some news… I'm going on a world tour with a brand new show that I've called 'Douglas'. So no… I haven't quit comedy. Sign up to get the pre-sale and all of the details first: https://t.co/WOLgayBwCTpic.twitter.com/1dg2pnI3WG

— Hannah Gadsby (@Hannahgadsby) February 4, 2019
The first leg of the Douglas tour kicks off in Melbourne, Australia, for a 12-day run at Arts Centre Melbourne from March 27 to April 7. Gadsby then heads over to the U.S. for a stretch of dates—her first in the States—that starts in San Francisco on April 30 and lasts into July. Gadsby has also revealed that more dates are set to be added to that list, including a more extensive tour of the East Coast, as well as shows in Europe, Australia, Canada and New Zealand.
Gadsby's previous show Nanette ran in Australia and the U.K. for 18 months, taking home prizes from comedy festivals in Melbourne and Edinburgh before settling in New York to record a wildly successful Netflix special that arrived in 2018. We named Nanette the best comedy special of 2018, with Paste contributor Graham Techler calling it "an extremely angry hour, an extremely cathartic one and an extremely necessary one."
"Hannah found her voice with Nanette and with Douglas she plans to use it," Gadsby's website teases.
Check out the full list of announced dates on the Douglas tour below.
Hannah Gadsby Tour Dates
March
27-April 7 – Melbourne, Australia @ Arts Centre Melbourne
April
30 – San Francisco, Calif. @ Palace of Fine Arts
May
10 – San Diego, Calif. @ Balboa Theater
15 – Portland, Ore. @ Newmark Theatre
22 – Denver, Colo. @ Paramount Theatre
30 – Austin, Texas @ Paramount Theatre
June
2 – Houston, Texas @ Jones Hall for the Performing Arts
8 – Seattle, Wash. @ Moore Theatre
13 – Minneapolis, Minn. @ Pantages Theatre
16 – Chicago, Ill. @ Chicago Theater
23 – Philadelphia, Pa. @ Merriam Theater
25 – Washington, D.C. @ Kennedy Center
29 – Nashville, Tenn. @ James K Polk Theater
July
12 – Los Angeles, Calif. @ Theatre at The Ace Hotel