John Oliver Officially Endorses Pets in Human Clothes and Pushing Tin
Image via HBO/YouTube
Comedy
Video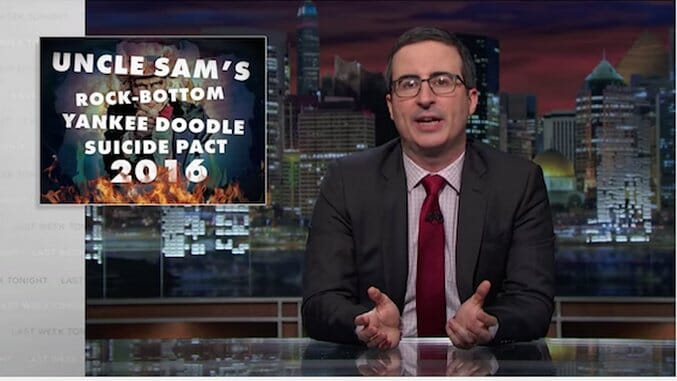 Last Week Tonight with John Oliver is on hiatus until July 24, but the show has been sharing short "web exclusive" videos to tide us over until then. The subject of last night's video? Endorsements.
Oliver points out that he can't really endorse a presidential candidate because of his nationality, though his lack of support of either candidate might have something to do the unfortunate truth of this year's election season being "Uncle Sam's Rock Bottom Yankee Doodle Suicide Pact 2016."
The Hostus Mostus goes on to say that he can, however, endorse other things outside of the political realm. The list of Oliver's endorsements: animals wearing people clothes ("charming and a wholesome delight"), interspecies friendships ("like dog and goat BFFs"), ties with gingham shirts ("that you wouldn't think go together, but somehow kind of go"), and Pushing Tin, the 1999 movie starring John Cusack and Billy Bob Thornton ("because if you are looking for a snooze in the middle of an overcast Sunday afternoon, Pushing Tin will knock you the fuck out.")
Watch the full clip above.