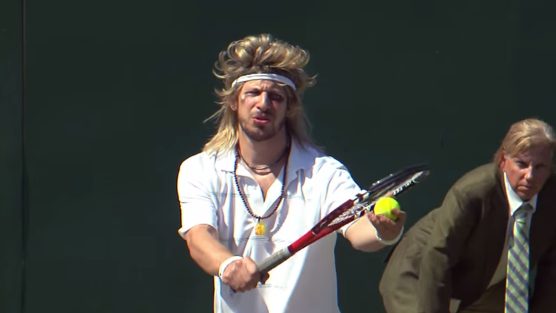 Seven Days in Hell, the story of the epic, fictional seven-day match between two of tennis' all-time legends, Aaron Williams and Charles Poole, is a documentary sports fans have been waiting years to see. Williams, the quintessential American bad boy, was in many ways the polar opposite of the British Poole, who was straight-laced and a little bit dim. But when the two met on the grass courts of Wimbledon, fireworks went off. Now, at last, HBO is telling the story of one of the greatest battles in modern athletics—a five-set, seven-day match at the All England Lawn & Tennis Center.
Oh, and there's this: It's completely fake. The brilliant minds at HBO have apparently gotten into the mockumentary game, and the 45-minute special will feature Andy Samberg as the fictional Williams and Kit Harington (a clean-shaven Jon Snow!) as Poole. With an epic supporting cast that includes stars like Lena Dunham and Fred Armisen, along with several actual tennis personalities—Serena Williams and John McEnroe, to name two—this looks incredible. And in fact, it already made a good-sized splash when it premiered at Sundance earlier this year. Let's hope this is just the first of many mockumentaries for the premium network.
Jake Szymanski of Funny or Die fame wrote and directed, and the special will debut on HBO July 11. Watch the full-length trailer above.