Leslie Jones' Debut Netflix Special Time Machine Launches in January
Directed by David Benioff and D.B. Weiss (!?)
Photos courtesy of Netflix
Comedy
News
Leslie Jones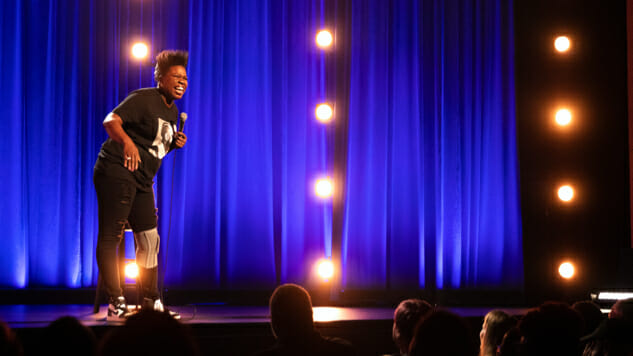 When Emmy-nominated comedian and actress Leslie Jones left Saturday Night Live back in August, she cited a shift in focus from the sketch show to her film and comedy career, including a role in Eddie Murphy's Coming to America sequel and her debut Netflix special. This Thursday morning brings us our first good look at the latter, Time Machine, coming to Netflix in January, and directed, bizarrely, by the Game of Thrones guys, David Benioff and D.B. Weiss.
A Netflix press release describes the special as follows:
Comedian, actress and Emmy Award-nominated SNL alum, Leslie Jones, is all about having fun. Through the years that fun has encompassed wild times, crazy experiences, celebrity encounters and a few awkward mishaps. Now older, and enlightened, the comedian imparts her hilarious wisdom on all ages. Strap in, because you're headed on a wild side-splitting ride from young adulthood to the present with Leslie Jones.
Jones is a noted Game of Thrones superfan, and Benioff and Weiss—who freed up some spare time by wisely stepping away from the new Star Wars trilogy with which they'd been entrusted—have an overall deal with Netflix, so on those levels, at least, it makes sense that the duo would direct Jones' splashy debut special. Sadly, we now have to assume that Time Machine will start out excellent, only to nosedive at the end after running out of source material, though it'll win approximately one billion Emmys along the way.
Time Machine was filmed during the comic's "An Evening With Leslie Jones" show at the Warner Theatre in Washington, D.C., back in September, as she revealed in a Jimmy Kimmel Live! interview in August.
Time Machine arrives in the present on Jan. 14, 2020. Check out a brief teaser for the special below.