10 Great Sitcoms on Netflix You Probably Haven't Seen
Lead images captured off Netflix.
Comedy
Lists
Netflix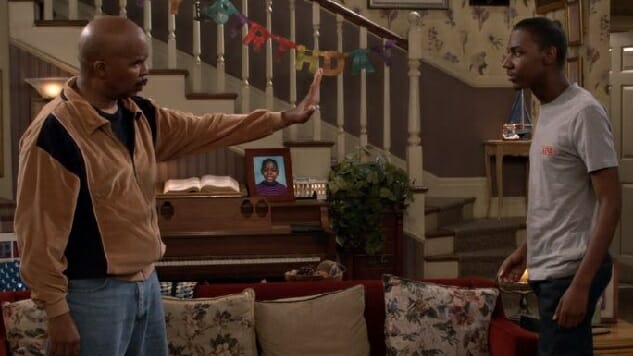 You can find some of the biggest sitcoms of all time on Netflix, from '60s favorites like The Dick Van Dyke Show and The Andy Griffith Show, through Must See TV classics like Cheers and Friends, to such modern day hits as It's Always Sunny in Philadelphia and 30 Rock. We even wrote a whole big list about that. Go there if you want to learn more, because those aren't the shows we're going to talk about here.
The best thing about TV under our crazy digital future is how shows usually don't just disappear anymore. If a sitcom didn't run long enough to get syndicated at any point before the era of the DVD box set, they'd pretty much be impossible to find once they left the air. If you were lucky you'd maybe be able to find them running as stopgap schedule fillers on cable channels at weird hours. (Get a Life fans probably remember when Chris Elliott's cult curiosity reappeared as a part of USA's USAM morning rerun block, with episodes chopped up and missing the original R.E.M. theme song.) DVDs rescued the past, and now streaming has made it more readily available than ever.
Some of the best sitcoms on Netflix fit this bill. From short-lived network shows, to lesser-known foreign imports, to weird cable experiments, Netflix is full of great comedies that don't get the acclaim or respect they deserve. Here are Paste's 10 favorite underrated sitcoms on Netflix, starting with one of the best shows of any genre this decade.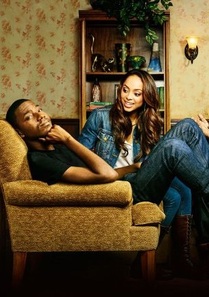 The Carmichael Show
Original Run: 2015-2017
Creators: Jerrod Carmichael, Ari Katcher, Willie Hunter, Nicholas Stoller
Stars: Jerrod Carmichael, Amber Stevens West, Lil Rel Howery, Tiffany Haddish, Loretta Devine, David Alan Grier
Original Network: NBC
The death of The Carmichael Show earlier this summer was a hard blow for anybody who likes sitcoms that actually have a point of view and try to say something about the world we live in. The heavily topical show was the closest thing TV had to a classic Norman Lear sitcom in years, with every episode finding comedy in a hot button issue. It was able to delve into today's problems without ever feeling exploitative or insincere, and it remained perhaps the funniest show on TV the whole time due in part to its amazing cast. It's unbelievable that NBC didn't even attempt to capitalize on the higher profiles of cast members Tiffany Haddish and Lil Rel Howery, who, between Girls Trip and Get Out, were breakout stars of two of this year's biggest movies. At least you can catch up with the show on Netflix.—Garrett Martin

---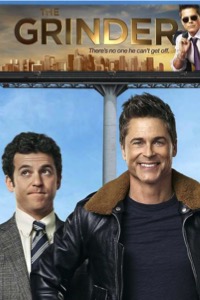 The Grinder
Original Run: 2015-2016
Creators: Jarrad Paul, Andrew Mogel
Stars: Rob Lowe, Fred Savage, Mary Elizabeth Ellis, Natalie Morales, Hana Hayes, Connor Kalopsis, William Devane
Original Network: Fox
When The Grinder first debuted on Fox, many people, or at least a certain set, compared the show to Lookwell. You may have never heard of Lookwell, and that wouldn't be surprising—Lookwell failed. They made a pilot, and that was it. The pilot was genius, but it was weird and idiosyncratic and they didn't think it could sustain itself on TV. The Grinder, by dint of getting a full season, succeeded at a greater degree than Lookwell, but only slightly. After one season the show was canceled (admittedly, to nobody's surprise) making network television much less weird for the moment. And this is incredibly disappointing, because The Grinder was also a very good show. It was smart and clever, and kept evolving. Eventually, the show grew into something fascinating and delightful, especially for those who love TV. That's who The Grinder was really for. You had to know the tropes of law dramas, and sitcoms and also the backstage machinations of television. It was a show for TV obsessives, who also didn't take television too seriously. And still, it was ambitious to believe they could garner a big audience with its premise, and so The Grinder seemed destined to become a show that divided the television viewership, but one that would also be a critical darling. And it also would have been great if Rob Lowe could have drawn in more people in to watch the show, if only to get it a couple of good seasons. There was definitely life left in The Grinder. Instead, it turned into Lookwell with a full season order, but, surely, it will develop its own cult following. Meanwhile, we can all dream of some sort of Law & Order type show, with Ty Lookwell and Dean Sanderson in the leads.—Chris Morgan

---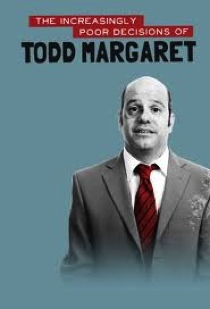 The Increasingly Poor Decisions of Todd Margaret
Original Run: 2009-12
Creator: David Cross
Stars: David Cross, Sharon Horgan, Will Arnett, Blake Harrison, Jack McBrayer
Original Network: IFC
From the unique premise to the comedy itself, there are plenty of reasons to admire The Increasingly Poor Decisions of Todd Margaret, the IFC sitcom co-created and co-written by David Cross, who also stars as its titular character. Margaret is a go-nowhere dolt working in the U.S. who is inexplicably promoted to run a London sales team promoting an energy drink called Thunder Muscle. Through a series of—you guessed it—increasingly poor decisions, that the viewer only learns about over time as they occur, he slowly gets into deeper and deeper trouble, while the worst decision seems to have been made by whoever promoted him to London in the first place. Rather than rely on straight-up punchlines, the show manages to maintain a level-headed humor throughout, ably going off the rails at one moment, only to bring it back to a quintessentially British cringe the next.—Austin L. Ray


---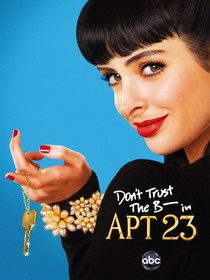 Don't Trust the B—— in Apt. 23
Original Run: 2012-2013
Creator: Nahnatchka Khan
Stars: Krysten Ritter, Dreama Walker, James Van Der Beek, Liza Lapira, Michael Blaiklock, Eric Andre, Ray Ford
Original Network: ABC
Krysten Ritter is pretty much good in everything, but before Jessica Jones her brief stint as the… difficult woman of this show's title was probably her best performance. She's a breezy blast as pure, unrestrained id, and she's surrounded by a fine cast, including a pre-Adult Swim Eric Andre and James Van Der Beek as himself.—Carl Dexter

---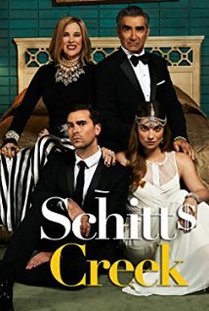 Schitt's Creek
Original Run: 2015-
Creator: Eugene Levy, Daniel Levy
Stars: Eugene Levy, Catherine O'Hara, Chris Elliott, Daniel Levy, Annie Murphy, Jennifer Robertson, Emily Hampshire, Tim Rozon, Dustin Milligan
Original Network: CBC
Now's the time to catch up with father-and-son duo Eugene and Daniel Levy's winning sitcom. Season One mined plenty of laughs out of its fish-out-of-water conceit, with [bankrupt millionaires] the Roses transplanted to a poor, rural town run by Chris Elliott's slovenly Mayor Roland Schitt, but its successive half hours go that much further beyond the title's slapstick wordplay. The Roses, despite themselves, are assimilating to life outside La La Land, and incrementally coming to appreciate each other's company. Schitt's Creek isn't particularly trenchant, nor is it simple or sentimental. Rather, it hits a sweet spot of ensemble humor that happens to offer a satisfying answer to post-presidential election rhetorical grousing about what would happen if middle and bicoastal Americans really could get along.—Kenny Herzog

---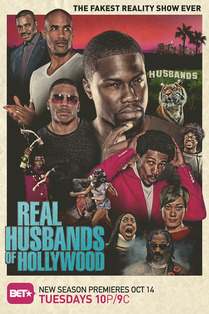 Real Husbands of Hollywood
Original Run: 2013-
Creator: Kevin Hart, Chris Spencer
Stars: Kevin Hart, Nick Cannon, Boris Kodjoe, Duane Martin, Nelly, J.B. Smoove, Robin Thicke, Cynthia McWilliams, Dondré Whitfield
Original Network: BET
Somehow Kevin Hart's reality show parody feels less fake than most reality shows. Hart and his costars play themselves, or at least versions thereof, as they navigate work, life and relationships in Hollywood, mimicking the hyper-edited style and blatantly artificial narratives of most reality shows. Hart's shallow braggadocio only becomes funnier when he's playing himself, but J.B. Smoove and, surprisingly, Alan Thicke during its first season might steal the show.—Kenny Herzog

---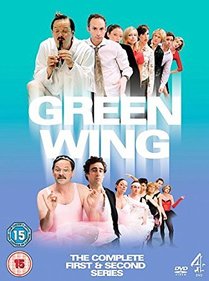 Green Wing
Original Run: 2004-2007
Creator: Victoria Pile
Stars: Sarah Alexander, Sally Bretton, Oliver Chris, Olivia Colman, Tamsin Greig, Michelle Gomez, Pippa Haywood, Mark Heap, Katie Lyons, Stephen Mangan, Lucinda Raikes, Julian Rhind-Tutt, Karl Theobald
Original Network: Channel 4
Forget about ER and Grey's Anatomy, Green Wing introduces a hospital that is more of an amusement park than anything else, and it wouldn't surprise me if people would actually want to check themselves in voluntarily, whether they are sick or not. Starring some of the best actors known to British comedy such as Mark Heap, Tasmin Greig, Stephen Mangan and Michelle Gomez, this is the wackiest "hospital show" you will ever come across.—Roxanne Sancto

---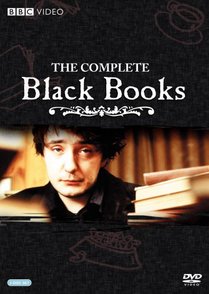 Black Books
Original Run: 2000-2004
Creator: Dylan Moran, Graham Linehan
Stars: Dylan Moran, Tamsin Greig, Bill Bailey
Original Network: Channel 4
If you like grumpy, drunken Irish bastards, Bernard Black (Dylan Moran) will soon become your new hero. His constant bed-headed, chain-smoking self is a thing of pure beauty, even more so when he highlights his unbothered talents by pissing into his book shop's sink rather than making the long way out of his chair and into the bathroom. He has no interest in selling his books whatsoever and rather hates people on a grand scale. The only one welcome in his shop is his oldest friend Fran (Tamsin Greig), who owns a bric-a-brac shop full of "wank" next door to his. Black and Fran spend their hours getting up to no good and leave shop assistant Manny (Bill Bailey) to clear up their mess more often than not.—Roxanne Sancto

---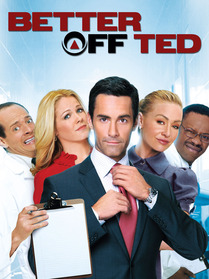 Better Off Ted
Original Run: 2009-2010
Creator: Victor Fresco
Stars: Jay Harrington, Portia de Rossi, Andrea Anders, Jonathan Slavin, Malcolm Barrett, Isabella Acres
Original Network: ABC
Better Off Ted is a sharp parody of corporate culture driven by a fantastic performance from Portia de Rossi. It's a more pointed show than Victor Fresco's previous underrated sitcom, Andy Richter Controls the Universe, with brilliant fake commercials that are frighteningly believable as the tone-deaf messaging of a multibillion dollar company, and great performances from a game cast. It's been gone for years and its satire of technology companies and big business is still prescient.—Garrett Martin

---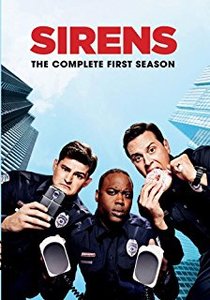 Sirens
Original Run: 2014-2015
Creators: Brian Fillis and Brian Kellett; Denis Leary, Bob Fisher
Stars: Michael Mosley, Kevin Daniels, Kevin Bigley, Jessica McNamee, Bill Nunn, Josh Segarra
Original Network: USA
You can see why a show like this might have found it hard to connect with TV viewers. Their biggest gets as far as guest stars were Jean Smart, a cast member of The Sopranos, and Newman. And their narrative choices found them pushing against the formula of your common network sitcom, but also not wanting to get into the territory mapped out by shows like Arrested Development or Kimmy Schmidt, where self-referential humor and joking nostalgia held sway. Audiences these days, for good or for ill, like to be either fed comfort food, or be shaken out of their food comas by something.
Sirens was never that kind of show, though. It remains a great working class comedy in the spirit of Taxi or Party Down, but with a singular voice that wasn't really being presented on TV.—Robert Ham