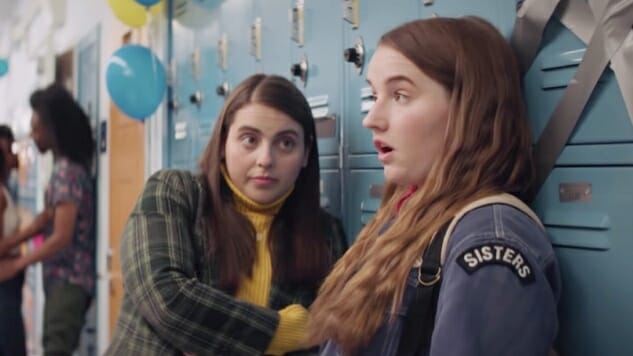 Most modern-day Oscar "Best Picture" nominated films tend to fall into five categories: biopics (The Irishman), war (1917), period piece where a child dies (Little Women), present-day story where everyone dies (The Departed), and film where no one dies but nobody is happy either (Marriage Story). Regardless of the premise, these heralded films are overwhelmingly dramas. Comedy rarely gets any recognition at Hollywood's (forgive me for using this term) most prestigious award ceremonies. You're more likely to see a comedian present an Oscar to Spike Lee (who, reminder, somehow only has one Oscar) than accept one for a role. Even the Golden Globes too often look the other way. While they have the unique distinction of offering two Best Picture categories, comedy has to share theirs with musicals which more often than not turns into a sly means of awarding a trophy to two dramas. Just because a character breaks into song occasionally doesn't mean a musical is a fun romp. Les Miserables had way more in common with 2011's Zero Dark Thirty than it did Moonrise Kingdom, which it beat for the big prize.
So why do comedies get overlooked? There's no shortage of them, and while they don't break box office records easily, neither do the limited release films the Academy loves. One thing comedy does have working against it is the subjectivity of humor. Many films that have cemented themselves into the zeitgeist didn't resonate with critics, yet even the critically acclaimed films get ignored. Rotten Tomatoes certifiably fresh films like Booksmart (97), What We Do In The Shadows (96), Shaun of the Dead (92) Zombieland (90), Easy A (85), Elf (84), Forgetting Sarah Marshall (83), I Love You, Man (83), Scott Pilgrim vs the World (81), and Talladega Nights: The Ballad of Ricky Bobby (71) failed to receive any recognition at all despite making significant waves. Booksmart was a breakthrough vehicle for both Beanie Feldstein and Kaitlyn Dever, Shadows spun off into a popular TV series on FX, Shaun of the Dead was the start of Simon Pegg and Edgar Wright's meteoric rise, and Elf is considered a holiday essential alongside the likes of A Christmas Story and How the Grinch Stole Christmas. While films like Popstar only became cult favorites much later in life, it was evident during each of these highly-rated films' theatrical runs that these were quality, memorable stories… just not good enough for any nominations, I guess.
Comedic films usually have to be animated or a genre hybrid to be nominated (eg. drama-comedies and thriller-comedies). If something isn't dripping in utter sadness and despair every minute, it gets confused for a comedy when it's really just a lighthearted drama. While accredited hybrids, such as Birdman, do contain humorous dialogue, it's clear that the film's main purpose is not to make the audience laugh. The big takeaway from Birdman was the one-shot editing and cinematography, not the jokes. If this is a comedy, it's a diet comedy at best.
Regardless of a story's tone, the effort that goes into making a comedy is just as significant as the effort it takes to produce a drama. Whether it's aimed towards a more youthful or more mature audience, writing a funny comedy takes incredible skill. Each year's Oscar ceremony makes that painfully clear as we watch presenter after presenter fail to sell a joke. It's rather quite the slap in the face for the Academy to essentially ignore an entire genre and then depend so heavily on that same sense of comedic relief to carry their ceremony. Clearly they can recognize comedy has worth when a Maya Rudolph bit becomes the morning after's number one talking point.
While it's not completely uncommon, it is rare for a pure comedy to get noticed by the Academy. Bona fide comedies like Borat and Bridesmaids managed to snag nominations for Best Original Screenplay during their respective years. Strangely enough, it is the category comedies are most likely to be nominated for. For all the cries that Hollywood is oversaturated with superhero adaptations, reboots, and endless sequels, comedy is the genre that's routinely producing original stories. Additionally, many of the Academy's favorite actors have comedies to thank for launching their careers. Reese Witherspoon may have received nominations for Wild and Walk the Line, but it was Election and Legally Blonde that made her a household name. If comedies serve as launching pads for today's biggest A-list stars, such as Emma Stone and Melissa McCarthy, then why don't the films themselves get celebrated as an achievement in filmmaking?
It feels that in order for a film to be taken seriously, it has to be serious. There's almost a sense that the Academy thinks it looks better for them to award stories that are deep and complex when it's actually the very thing that's alienating themselves from non-members and killing their ratings. If these awards are about celebrating excellence in film then they cannot continue to deny the impression comedies make on both the industry and on our culture. After all, the average person can easily identify Ron Burgundy when they see him but does anyone remember who starred in Philomena? With 10 possible slots to fill for Best Picture, let's have a little less "war is hell" and a little more newscasters fighting bears.
---
Olivia Cathcart is Paste's assistant comedy editor.