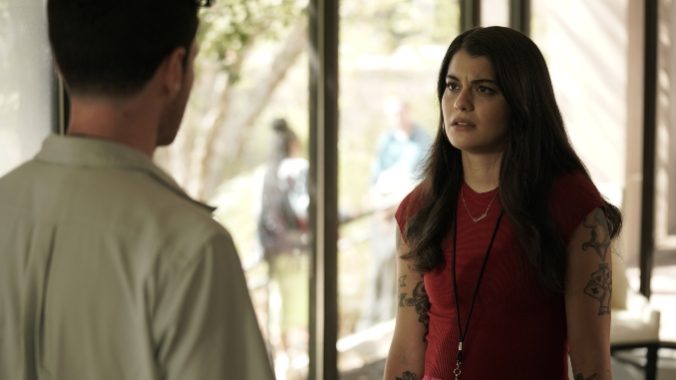 On June 30, Disney-owned channel Freeform announced the cancellation of Single Drunk Female, the sadly under-appreciated sitcom following writer Samantha Fink's (Sofia Black-D'Elia) sobriety journey. The news comes as a real gut-punch considering that the show's excellent second season ended not even two months ago.
Single Drunk Female grabs you with its humor and honesty, especially when confronting a subject that media often treats as so deadly serious as to be inaccessible. And don't get me wrong—alcoholism is a horrible illness, one that has and will continue to claim lives. But when we always handle addiction with kid gloves, it can create a distance that makes the average viewer feel intimidated or, in the worst instances, detached.
Sam's story is quite the opposite, though; it's warm and messy and utterly relatable, even if you're not someone who has personally struggled with substance abuse. Her strained relationship with her mother Carol (Ally Sheedy) certainly hits home for many viewers, as does her feeling of stagnation as she moves back in with her mom. Black-D'Elia puts in such a layered, funny performance as Sam that it'll be a shame if she's not quickly picked up to star in another worthy project. And that's not to mention the incredible cast around her who make all the other characters feel so lived-in: Garrick Bernard, Ian Gomez, Sasha Compère, Rebecca Henderson, Lily Mae Harrington, and so many others. There's a reason we listed it as one of the funniest TV shows of 2023.
As I was mourning the loss of one of my new favorite TV shows today, I went to Disney+ to watch Single Drunk Female and reminisce… only to find that it had already been wiped from their library. SDF's corpse isn't even cold yet, and both Disney+ and Hulu (also owned by Disney) have swiftly taken the show off their platforms. There is some solace, as Single Drunk Female is available for purchase on iTunes and Amazon, but this frighteningly fast move is part of a larger, unsettling pattern on the part of Freeform and the Disney-owned streaming platforms they're partnered with.
Freeform supernatural drama Motherland: Fort Salem finished its third and final season last August, and yet already it's been slashed from Disney+ and Hulu. Motherland stands out because it's an entirely original series, not based on any pre-existing IP. It's a shame that one of the only truly novel shows on TV is now largely inaccessible (unsurprisingly, two of the remaining scripted shows on Freeform are both spin-offs). Freeform's mystery series The Watchful Eye was canceled the same day as Single Drunk Female and has suffered the same fate: near erasure. Can't we at least get some time to grieve shows before they enter the great, gaping digital void? 
Beyond that, though, the move is unfair to every person involved in these productions, whose hard work is now, for the most part, been put out of viewers' reach. Undervaluing the efforts of writers, actors, PAs, and numerous others is unfortunately par for the course at this stage. Studio executives don't care about art; all they want is profit. 
Of course, Disney isn't alone in ruthlessly gutting their library. Warner Bros. Discovery's Max (the artist formerly known as HBO Max) has cleared out a myriad of titles from their back catalog, including At Home with Amy Sedaris, various Sesame Street specials, and Westworld (the latter of which can now be found on FAST—free, ad-supported television). Max also removed over two dozen animated titles, tarnishing its previous reputation as a haven for animators.
Single Drunk Female is just the latest in a long line of casualties of studio greed. Fans can take some comfort in the hopeful, cliffhanger-less ending to the sitcom's unintentional finale. The final scene, with Sam tapping into her higher power—writing—is about as satisfying as an accidental conclusion can be. And I wish I could find the same peace in that activity. While writing this article has been cathartic to an extent, it also feels frustratingly futile. Execs don't care what TV is actually good, what viewers want, what writers need (sufficient pay!!), or anything beyond the bottom line. As many of trains of thought go these days, I return to one surefire conclusion: Fuck capitalism.
---
Clare Martin is a cemetery enthusiast and Paste's assistant comedy editor. Go harass her on Twitter @theclaremartin.