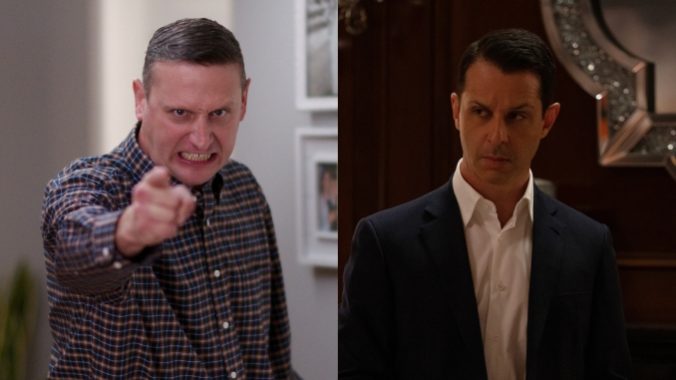 We've said it before, but there might be a bit too much TV right now—not to mention the fact that you need a dozen different subscriptions to streamers to attempt to keep up with everything. It can be overwhelming to choose what to watch from the myriad of options, and you can easily waste the night scrolling through shows listlessly.
With that in mind, we've sifted through the many, many excellent series on offer to showcase the 10 funniest shows of 2023 so far. Some may be darker than others, but they all deliver the laughs we sorely need:
10. Schmigadoon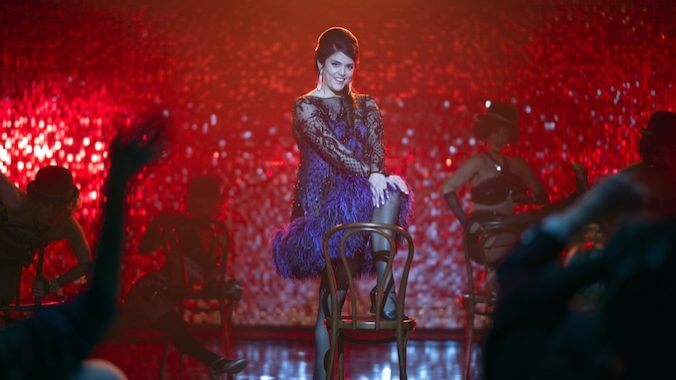 Schmigadoon!'s first season, which premiered over two years ago on Apple TV+, was admittedly just okay. But its second season, which takes place in the city of Schmicago and pulls from musicals of the '60s and '70s, has been phenomenal. In the aftermath of the first season, Melissa (Cecily Strong) and Josh (Keegan-Michael Key) sought out Schmigadoon once more when they began to become unhappy in their repetitive lives, only to instead stumble upon Schmicago, with much seedier characters and different lessons to learn. Throughout the season, Melissa and Josh attempt to achieve true happiness for all the interesting people around them, each of which are familiar faces from Schmigadoon, but ultimately end up meddling in places they shouldn't have. 
Schmicago allowed for Schmigadoon! to pull from more recognizable musicals like Jesus Christ Superstar, Cabaret, and, of course, Chicago, alongside many others, and it seemed like each episode featured more musical moments than the last. In addition to being a genuine delight each and every week, Schmigadoon! upped the ante in every way this season, and delivered in spades on its promise of '70s and '80s musicals told through a lovingly comedic lens.—Anna Govert [Full List]
---
9. Poker Face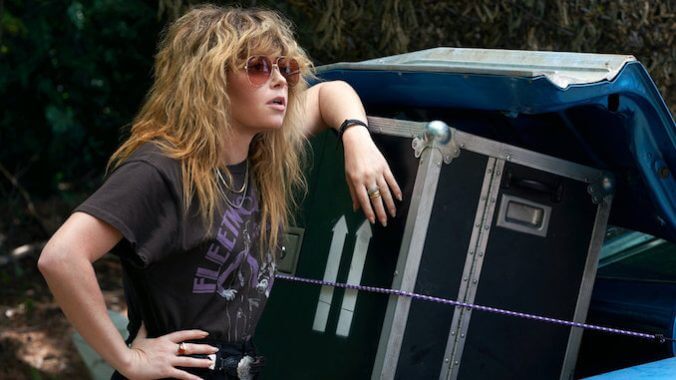 Were we complaining about new shows being helmed by flashy big names for the first couple episodes, only to then slip into using other writers and directors to mimic the showrunner's style? Couldn't have been us! Especially not with the winning combination of creator and star we get in Poker Face. In this Peacock series, Rian Johnson leads a barnstormer of a murder mystery show, kicking us off with an exquisite pilot before we head out on backroads and highways through America's undergrowth, solving a different crime every week. It's a show that loves three things equally: Natasha Lyonne, Columbo, and getting us hooked on stories.—Rory Doherty [Full Review]
---
8. Digman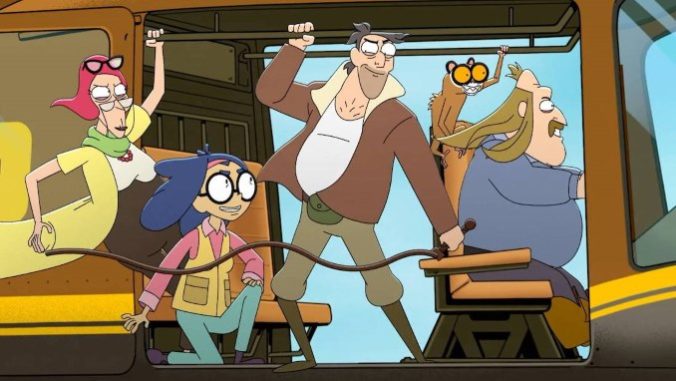 Neil Campbell and Andy Samberg's absurd adventure cartoon is more than just a send-up of Indiana Jones and the National Treasure movies. Washed-up archeologist Rip Digman (Samberg in full Nicolas Cage voice) is a vain, ridiculous, embarrassing caricature of masculinity, but his grief over the death of his wife (and subsequent quest to revive her) gives Digman a human element that's often missing in the cynical world of basic cable adult animation. And a top notch team of hilarious actors (Samberg is joined by Tim Robinson, Mitra Jouhari, Tim Meadows, Melissa Fumero, and more) enliven whip-smart scripts that move seamlessly between pop culture parody, historical comedy, formal experimentation, and the kind of inspired silliness Samberg and his Lonely Island cohorts are known for. It's a good show.—Garrett Martin
---
7. Abbott Elementary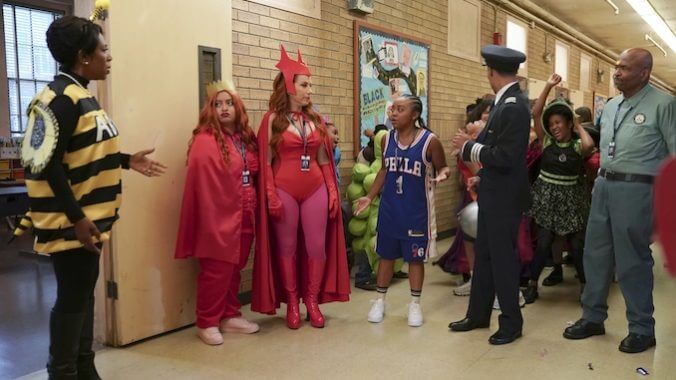 Abbott Elementary is not only the network comedy's saving grace, but it might just be one of the funniest shows on TV today. When it burst onto the scene in late 2021 with a special premiere episode, word of mouth catapulted it to the top of everyone's radar, making it an instant hit when it premiered officially in January of 2022. The show's stellar writing, courtesy of showrunner and star Quinta Brunson, won her an Emmy award this year (the first of many I'm sure!), capturing the hearts of not only the audience, but the Academy as well.
Of course, Abbott is hilarious on the page, but the delivery of these iconic lines matters too, with the cast perfectly highlighting just how hilarious every element of this show is. Brunson, Tyler James Williams, Janelle James, Lisa Ann Walter, Sheryl Lee Ralph, and Chris Perfetti make up an absolute dream team of a cast, elevating every moment to its full potential.—Anna Govert [Full List]
---
6. Single Drunk Female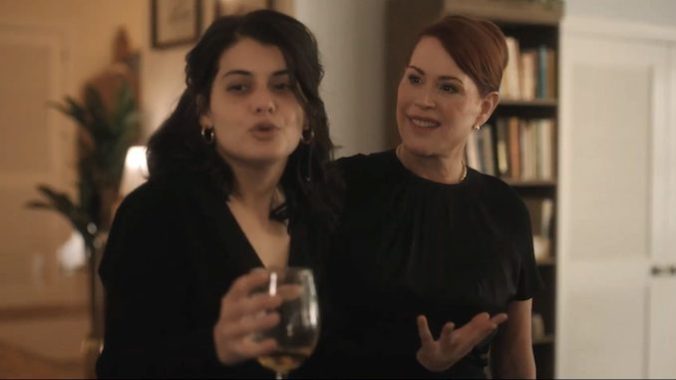 A show about a recovering alcoholic doesn't sound funny—but trust me, it is. Season 1 of Single Drunk Female follows writer Samantha Fink (Sofia Black-D'Elia, impeccable) as she hits rock bottom, losing her job and essentially her freedom due to her addiction. She moves in with her neurotic mom (Ally Sheedy) and joins a 12-step program, eventually finding her feet in a Boston suburb, which involves plenty of hilarity as she navigates life without alcohol for the first time in over a decade. Sans liquid courage, Sam turns out to be pretty awkward, amplified by the fact that she's confronting her past drunken misdeeds. The second season sees Sam more confident, but still as hilarious as ever as she attends a fellow AA member's funeral, interviews Bob the Drag Queen, and generally tries to keep on the straight and narrow. Black-D'Elia's charisma is complemented by an equally charming cast, including Sheedy, Ian Gomez (of Cougar Town fame) as her mom's boyfriend, Garrick Bernard as her former crush James, Lily Mae Harrington as Sam's brash best friend, and Sasha Compère as her uptight doctor pal. Single Drunk Female is a reminder that when the chips are down, or when you're aiming for your first sobriety chip, a good laugh is always in order.—Clare Martin
---
5. It's Always Sunny in Philadelphia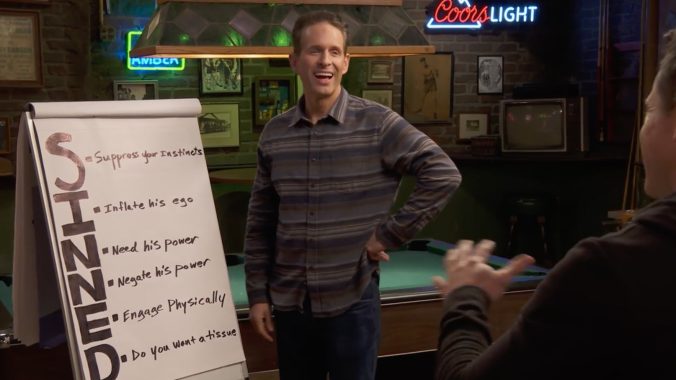 The sun has shined bright for the Paddy's Pub gang's nearly 20-year run. The most lovable, despicable people to grace television, Mac (Rob McElhenney), Dennis (Glenn Howerton), Charlie (Charlie Day), Dee (Kaitlin Olson), and Frank (Danny DeVito) are back in Philly for a season that kicks the pandemic to the curb. Fresh off the heels from a pandemic-centric and story-driven 15th season—and coinciding launch of the ongoing The Always Sunny Podcast—It's Always Sunny in Philadelphia's latest run takes off the post-COVID training wheels and rides back to its glorious, unhinged episodic state. Most of the gang may be well into their forties, but Season 16 proves that idiocy becomes riper with age, much like fine wine. To paraphrase Matthew McConaughey: "That's what I love about the gang, man. I get older. They stay the same age.
The last viewers saw the gang, they caused a wee bit of mayhem in Dublin, Ireland, during peak COVID times. Now, back in the States as their unapologetically awful selves, they take aim at inflation, celebrities, and themselves. By taking the utmost advantage of modern American culture, the Always Sunny writers deliver another hysterically funny comedic round, exemplifying why these terrible people are the best at being the worst.—Rendy Jones [Full Review] 
---
4. Party Down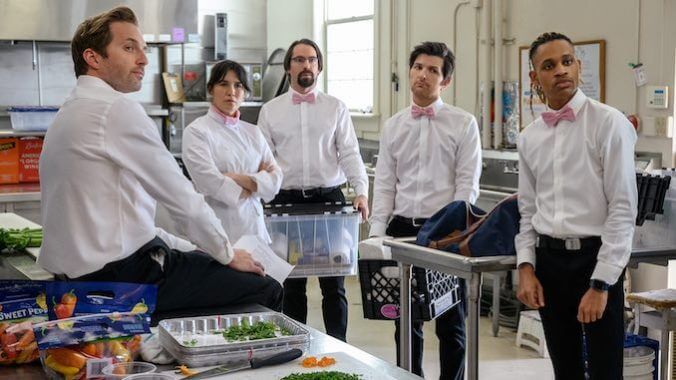 Set several years after the events of the second season finale and catching up with most of the main cast, the show proves that not much has changed about the entertainment industry or the people who serve it besides the power of the internet (one of the new Party Down employees, played by Brockmire actor Tyrel Jackson Williams, is a rising TikToker with dreams of making "content." This term perplexes all of his much more jaded colleagues who are now in their 40s). While some peoples' lives and careers have changed, a gig like this is even more soul-crushing to those who have spent decades on the wrong side of the trays of chicken on sticks and salmon cornets. Now even Ken Marino's Icarian Party Down boss, Ron Donald, dreams of taking his business to the next level and brings in "food artist" Lucy (Zoe Chao) to class up the menu.—Whitney Friedlander [Full Review]
---
3. I Think You Should Leave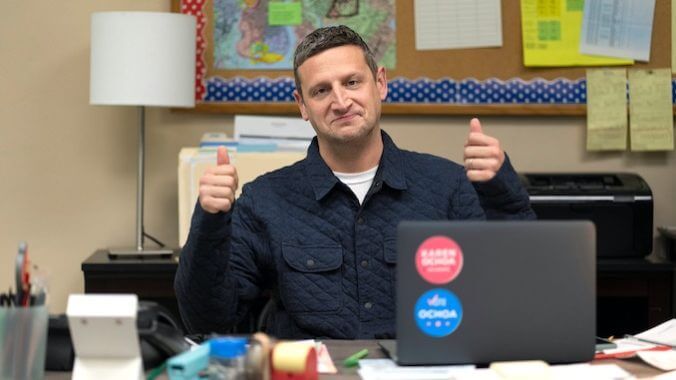 By now you know what to expect from I Think You Should Leave with Tim Robinson. The sketch show's third season bears all the hallmarks of its beloved first two, with awkward, oblivious people causing uncomfortable wists the show's most common formula in a few surprising ways.
There are several sketches in season three that seem to start on a predictable path. A Tim Robinson character takes something too literally, or runs a bad joke that got him a few laughs into the ground, or misreads a situation and doubles down until he ruins everything. Not all of these sketches head in the direction we expect them, though. By the end of a few sketches Robinson's characters are vindicated; their seemingly aberrant behavior actually benefits the people they seem to be annoying, or what seem to be lies or exaggerations turn out to be an accurate description of how they see the world. In at least one sketch a new character barrels in at the very end whose actions are so over-the-top and unexpected that it shifts the brunt of the embarrassment and discomfort from Robinson onto him. Even in the sketches that shift the perception of Robinson's seemingly inappropriate characters, though, there's often a second twist at the very end, with those characters revealing additional details right before the sketches cut that reassert their weirdness. Those are just final exclamation points on sketches that start in a familiar place but don't necessarily follow the routes they seem destined to head down, though.—Garrett Martin [Full Feature]
---
2. Succession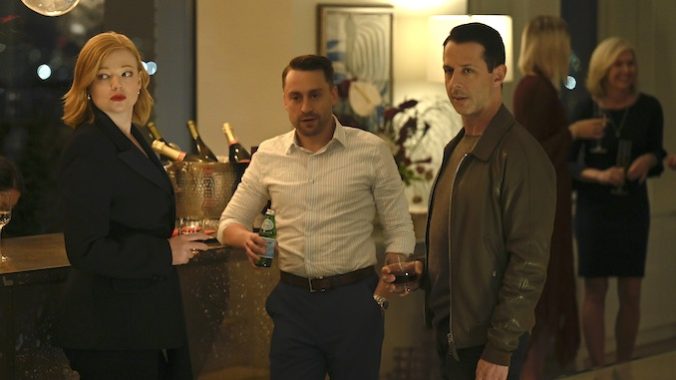 Succession is often discussed and framed as a drama. The corporate mind games, power struggles between the siblings, and Logan Roy's formidable authority all make HBO's latest prestige show appear on the surface like a Shakespearean tragedy or Game of Thrones in the boardroom. However, the tightly-wound chaos of Succession's fourth and final season solidified it as one of the best comedies of the year. The biting dialogue and elaborate insults traded by characters elevate each scene to another level (the "ludicrously capacious bag" barb is a highlight of this last series). And that's not to mention the situational awkwardness; several times this season, I found myself looking away with the same secondhand embarrassment that would burn through me when watching the UK Office. The well-rounded cast make these comedic moments land with their brilliant deliveries, though Matthew Macfadyen is surely a stand-out this season for his portrayal of Tom's desperate, almost degrading pursuit of power. We know who gets the last laugh, though.—Clare Martin
---
1. The Righteous Gemstones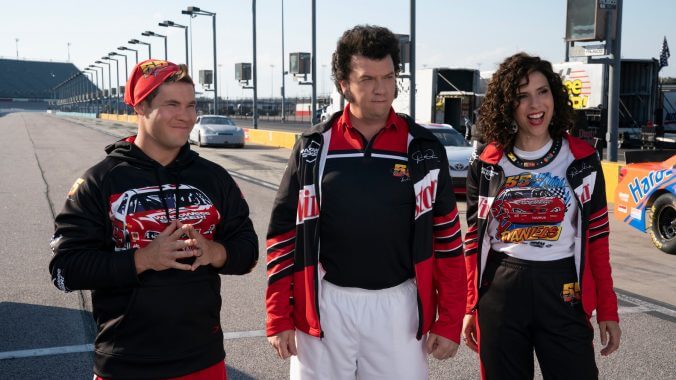 Entering its third season, Danny McBride's beloved "Succession, but with televangelists" monolith is not only at its very best, but it's now HBO's greatest treasure trove. Obviously, the competition isn't particularly tough this summer, as the The Righteous Gemstones' only battle is against The Idol—but Sam Levinson and the Weeknd's provocative, barrier-pushing drama is not exactly comparable to McBride's church-going, prestige comedy masterpiece.
Going into the summer of 2023, The Righteous Gemstones continues to anthologize its titular family's ongoing ascent to the very top of the evangelical kingdom. With the Lissons (played by Eric André and Jessica Lowe) now out of the picture, few zealot conglomerates are left standing. The Gemstones—Jesse (McBride), Judy (Edi Patterson) and Kelvin (Adam Devine)—are still as corrupt and unable to work cohesively with each other as ever, but, in typical fashion, someone beyond their circle is praying for their tragic fall from grace and they must band together to stay afloat. But the real breathtaking piece of The Righteous Gemstones this season is the work from John Goodman as family patriarch Eli. Not so much a late-career renaissance as it is a continuation of his excellent craft, Goodman brings a beautiful delicacy to his scenes—which he very often steals. Never before has the light of The Righteous Gemstones shone so brightly onto Eli, who, even in his lighter role at the church, is the nucleus that binds his family—and the entire show—together.—Matt Mitchell [Full Interview]