Streamers Like Netflix Built Themselves on Promises of Creative Freedom; Does That Still Hold Up?
TV
Features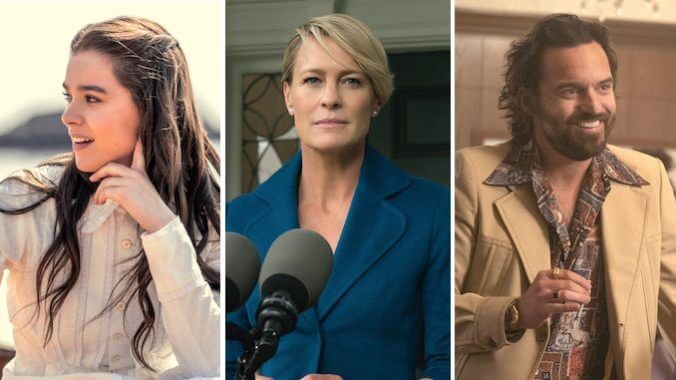 Streaming: the final frontier.
When streaming first began, the biggest talking point was around creative freedom. Much like HBO's tagline from the early 2000s—"It's not TV, it's HBO"—Netflix and the like sought to separate their prestige streaming titles from the "brain-melting sludge" reputation that plagued the rest of TV programming across broadcast and cable. In order to make streaming stand out, a focus was put on the creators. Netflix, HBO, and others wanted their originals to have a singular vision, often by an auteur-esque showrunner, by allowing them to tell the stories that could not be told on cable, pushing TV to be more like film than ever before. After the explosive success of Netflix's House of Cards in 2013, producer Modi Wiczyk told Forbes that "Netflix was okay with [offering total creative control to David Fincher and the production company MRC]," with the creatives behind other shows like Orange Is the New Black and Mindhunter echoing the same sentiment. Netflix offered total creative control, and thus streaming became the land of creator-first content.
Since then, television creatives have sung the praises of the world of streaming, crediting groundbreakingly unique and successful series like Fleabag, The Haunting of Hill House, Euphoria, Dickinson, and more to the relationship the singular creative lead has been able to have with their shows and the execution of these series as a whole. However, the picture-perfect image of creative freedom and sky's-the-limit attitude has begun to crumble, especially as streaming seems to be collapsing in on itself. When HBO Max now sees removing titles from existence as their latest brilliant business move, Netflix cancels anything that does not get 10 billion watch hours in its first ten minutes, and Peacock and other late addition platforms are struggling just to keep up, is any streamer really still that creator-friendly haven the industry once seemed to tout?
If one were to solely look at Netflix and HBO Max, the answer to that question would be a resounding "no." While Netflix may have once been the proud home of prestige titles like the aforementioned Mindhunter and Orange Is the New Black, the streamer has taken a swing into a less creator-friendly direction in the past few years. In 2022 alone, Netflix canceled 20 original series (while also undoing the renewal of Inside Job), with only 19 renewals in the same year. Netflix's outlook on series is only a 50% belief in the shows it actually sends to its platform.
Netflix's cruel upload cycle has left many creators feeling lost in the shuffle, like Soundtrack showrunner Joshua Safran or Warrior Nun showrunner Simon Barry, who have each spoken out against the streamer's strategy of simply dropping shows on the platform and hoping for the best. And while Netflix's global head of television Bela Bajaria told The New Yorker that the algorithm serves content "right up to you in front of your face, so it's not like you can't find it," it's hard to imagine that every single one of the nearly 160 original series released by Netflix in Q3 of 2022 alone found its way to the eyeballs of every Netflix subscriber. Which, in addition to mandated cliffhangers and tight budgets for anything that is not one of the streamer's marquee series like Wednesday or Stranger Things, Netflix's reputation has swung in the opposite direction of its once creator-friendly oasis into a sprawling graveyard of one-season-wonders surrounded by the very few shows that manage to survive the platform's real-life version of Squid Game.

While it seems impossible to fathom a reality worse than the state of streaming at Netflix, HBO Max's recent fall from grace is another blow to the creative freedom streaming once offered. Before the Warner Bros. merger with Discovery, anyone you asked could easily argue that HBO Max was winning the streaming wars. Featuring a stacked back catalog of movies, all the content from its various hubs like HBO, Cartoon Network, TCM, DC, Studio Ghibli, and more, as well as a slew of unique and compelling Max originals, HBO Max was the streamer to beat. Of course, in a post-David Zaslav world, the state of HBO Max is much more depressing. Now, HBO Max leads all streamers with a total of 27 cancellations in 2022, with many of them being un-done renewals and straight-up deletions from the service. As Zaslav began stripping HBO Max for parts, creatives in the industry have now turned a distrusting, questioning side-eye to the service, and who could blame them?
After the mid-summer animation purge of last year, Infinity Train creator Owen Dennis told The Wrap that he had warned Warner Bros. Discovery against the shocking move, "as it would hurt relationships with creators and talent, but they clearly do not care what any of this looks like publicly, much less how [creators] feel about it." In addition to purging titles from their back catalog for tax write-offs and shipping beloved series like Westworld off to FAST (Free Ad-Supported Streaming TV) channels, HBO Max also started the trend of undoing renewals mid-production, as the streamer did with their 2022 hit Minx, the second season of which was nearly complete before HBO Max pulled the plug. Taking a page out of Max's book, Paramount+ (née CBS All Access, one of the first studio streamers to step up against Netflix and Hulu) has just announced the removal of nine original shows from the platform ahead of their merger with Showtime (the new service will be gracefully titled "Paramount+ With Showtime"). Netflix is also beginning to follow suit. The deletion of entire series, especially ones without physical release, seems to be the nail in the coffin of streaming's original appeal; the promise of television immortality has now decayed into a well-timed tax write-off.
While Netflix and HBO Max in particular are the most egregious in their cutthroat business moves, a fair amount of growing pains have still plagued the less-established streamers when it comes to the type and success of the content they are producing. Disney+, for example, is known for its Marvel and Star Wars miniseries, but any titles that extend beyond those bounds have a significantly harder time thriving on the service. High School Musical: The Musical: The Series is the only Disney+ series not a part of the Star Wars or Marvel umbrellas to be renewed for more than two seasons, with most Disney+ original comedies and dramas finding themselves still in limbo (Willow, Big Shot, National Treasure, etc). And even if you manage to score the keys to the kingdom and land a Marvel project, you are at the whim of Kevin Feige's overall MCU plan, pitching your limited series' place within the grander scale of an entire shared universe. That's not to say there's no creative freedom within Disney+ franchise offerings, especially with Andor creator Tony Gilroy singing the praises of Lucasfilm president Kathleen Kennedy for the freedom offered in creating that series, but there will always be the shadow of a larger narrative that needs to be served through those shows that stifles the uninhibited voice streaming once offered.
Peacock, similarly, has found difficulty in getting certain types of series to stick, ultimately slashing whole genres of content because it is simply "too soon" to target specific crowds (namely the Young Adult audience), at least according to Peacock exec Susan Rovner. Peacock's YA purge included the two-season series One of Us Is Lying, as well as Julie Plec's Vampire Academy series. To add insult to injury, another Plec series was killed at Peacock within the same week as the Vampire Academy cancellation, as the streamer announced her and Kevin Williamson's adaptation of comic Dead Day would not be moving forward despite a straight-to-series order. At the whims of Peacock's streaming woes, Plec was just another creator to get lost in the cross-fire, despite being, according to Rovner, "one of the best showrunners." In the age of streamers hemorrhaging money, any sense of security for creativity and creatives within the streaming landscape has continued to dwindle.

While many of the studio-run streaming services like Peacock struggle to find the balance between their on-air and streaming content, Hulu and its partnership with FOX and FX sees a type of synergy in streaming that creatives are hard-pressed to find elsewhere. Paste spoke with Howard Gordon, creator of FOX drama Accused, about the benefits of being on a linear network, especially since FOX's president of entertainment Michael Thorn "really championed it." Gordon stated that it "could have gone on streaming," but the idea of "delivering [an episode] once a week" was too good to refuse, though there is an element of streaming still attached to the series since new episodes are added to Hulu the next day anyway. In many ways, Hulu and FOX/FX offer the best of both worlds, and maybe the answer to creatives' streaming woes. After all, what are a few "restrictions" or "broadcast standards and practices" in comparison to losing your entire series to the streaming abyss?
However, none of this is to say that creative freedom is dead in the land of streaming, or even that streaming is no longer a fruitful place for television to thrive, because that's simply not true. It is still totally possible to see success at Netflix, HBO Max, Peacock, and others—the popularity of shows like Wednesday, The Sex Lives of College Girls, and Poker Face prove that not all is lost, but some streamers are clearly more creator-friendly than others. Even Prime Video, now most known for its billion dollar investment into the divisive Rings of Power, has built itself a solid catalog of unique shows from a number of celebrated creatives—even if some fan-favorite shows have been sacrificed to cost-cutting.
In particular, Apple TV+ may be the most desirable place for any creative to end up, especially considering how carefully the streamer picks its projects. By my count, Apple TV+ has only canceled four shows total, indicating a true belief in the projects the streamer airs on the platform, with most of their series coming to a natural conclusion or at least given the opportunity for a proper final season. In fact, unless Apple TV+ announces it is taking down Shantaram to save some cash, the streamer might be the last platform truly fulfilling its promise in delivering the familiarly auteur-driven and groundbreaking series that the early days of streaming were known for. From Dickinson and Ted Lasso to Slow Horses and Servant, the platform has crafted a remarkable catalog defined by its unique storytelling and belief in every series it puts out. In just under four short years, Apple TV+ might have set itself up to become the future of streaming TV.
Of course, this essay has only served to just barely scratch the surface of the problems plaguing streaming in our current era, but the downfall of the land of the creator is undeniably upon us, ushering in a new age of fear and panic amongst those delivering the stories we hold so dear. As each streaming service attempts to put out each of its own individual fires, and attempts to cut costs while actively bleeding money, writers, showrunners, and producers must make the difficult decision of where to shop their shows, especially knowing that it could cease to exist before they are even done writing it. After inking an overall deal with Netflix in 2017, Shonda Rhimes told Recode Decode that streaming represents "an open road," but it seems that road is now littered with insurmountable tolls—and more than a few dead ends.
---
Anna Govert is an entertainment writer based in middle-of-nowhere Indiana. For any and all thoughts about TV, film, and the wonderful insanity of Riverdale, you can follow her @annagovert.
For all the latest TV news, reviews, lists and features, follow @Paste_TV.