South Park Renewed for Three More Seasons
Trey Parker and Matt Stone are signed on through Season 26
Image via Comedy Central
Comedy
News
South Park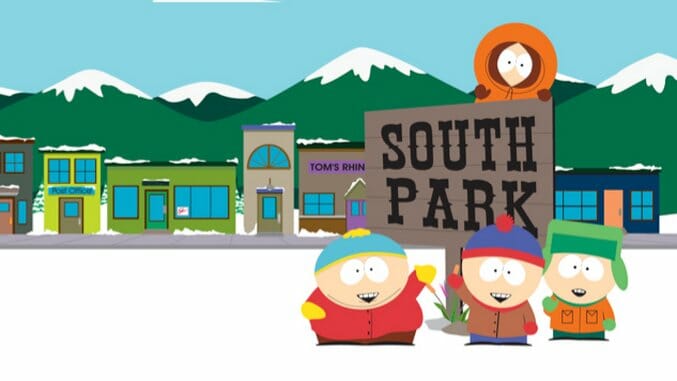 Death, taxes and Comedy Central ordering more South Park—these are the certainties of our time. Ahead of their iconic animated comedy's 23rd season, premiering Sept. 25, Trey Parker and Matt Stone have struck a deal for three more seasons and 30 more episodes of South Park, extending the Emmy- and Peabody Award-winning show through its 26th season and a total of 327 episodes. That puts the series just four seasons behind The Simpsons among the longest-running animated shows of all time, because, as we all know, "Simpsons did it."
Comedy Central's press release touts South Park as the highest-rated primetime cable comedy of the past six years running, using the word "historic" a whole bunch and noting that fans have consumed over 18.3 billion episodes (or 7 billion hours) of the show to date. They also point out South Park's 48 million fans across Facebook, Twitter, Instagram and YouTube, a leading figure among cable comedy shows, because there are only so many metrics by which they can remind us that lots of folks still love this show.
"South Park is the greatest comedy in the history of television, unmatched in its satirical strength and cultural relevancy, and it shows no signs of slowing down," said Comedy Central, Paramount Network and TV Land President Kent Alterman in a statement. "If humanity is still intact in 1000 years, historians will see the most transcendent artists of our era as The Beatles, Muhammed Ali, and Matt and Trey. We'll do as many seasons as they would like."
"Apparently, our efforts to get our own show cancelled have fallen short," said series co-creators Parker and Stone, who are clearly committed to this bit. "Luckily, we love Comedy Central and Kent and our staff, so we are looking forward to new cancellation opportunities in the next few years."
The duo will continue to write, direct and edit every South Park episode, as they have since the series premiered in 1997. That's a whopping 22 years ago, in case you had not yet begun to feel sufficiently ancient.
Comedy Central's presser also notes that "Parker and Stone are represented by attorney Kevin Morris of Morris Yorn Barnes Levine Krintzman Rubenstein & Kohner," which, unbelievably, is an actual law firm and not a bit. We're at least pretty sure of that.
South Park returns for Season 23 on Wednesday, Sept. 25, at 10 p.m. ET on Comedy Central. Here's a trailer.