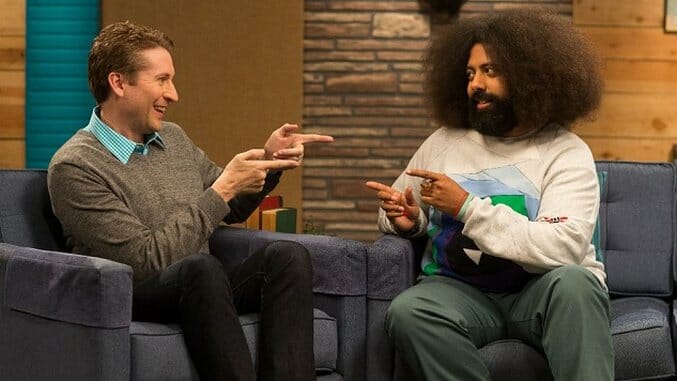 With news that "Weird Al" Yankovic is the next bandleader on Comedy Bang! Bang! dropping, it got me thinking about the musical legacy of the franchise. Comedy Bang! Bang! the Podcast is one of the funniest and longest-running shows in the podcast landscape, but its ties to music run deeper than most would realize. The show began as Comedy Death Ray on LA radio station Indie 103.1. Host Scott Aukerman would play comedy music between interview and character segments. Since 2009, the show has attracted notable musicians like St. Vincent, Tears for Fears, Aimee Mann and more to perform and participate in the shenanigans. But most impressively, the show deftly uses music for great comedic impact. From the theme songs to guests impersonating musicians to freestyle rap battles, there is no shortage of clips to choose from. These 10 moments, however, belong right at the top. Here are the 10 best musical moments in Comedy Bang! Bang! history.
Honorable Mention: "Takin' a Plane Break", "Oh Na Na", "Hollywood Facts A Capella", Aaron Neville's "6 Days of Kwanzaa", Paul Rudd's Summer Freestyle
10. Reggie Watts Creates the Comedy Bang! Bang! Theme Song – Episode 103
One of the best parts about the show is its theme song. The moment the show became "Comedy Bang! Bang!" is when Reggie Watts crafted the new theme song for the show. The name changed from Comedy Death Ray and needed new music. Since Reggie made the old theme, who better to make the new one? The show never looked back. The commentary from Scott and Paul F. Tompkins makes the song's creation that much more wonderful, and as a bonus Reggie performs some more music after he comes up with the new theme.
9. "The Monster F*ck" – Episode 77
A Halloween episode means a trip to Suicide House, where ghosts Messmore and Beuford LeBaron (Brett Gelman and Jon Daly, respectively) kidnap and attempt to murder Aukerman. Thankfully, it also means a rendition of "The Monster F*ck", the version of the Halloween hit "The Monster Mash" the world was meant to hear. Co-writer Leo Karpatze (Nick Wiger) and his 15-year-old backup singers sing a haunting tale of a monster orgy in extremely graphic and lurid detail. The ongoing joke is that year after year, Karpatze returns on Halloween promising a new version of the song. It never changes, nor should it.
8. Paul F. Tompkins and Scott Aukerman Sing the "Cantina Theme" – Several Episodes
A great running gag that gets even better with age is Scott and Paul busting out the "Cantina Theme" from Star Wars. It's an effective way to kill time, and it's also incredibly entertaining. Each time the pair does it, the song gets more ridiculous. At this point, one of them will find excuses to start the song at a moment's notice, dragging the other into it. They can act annoyed, but they love it as much as we do.
7. The Pepper Men – Episode 204
Jon Daly is a force of nature whenever he is on Comedy Bang! Bang!, but usually he is playing a character. This time, he plays himself and makes one of his greatest contributions to the show's musical legacy. When Daly starts talking about the podcast he is starting with guest Zach Galifianakis about the Red Hot Chili Peppers called "The Pepper Men," Scott pushes for a performance of the theme song. Thus, "Abricadabralifornia" was born. If you recognize that title, it's the same song that Daly produced before Super Bowl XLVIII that pranked actual music publications. Diehard CBB fans could hear all of the Easter Eggs tucked away. The chorus, "Bing-a-bong-a-bong-a-bong Burbank" and the repeated shouting of "Shopping Carts! Escalators!" should have been a giveaway. But this episode is where it all started.
6. Björk Sings "Silent Night" – Episode 191
Of all the amazing and hilarious things that Matt Besser does, his Björk impression tops my list. Besser's Björk borders on psychotic, and the contempt and lack of respect she shows everyone makes for high comedy. Immediately she insults Harris Wittles (R.I.P.) after a simple compliment, and it only gets better from there. This rendition of "Silent Night" perfectly captures the intricacies of his Björk impression with the maniacal outbursts that make the character so hysterical.
5. Gillian Jacobs' Impromptu Songs – Episode 335
The saga of Gilli and Garry Marshall (Paul F. Tompkins) is one of my favorite canonical parts of the podcast's universe. The first time Gillian Jacobs met Mr. Marshall ("PLEASE, call me Garry!") was in episode 180. The gold-digging and debt-riddled Jacobs quickly convinced Garry to kill his wife, Barbara, and re-marry. This led to a divorce, animosity, failed matchmaking, and finally a second attempt at marriage. With Barbara in suspended animation, Gilli and Garry prepare for their vows with a processional and are accompanied by Men at Work singer Colin Hay to boot. Gilli sings about how much she loves Garry's money and how she got the kids to rewrite the will. Garry follows it up with a short song about just getting this over with. You can really tell how much these two love each other, and it's truly a love story for the ages.
B-b-b-b-b-BONUS: Gillian sings another song later in the episode about how much she doesn't want to marry Alan Thicke. It's just as hilarious. Skip ahead to the 7:25 mark to hear her beautiful crooning.
4. Jerry Minor's Auto-Tune Song – Episode 18
One of the best musical moments in the show's history happened to be one of its earliest. Frustrated with all the musicians getting into the acting game, comedian Jerry Minor decided to retire from comedy to pursue a career in music. He chose to premiere his new single on Comedy Bang! Bang!, and "Poppin' Bottles" is his attempt to ride some of that Auto-Tune wave. If you like top models, rollin' on dubs, sippin' champagne, money, and doing your thing in the VIP all night long, "Poppin' Bottles" is the hilarious song for you. Plus, when did T-Pain ever give a California wildfire report in any of his songs?
3. All of Amy Poehler's Raps – Episodes 123, 176, 245
Amy Poehler has participated in three freestyle rap battles, and all three of her verses are legendary. A quick summation:
?Her first rap, on the topic "Back to School," focused on being home-schooled and learning how to make bacon in the sink, that the sun is made out of cheese and that the moon is a big ball of yarn.
?Her second rap, on "Scorpions," never mentions scorpions but touches on buying her bitches (female dogs) shoes, wrapping a boa constrictor around her neck and breaking the sound barrier in cars.
?Her final rap, on "Butter," crowned Paula Dean the new racist Queen of Mean, exposed how hard it is for poor people to afford real food, and had the best Poehler flow: "Butter and jam, butter pecan, butter is off, butter is on, butter be good, butter be bad, butter be the best motherf*cking thing you've had.'
Three raps, three masterpieces. Amy Poehler is the cumulative freestyle rap GOAT, but she didn't have the greatest verse in the segment's history.
2. Ben Schwartz and Scott Sing "Skid Row" – Episode 229
Whenever Benny Schwa of the acclaimed TV show House of Pies stops by, sweet sweet music is made. These two sing so much, in fact, that YouTube user BabyFaceBren compiled a gigantic 30-minute music marathon of their numerous musical tangents. Fans loved the shared chemistry enough to clamor for solo episodes, aptly titled "Solo Bolo" and "Solo Dos Lo", where Scott and Ben mostly sing nonsense. They share a love for Broadway musicals, obscure pop songs, and harmonizing. All that culminates in some fantastic moments. The most representative clip of their musical relationship, I think, is the two singing "Skid Row" from Little Shop of Horrors. They rib each other, they forget words to the song, but they both love every second of singing together.
1. Neil Campbell's Freestyle Rap About Vacuum Cleaners – Episode 230
Amy Poehler has the best collection of raps in Bang! Bang! history, but Neil Campbell dropped the greatest verse that is hands down the best musical moment in the show's history. Facing musical genius Reggie Watts and stuck with the subject "vacuum cleaners", Campbell drops two subversive and amazing verses. The first quickly changes lanes from vacuum cleaners to being a closeted homosexual, while the second diverts from vacuum cleaners to a pedophile meeting kids at the pool. The subject matter is rough, but Campbell's silliness and awkward delivery really makes it all work.
Ross Bernhardt is a freelance pop culture writer in the New York City area and probably spends far too much time listening to podcasts. You can follow him on Twitter.