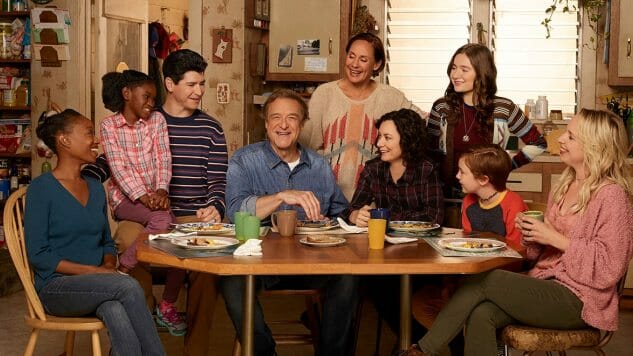 I've never seen the original Roseanne, and I certainly didn't watch the revival. I have no attachment to the material and I'm not sure I can handle another lovable but down-on-their-collective-luck family doing all they can to get by on the power of love and sarcasm. That being said, I was super stoked to watch The Conners, because I do love probable trainwrecks, and given all the off-the-air press the show has gotten, it's hard to see that not being the case here.
The show picks up with a depressed Dan sleeping on the couch and a dutiful Darlene assuming matriarchal tasks while the family does its best to pick up where things left off. The vibe is that of every "very special episode" you've ever seen, right up to the revelation that Roseanne's character didn't die of a heart attack, as previously stated, but that she was a pill-hoarding opioid addict. It's here that the show takes two disparate paths: one being standard sitcom fare with boilerplate jokes and delivery ("I'm sorry I missed the funeral. The airport in Afghanistan was under attack for a while… still faster than O'Hare."), and the other a somber, oddly realistic look at the opioid epidemic and its very material effect on America's heartland.
I never thought I'd be praising The Conners, but I'll say this much; Sara Gilbert is fantastic. I don't know what it is about her relaxing, matter-of-fact, "this is how it is" delivery, but it managed to break up the gravity of what may be too heavy an episode. Lots of sitcoms have dealt with the death of a major character before (Newsradio, 8 Simple Rules), but the weird thing here is The Conners somehow manages to be more depressing than if its lead had actually died in real life. It's so unnecessarily grim; by the time Mary Steenburgen's guest appearance as Marcy Bellinger (the woman who sold Roseanne Conner the pills she OD'd on), you begin to question not just the tone of the episode, but where the season's going overall. It really feels hopeless and inescapable, and in a weird way I welcome it.
There's definitely a marked effort to get out from under real life Roseanne Barr's more conservative, less-than-inclusive reputation—an initiative that was present in the show's previous incarnation last year. Dan's grandson comes out to him as queer, and Dan, at first begrudgingly and then excitedly, does everything he can to help him navigate the boys he's crushing on at school. DJ's wife is a black conservative Christian that scolds Darlene for believing in reincarnation and going to Hell. Jackie is keeping herself busy with housework to stave off thoughts about the death of her sister. Things are chaotic and all over the place in a way that reflects an actual fucked up family.
Overall, I think I liked the show. At the very least, I see a ton of potential for a one season family dramedy about drugs and loss. The original Roseanne had a reputation for being unafraid of tackling real issues, and it looks like they're going to stick to tradition, while adopting a more "woke" approach. I do wonder who this show is for, however. Are Roseanne's fans watching? Can a show developed by and revolving around a comedian continue without its underlying thematic force? It'll be interesting to see how the demographics and dynamics of the show shift without the brassy, bossy matriarch it was named after.
---
Yusef Roach is Paste's Assistant Comedy Editor and the cohost of the podcast Death is Imminent. He's on Twitter @yusefroach.